Internships Abroad
How to Pack for Your Internship Abroad
Your suitcase is splayed out on your bedroom floor and you're looking around your room, bewildered, without the faintest idea where to begin. It's stressful enough picking out an outfit for your first day at a regular internship, but to try to pick out a months' worth of outfits and other necessities for interning abroad? Terrifying!
Keep in mind that people tend to dress a lot more fashionably in a lot of countries, so if you're shopping for something new, go fashion forward!
Lucky for you, we at Go Overseas have some experience in this department and we've got your back. So say goodbye to those nightmares of showing up naked to your first day at your internship because you accidentally brought an empty suitcase. Here's the breakdown of how to pack for your internship abroad!
Professional Clothing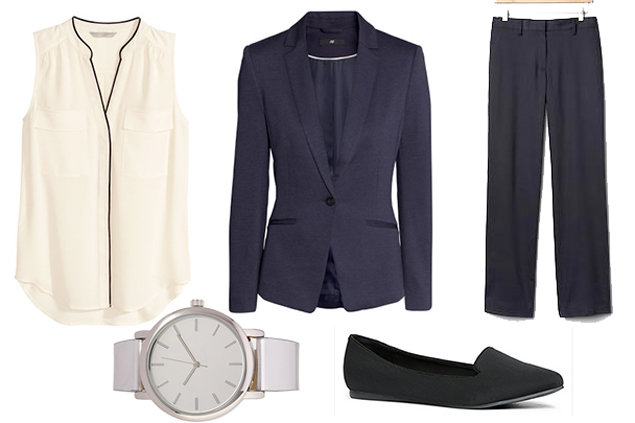 In this photo: H&M Jersey Blazer, Aldo Flats, H&M Sleeveless Blouse, Forever 21 Analog watch, and Gap Pants.
Hopefully you've done some research on your host country and your host company and have some sort of idea of how you should be dressing at your internship abroad. That being said, even if you are pretty sure it's going to be casual wear, you definitely at least want to dress to impress on your first day.
Keep in mind that people tend to dress a lot more fashionably in a lot of countries, so if you're shopping for something new, go fashion forward!
And of course, you don't want to pack ONLY conservative, uber-professional outfits. For one, you may find that your workplace is more casual than you anticipated and you don't want to feel ridiculous showing up in a suit to work every day.
Secondly, there is such a thing as the weekend and you're going to want to be comfortable for your days spent wandering your host city or traveling to explore other parts of the country. Definitely be sure to pack a pair of comfortable shoes!
Quick tip: Save some money and room in your suitcase to shop for new clothing once you're in the country. Whatever fashion is all the rage there may not even be available in stores at home, and it's always nice to pick up a new outfit to make you feel confident and to bring back great memories once you return home!
Proper Documentation
Hopefully you've already had the foresight to acquire and pack your passport, but be sure to check if there is any other documentation you might need.
Do you need to get a special visa before you enter the country? Will you need to get some kind of residence permit after you arrive? If so, what will you need to bring?
It may be as simple as a second form of identification, or you may need to show something like your return ticket home / enough cash in your bank in lieu of one, or even a letter from your university or host employer.
If you are receiving credit (perhaps in lieu of compensation) for your internship, you may need to show proof of this to officials on arrival (so keep it all of these in your carry on!), to your host company, or there may be paperwork your supervisor has to fill out.
Check in with your study abroad office and with your regular advisor (if you plan to receive credit for your internship), talk to your internship placement company/program provider if you're using one, search your host country's government or immigration website, and send an email or Skype your future host employer.
Cover all your bases, then make a checklist and be sure to bring all the paperwork and documentation you could possibly need!
Quick tip: Scan everything and keep copies of it in the cloud or email them to yourself. Better safe than sorry!
Other Essentials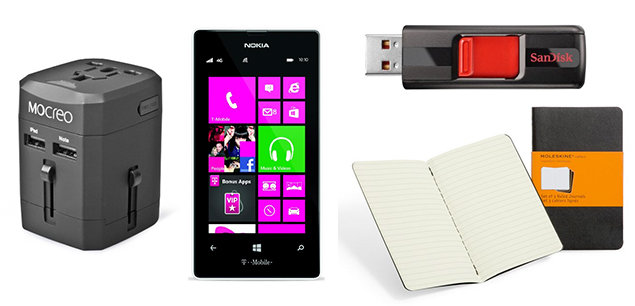 Of course you also don't want to find yourself abroad without the usual essentials. While you don't want to overdo it and pack too much, definitely do make sure you pack:
Your laptop and flash drives in case you ever need to bring work home.
An unlocked cell phone -- though you could also opt to buy one in country.
A daypack or large purse for day-to-day use
A camera (or smartphone)
A fresh Moleskine journal
A converter / adaptor for your host country (if you don't already have one, we like this universal adaptor, since you can use it for any international adventure.)
And a good pair of walking shoes for those weekend adventures!
If you're staying in a furnished apartment, don't bother bringing home goods. For the most part, you won't need too much more than you would for any other trip abroad, so pack like you would a 2-week trip to this destination, then add in the professional outfit, documents, business cards, and other internship essentials.
Quick tip: With toiletries and beauty products, pack travel-sized versions as you would for any other short trip. Then, plan on buying shampoo, conditioner, soap, etc. once you're in country. This way, you can save your space for other stuff!
Resume and References
If your resume and references weren't included in the above checklist, add them now! There are a myriad of reasons why you may find yourself in need of these once you're abroad.
Depending on how much communication you have had with your host employer before you arrive, your supervisor may want to see a copy of your resume before you start as a reminder of your capabilities, so it's best to have one on hand.
Furthermore, if for some reason things don't go well at your internship and you find yourself in the position where you are seeking out a new opportunity, it will be imperative you have a resume and ideally references to show for yourself if you have to go through the application or interview process again.
Then of course, if other professional opportunities presents themselves -- perhaps you meet a potential post-internship employer at a conference or networking event -- it would certainly be a huge benefit to be able to have your resume on hand. You never know!
Quick tip: It's always good to have some hard copies (ideally on nice paper) with you in case you can't access a good printer while abroad, but you may also consider having a few flash drives with your resume on them if you prefer to stick to digital only, especially if you have a portfolio of work to share.
Business Cards
Chances are you probably don't have your own business cards, but rectify this before you take off for your internship abroad! These day it's quick, easy, and inexpensive to order your own business cards online from print shops like Vistaprint. Keep it simple:
Your name
A description of your field/what you do
Your email
A phone number or Skype name (optional)
Link to your LinkedIn profile / personal website (optional)
Business cards are great because they make networking and keep track of people so much easier. People will remember you more easily, and you will be able to remember them more easily, too, since it's likely they will give you a business card in exchange. (Bonus: How cool will that collection be when you get home?!)
It will make you look more professional, but it may also lead to different kinds of connections beyond what you'd expect. Meet a really interesting traveler on your train to Prague? Hand them your business card! You never know what opportunities may arise, but you're much more likely to be thought of when the other person has something physical in their possession to remind them of you.
Quick tip: In some cultures, business cards are especially important. In many parts of Asia, business card hold great significance. They should be presented and accepted with both hands, and it is seen as respectful to have double-sided cards with the local language translation on one side (something worth considering if you are doing an internship anywhere in another language!).
Don't Forget Your Work Ethic!
Being in another country is exciting, and there's going to be so much that you want to do and explore. Of course, it's important to get to know your host country and experience its culture, but don't forget that you are first and foremost there for your internship experience!
Enjoy yourself, but keep your focus on your work during work hours. Put in your all and show your supervisor that you care about learning and gaining experience. After all, there's a reason you chose to intern abroad versus study abroad or just travel. Remember that, and you will reap the benefits later with new skills and experience and a great reference!
Quick tip: Before you leave your internship, ask your supervisor if they will be a reference for you in the future and make sure you have the right contact information for them. If they have a LinkedIn profile, ask them to write you a recommendation!
In the End, it's Not About What You Pack
In the end, the keys to succeeding at your internship abroad are more about what you pack mentally than in your physical suitcase, but above list will make sure you're off to a great start! A hairbrush and a pen can also go a long way, so you might not want to forget those either.
You may want to follow that golden rule about packing your bag then removing half of what you packed and doubling the amount of money you bring (for some reason that always seems to ring true!), but what's most important is that you have what you need to feel confident and prepared for the incredible, life-changing, mind-expanding experience you are about to undertake. Good luck!