How to Start Saving Money for Summer Volunteering Abroad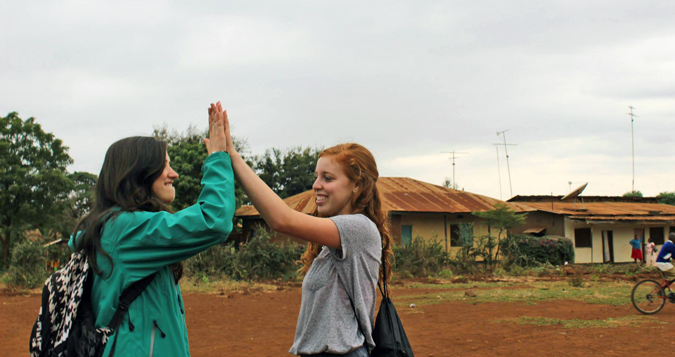 Congratulations are in order: You're doing a great thing deciding to volunteer for the summer. You've worked consistently and diligently in order to spend a few months helping others, and that's a commendable thing. Awesome job! Unfortunately, you're also extremely broke -- which is why you're here on Go Overseas reading this article, am I right? Fortunately for you, there are better (read: more effective) strategies for saving up for your summer of volunteering than simply working overtime and saving the conventional way.
Saving generally is a good practice, but you also need to modify your spending habits if you truly want to grow that nest egg for your summer trip.
Having years of experience volunteering abroad, I've also had my fill of unexpected adventures with finances abroad, including an unfortunate experience involving a lost debit card, a missed flight, and a few stress-filled, sleepless nights at Suvarnabhumi Airport.
So aside from the obvious advice of one: checking and re-checking your flight details, two: not having too much fun on Khao San Road the night before your flight, and three: always carrying an alternative payment method, I've collected some helpful advice over the years on how others can prepare for the unexpected by saving effectively for their volunteer trips overseas.
Here are five simple yet effective tips for saving cash for your summer volunteer trip (because who wants to worry about money when you should be focusing on your experience and on helping others?):
1. Create a Budget
When heading out for a summer volunteering overseas, I've learned that preparation is key. In fact, you should save more than what you think is enough; because as I've shared, you never know what unexpected circumstances may befall you.
This plan may take the form of a budget spreadsheet, or it might be something handwritten and less formal. Whatever the form, your budget should include basic expenses you can expect to encounter on your summer trip.
To get you started, we included a sample of what your budget may look like -- we broke it up week by week, but entered one time expenses (like airfare) in the "total" column. Your budget won't look exactly like this, but it helps to see examples:

Of course, this will differ depending on your particular program (I've assumed here that your program is not all inclusive). In any case, here are some suggested fields to include in your budget plan:
Program fees
For most summer volunteer programs, you either have to pay for your program fee upfront or put down a deposit (some will even give you a small discount for paying in full or far enough in advance -- look out for that). This is fortunately a pretty straightforward and discoverable number, but be sure to include it in your budget.
Airfare/transportation
Aside from probably the largest expense of your plane ticket to your host country, you will want to consider and plan for transportation expenses within that country. This may include bus, train, boat/ferry, rickshaw, or cab fare. How often will you be using these forms of transportation? Does your program provider cover any of it in your program fee? Do they include airport pickup, or is that something you'll be in charge of?
Misc. pre-departure expenses
These would include visa(s), vaccinations, health/travel insurance and the like. You may need to conduct a little bit of research on the area you'll be staying in -- either online or in communication with current volunteers/staff or both. Also keep in mind that you'll save money by taking care of this far in advance and avoiding a "rush fee" for applying for visas last minute.
If you don't have travel / health insurance that covers you internationally (some do, so check with this), World Nomads is one of the better known travel insurance companies out there.
Lodging
Will your program provide accommodations for you? If not, consult the volunteers currently in country or do a simple search online (perhaps Lonely Planet) to estimate the cost of rent per week/month in your host country.
Are utilities included? Is there a deposit? Are there any additional expenses you should consider? Most likely these are not questions you'll need to ask, but it's smart to be aware of them in case you do.
Food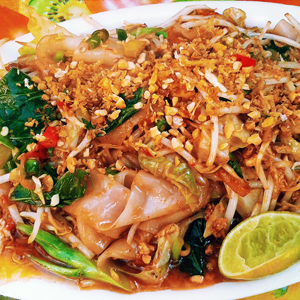 Multiply the number of days you will be overseas by three to get a general sense of how many meals you should be saving for. You may consider consulting locals or long-term volunteers currently in country to get a more precise estimate of how much to save. Again, Lonely Planet has helpful estimates of how much certain recurring expenses (such as a beer or breakfast) will cost in your particular country.
If your program provides meals, it may be a good idea to still save extra money for things like occasionally eating out or for accommodating specific dietary restrictions. Will you need to purchase your own filtered or bottled water? Add this expense into your food budget.
Personal incidentals
Don't think that because you're volunteering, you won't need to budget a little extra for yourself. Whether it's splurging on a sweet treat, chilled beverage, or piece of unique jewelry every once in awhile, you should set aside some cash for yourself.
This doesn't have to be an excessive amount, but a little bit is necessary. The little indulgences will keep you sane. Trust us.
Now, total it all up
Now that you have all your expenses detailed in one place, total it all up. This is the amount you'll be working towards.
You may think this is a disproportionate amount of time to dedicate toward budgeting and planning. In the end, the smartest thing you can do is research, research, and more research! Not only will you be familiar with your expenses, but you'll also learn more about the culture of the place you will be living in for the summer (invaluable information!).
Don't expect to know everything before you leave though, and be prepared for your preparations to shift and adjust. Basically, plan what you can, but also be flexible with the process.
2. Outline a Savings Plan
Once you have created a budget, you should set a savings plan with tangible goals. This might mean committing to saving $100 per week or 20% percent of every paycheck. Perhaps this means putting $200 directly into your savings account the day you get paid. However you decide to do it, be sure you stick to it! The priceless experience will be worth it in the end.
Don't expect to know everything before you leave though, and be prepared for your preparations to shift and adjust. Basically, plan what you can, but also be flexible with the process.
In our sample budget, we're planning to spend $4,500 on a 4-week volunteer trip. If we're able to save $800 / month, this would take us roughly five and a half months. Maybe this is a reasonable goal for you, maybe this isn't. Take into consideration how much you make, how many hours you work, and your current expenses when deciding how much you're going to try and put away each month. Then divide your total expenses by your monthly savings goal to figure out how many months ahead you should start saving.
3. Minimize your Expenses
Remember the advice your parents gave you about saving money when you were growing up? Like, collect your spare change in a jar or put a dime away everyday, and one day you'll have a lump sum to spend on that bike or baby doll?
As helpful as that advice may have been when you were eight years old, I think we can agree that you're not spending your allowance on bubble gum and baseball caps anymore. You don't even have an allowance anymore. So its best to forget that advice altogether. Saving generally is a good practice, but you also need to modify your spending habits if you truly want to grow that nest egg for your summer trip.
These practical tips to help lower the money you spend will allow you to put more away for your summer overseas: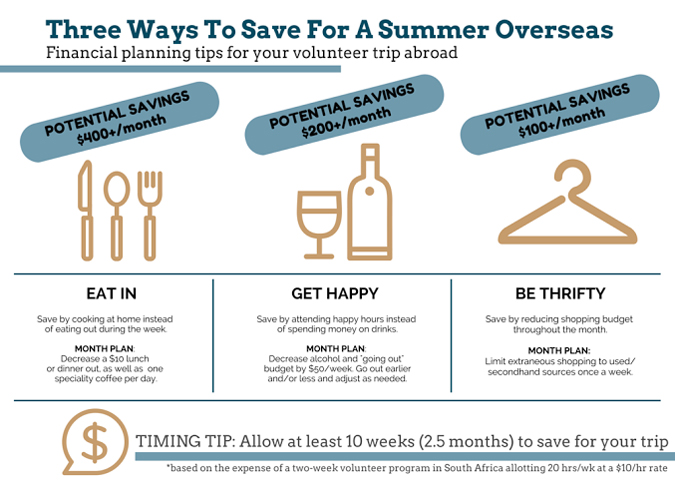 Eat out less or not at all:
As tempting as it is to go out to eat for every meal, it does add up if you do it often. Allow a splurge once in awhile, whether that's a nice meal or a quality coffee with friends; but hold yourself to significantly decreasing your food/drink out. One thing you might consider is eliminating buying coffee drinks altogether and putting that "coffee fund" away for your trip.
Hold yourself to significantly decreasing your food/drink out.
With a little research, you will find that there are many sites that provide cheap, nutritious, and easy recipes catered to those on budgets. One that stands out is Budget Bytes, but there are a ton of others. Some other budget cooking tips include buying and cooking dry beans instead of meat for your protein (its way cheaper); shopping in bulk and splitting the items with friends to get a bit of a discount; and planning out your meals during the week.
Take advantage of student activities
If you're still in school, another way to save on food expenses is by taking advantage of the many free events on or near campus. There is a ton of stuff for college students (academic panels, lectures, student union events, etc.) that offer free food in exchange for an hour or two of your time. Disclaimer: you will probably need to have a fondness for greasy pizza.
Find the best happy hours
If you start your night a little earlier, you can usually get significant discounts off food and drink at happy hour. Like half price or a substantial percentage off your order. Just be sure not to spend excessively thinking that it's "so cheap!"
Shop or swap secondhand
Whether you're looking for a cute outfit or a good book, head to the thrift store first before buying new. Browse local yard and garage sales (churches often are great for this). You might also consider supporting the sharing economy by attending a clothing swap or organizing your own with some friends. Most importantly though, only buy what you need, not what you want.
Explore free things to do
Depending on where you live and what you're interested in, there are usually a variety of free activities you might enjoy. Meetup and local lifestyle magazines like Time Out are great resources. If you have one, consider trading in your gym membership for free, alternative activities, such as hiking, biking, running, swimming, and even home workout videos.
In sum, learning to be more creative and resourceful with your spending serves a double function as well. Essentially, you're practicing for your stint as a volunteer on limited, fixed income living in a minimalist developing country. So it's a win-win situation, really.
4. Increase your Cash Flow
Another key to saving enough money for your volunteering trip is to be creative with how you add to your income. Maybe you already have a full-time job -- but getting extra work on the side will only help expedite your savings. Here are some suggestions for ways to make extra money before leaving for your summer overseas:
Start an online crowdfunding campaign for your trip. IndieGoGo, Kickstarter, and GoFundMe are all popular sites you may consider. Puddle is another funding source that functions as an informal lending platform.
Sell homemade arts/crafts online. I once made prints of pictures I took while traveling and sold them as postcards and greeting cards on Etsy. You could do something similar and use the profits exclusively toward your volunteering trip.
Do odd jobs. Revamp "old school" money-making strategies (think dog walking, babysitting, car washing, and the like) by offering these services on a site like TaskRabbit, becoming a part-time nanny, or even being a Lyft driver.
Sell your stuff. Clean out your closet and sell items secondhand on sites like Vinted, Ebay, Amazon, or Craigslist. Host a yard sale, post flyers for that old wardrobe or unused bike.
Apply for scholarships. Did you know Go Overseas offers a volunteer abroad scholarship? The winner not only gets $500, but s/he also gets the opportunity to be a Go Overseas Ambassador. Apply by May 1st, 2015.
Consulting/Freelancing. Increase income by exploring part-time consulting or freelancing work. Upwork is a great sites to pick up gigs in writing, editing, design, accounting and other fields. You could also as a virtual assistant a few hours a week for extra cash.
5. Prepare your Finances
Lastly, do your due diligence! Make sure to secure several forms of payment (a mix of debit cards, credit cards, local currency, and USD works well) before leaving for the summer. Also, ensure that you have access to emergency funds.
Familiarize close family and friends back home (and yourself) with the process of wiring money. Leave an emergency fund back home with those trusted people if you can. Be sure to let your bank know your travel plans, so they don't put holds on your card(s) due to overseas activity.
Don't Let Money Bog You Down Abroad
So there you have it -- a fool-proof strategy to start saving for your summer volunteering abroad trip. As long as you know how much you need, and start saving as soon as possible, you'll be able to go overseas without the worry of money getting in the way of your memorable experience!
Did we miss something? Share your tips in the comments below.
Photo Credit: Charity Yoro,
Sari Stein
, and Lydia Kubiniec