How to Use an Informational Interview to Get a Job Abroad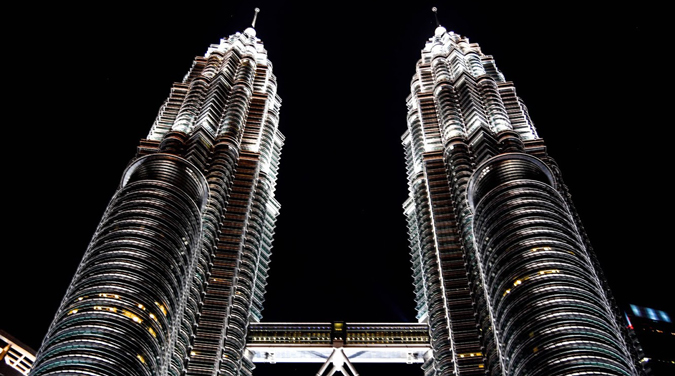 If you're looking to score a job or internship internationally, the key to success in your global job search is to build a global network. One of the best ways to go about doing this is to reach out to people of interest to you in your target country via LinkedIn, company websites, or personal blogs and approach them for an informational interview.
This technique works because it connects you on person-to-person basis with someone at a company that may otherwise have a hyper-competitive hiring process.
So then, what is "informational interviewing" exactly? This job-hunting tactic (invented by yours truly) involves seeking out 15 - 30 minutes with someone you admire to casually position yourself for a current or future position or internship at that company by approaching this person for general career advice or more information about their area of expertise. No "interview," "job," or "resume" mentioned!
Why Informational Interviewing Works
This technique works because it connects you on person-to-person basis with someone at a company that may otherwise have a hyper-competitive hiring process. By gaining human traction, you're more likely to get an invite to have your resume seen by, well, not a robot and line up a "real" interview for a concrete position at a later time.
The core philosophy surrounding informational interviewing is: Get someone on the inside to know you exist and be so tickled by the idea of working with you that you score a spot on their company's short list for future opportunities.
In my own practice, informational interviewing as landed me one-on-one time with the head of one of China's biggest tech start-ups and other big movers-and-shakers in Africa's e-commerce scene -- and informal job offers down the line. It may be a slow process, but it's one that works.
And if you're like me, you might find yourself sitting nervously in front of your Skype, sweating in disbelief that you've actually scored 20 minutes with someone you're really excited to speak with ("Wait, this stuff really works?!"). To fight those nerves, let's go over some ways to make sure you take advantage of this unbeatable opportunity to catapult yourself into a global dream gig:
1. Have a Stated Purpose for the Call
You reached out. They agreed. This is casual, but this is also pretty big. Make sure your e-mail correspondence prior to your phone date indicates exactly why you would like to speak with this person, what questions you have about their industry or their company, and what big career decisions you have coming up that they may meaningfully weigh in on.
Example email: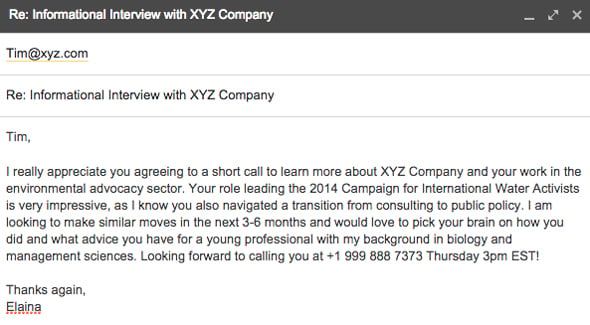 It goes without saying that you should also be 100% flexible to his or her schedule, provide clear contact information, and indicate who will call who. Attention to simple details like this prevent missed connections and awkward inconveniences for both parties.
2. Familiarize Yourself with their Background, Company, and Industry
In order to achieve having an interesting "purpose of the call" in the first place and avoid the person thinking they are wasting their time, you need to treat this seriously.
Google everything about the company, the industry, and the person so they don't have to recite information that can already be found online. Use this opportunity to ask questions whose answers cannot be found anywhere on the internet and have a truly engaging conversation.
Also be prepared for this "chat" to turn into more interview-like if they begin to see you fitting into a position somewhere or they want to feel you out in a more concrete way. Just in case, prepare in advance as if it was going to be a real interview, but YOU are not the one that makes that subtle transition.
3. Keep the Tone Energetic and Exploratory
Once on the phone, do not waste time. Share your excitement to speak with them and then get right to the point. Thank them for their time, mention again the purpose of the call, and do a short, humble, but casually impressive introduction of yourself that demonstrates that you know who you are, what you do, and what you want.
This is especially critical when seeking positions across the globe that span cultures, languages, and time zones.
Then begin the brain picking session (below) or go with the flow if they lead the call. Do not mention a job unless they do. Do not send your resume unless you are asked. This is about you learning about what they do and being extremely appreciative of their time to do a short, informal mentoring session.
4. Pick their Brain
Come prepared with good questions. Find out what this company needs most right now and soft-sell yourself as fitting that role. Put yourself in their shoes and ask strategic questions.
Using this approach, you want to showcase your potential fit in their organization and impress them with what a sharp thinker you are and how much knowledge you have about their company and/or industry. Core strategy: This is a soft self-sell.
Example conversation:
Tim, I found it really interesting to hear that XYZ Company is also expanding into Asia in 2015. Given my prior experience doing market analysis China and Southeast Asia and having taken a look at your company's criteria for market expansion, I was surprised XYZ is not looking into Indonesia, for example, with renewables forming 15% of its energy sector.
In your opinion, what has made your teams successful in new markets and what are the most promising opportunities, geographically speaking, down the pipeline?
5. Appropriately Wrap-Up
As your time is winding down (and do be respectful of the allotted time), indicate your interest in staying in touch and that you would be appreciative to know of any new opportunities coming up in X field. Unless they initiate a more concrete discussion, do not make any direct comments about positions at their company.
As you keep in touch, you can raise your interest in a specific opportunity within their organization in a few weeks or months, but not immediately.
If you made a good impression and they saw your potential, you won't be easily forgotten, and you may even find yourself receiving a follow-up from their side in a few weeks if something interesting crosses their desk. Regardless, make sure to send a thank you email within a day of talking, and reiterate your interest in staying in touch.
The More People You Know, the Better Your Chances
By conducting a healthy number of successful informational interviews using this framework, you will be able to open your own doors to interesting companies, forge human connections, and expand your network of personal and professional contacts that will lead to finding real jobs and opportunities abroad down the line.
This is especially critical when seeking positions across the globe that span cultures, languages, and time zones. The more people you know "over there," the higher your chances of landing a position, or even improving your understanding of whether or not that company or country was all you imagined it to be. Good luck!
Photo Credit: Anna Langer.