Study Abroad
How Will Cuba Travel Policy Changes Affect Study Abroad for Americans?
If you haven't already heard, President Obama announced on Wednesday, December 17th 2014, that the U.S. is significantly changing it's Cuba policy to make travel to Cuba easier for American citizens. Visas will be allowed for educational and humanitarian purposes, Americans will be able to access their bank accounts while in Cuba, and telecommunications will be improved. All of this is a big deal for those of us that work in the travel and international education industries.
Previously, Americans wanting to visit Cuba have had to apply for a special license from the U.S. Department of Treasury, a rule that's been in place since the 1960s. We saw a significant change against these restrictions when in 2011, Obama altered the policy with then intention of increasing purposeful travel and people-to-people contact between American and Cuban citizens
But what does this mean for travelers like us? Travelers who are more interested in studying Spanish or service learning trips in Cuba?
Even so, Americans seeking further education were required to be sponsored by an accredited University in order to enter Cuba for educational purposes. This 2011 policy change was a giant step in the right direction, but it still meant that some non-traditional study abroad program types -- like service learning, or language immersion through private language academies -- weren't necessarily included under this umbrella.
Unsurprisingly, this week's changes have many Americans excited about the prospect of being able to hop on an airplane from Miami and take a one-hour flight over to our Caribbean neighbor. But what does this mean for travelers like us? Travelers who are more interested in studying Spanish or service learning trips in Cuba?
First of All -- What Changed?
We already touched on these changes in our opening paragraph, but to set you up with a few more details, according to a White House press release, Obama hopes to facilitate an expansion of travel under general licenses. For international educators and students, the ones we're most interested in are the licenses granted for "humanitarian purposes", "educational purposes", "activities of private foundations, research, or educational institutions" and "professional research".
For students and study abroad providers, this likely means more variety in programs. For volunteers who want to assist in professional trainings for Cubans, the increased ease of being able to do so will likely create more opportunities (or at least, it's intended to do so).
Moreover, the government is implementing policies which will further incentivize American travelers and make Cuba as a travel destination more accessible. Americans will now be able to use U.S. bank cards and import $400 USD worth of goods from Cuba. The U.S. is also working to improve communications with Cuba by upping their telecommunications providers -- in other words, more internet in more places.
Why is this Policy Important for International Education?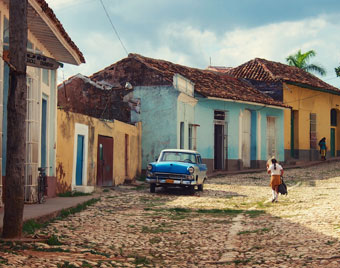 For meaningful travelers, this policy change is great news, since this loosening of restrictions will increase the opportunities for people to study, volunteer, and travel without having to jump through (as many) government-sanctioned hoops.
Since Cuba has already long been a popular travel destination among other nationals (over 1 million Canadians visited Cuba in 2012 -- compared to roughly 98,000 Americans), we can only assume that the relaxation of government regulation will increase interest among Americans to travel and explore Cuba in the near future.
This group of travelers includes students and volunteers (dare we say, voluntourists?) and we at Go Overseas predict that greater access to Cuba will inherently increase number of Americans wanting to participate in volunteer and study abroad programs there.
Of course, with an increase in interest will come an increase in universities and third party program providers establishing programs in Cuba. Already, there are several international education operators running study abroad programs for Americans in Cuba but as the American government reevaluates it's policies, third party providers and universities too will reevaluate their stance on studying abroad in Cuba.
"We expect to see some of the larger study abroad program providers establish study abroad programs in Cuba with these changes," says Mitch Gordon, CEO at Go Overseas. "I'm sure they're all really excited about the change!"
How Does this Relate to a Bigger Industry Trend?
Over the past decade, interest in studying Spanish abroad has remained strong, but the international education industry has seen a shift towards non-traditional study abroad destinations. In other words, more and more students -- especially North Americans -- are opting to study Spanish in Latin America or the Caribbean over Spain.
This could also have a major impact on the popularity of Spanish language courses in Cuba.
Adding Cuba to the list will not only add another destination to this booming trend, but it will also -- hopefully -- allow for making studying Spanish abroad more accessible for students in certain parts of the U.S. For example, Mexico has remained one of the top 15 study abroad destinations for Americans, in part for its affordability and proximity. We'd assume that students traveling to Cuba would have similar considerations.
This could also have a major impact on the popularity of Spanish language courses in Cuba -- for both adults and currently enrolled students -- since immersion courses at private language centers aren't always associated with an accredited university.
Finally, having access to Cuba will hopefully alleviate some of the stereotypes surrounding our nearest communist acquaintance, and help inspire more cross-cultural understanding -- a goal that every meaningful traveler hopes to achieve when going abroad.
The Risk of Americanization is High
Even so, we have to be mindful of how we travel to Cuba (as with anywhere). For nearly 60 years Cuba has been immune to Americans in a way the rest of the world has been unable to achieve -- and it's about to change. What will happen to Cuba once McDonalds, Starbucks, and the Marriott set up shop along it's beaches?
While engaging in meaningful interactions with locals will facilitate greater understanding between the two countries, Americans -- students and otherwise -- should proceed with caution before turning Cuba into another stop on the cruise ship.
Bottom Line: These Changes are Positive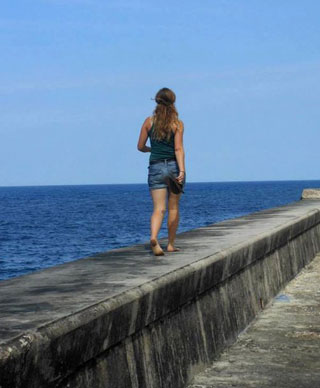 Despite the backlash and gloomy predictions of a wash of chubby American tourists ruining Cuba's charm, we at Go Overseas are hopeful about the impact these policies will have within the sphere of study abroad.
To demonstrate this, we'll let our last words be this powerful review left by Malissa Thomas, a student who participated in Arcadia's summer study abroad program at the University of Havana, which speaks to President Obama's belief in the power of people-to-people engagement:
My semester in Cuba brought me face to face with a culture and political/economic system I knew nothing about; and, through interactions with the close friends I made there, I was brought to recognize the deep-rooted sameness in all of us regardless of background.
One of the most impacting courses I took was "Political Economy of Socialism" in which on the first day of class my professor asked the students to identify the inherent contradictions within capitalism.
While I was at a loss for words, the class seemed armed and loaded with a plethora of preset answers; the next day when she asked about the inherent contradictions within socialism, however, I was well-prepared with the propaganda my educational system had indoctrinated me with.
Having these discussions with my Cuban classmates led me to understand at a deeper level how greatly our backgrounds affect our understanding of the world and how much the lines we are fed as children stick to our beliefs as adults.
Let's hope American students traveling to Cuba in 2015 have similar revelations!
Photo Credits: Bev Goodwin, Schwarzkaefer, and Malissa Thomas.