Tours & Trips
10 Ideas for Adventure Travel in Southeast Asia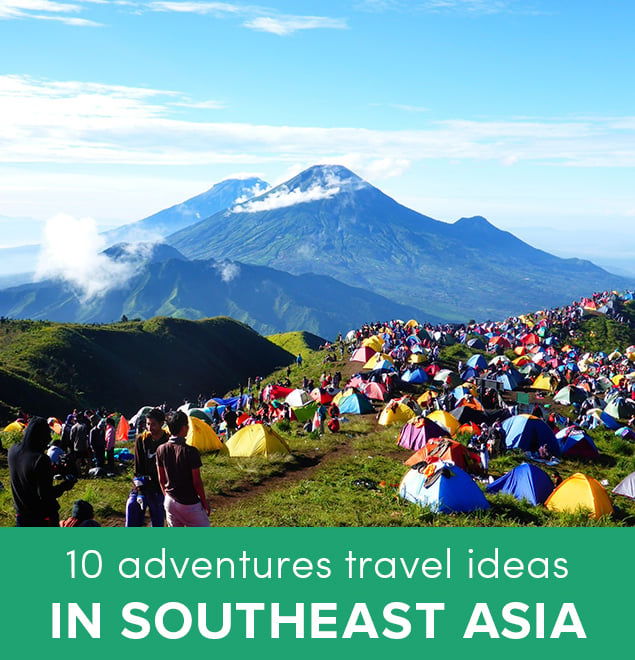 Jump ahead to your favorite adventure:
A trip to Southeast Asia doesn't just involve eating incredible food and laying on the beach. There are plenty of ways to stay active and get your heart pumping in this tropical region.
Why hire a boat when you can explore Southeast Asia's oceans, lakes, and rivers with just a kayak and a paddle?
From scuba diving with sharks in the ocean to base jumping in Kuala Lumpur, there's a large range of adventure travel ideas in Southeast Asia to get your adrenaline pumping. In this article, we'll get your wanderlust pumping with these top 10 Southeast Asian adventure travel activities and the best destinations to find them in!
1. Kayaking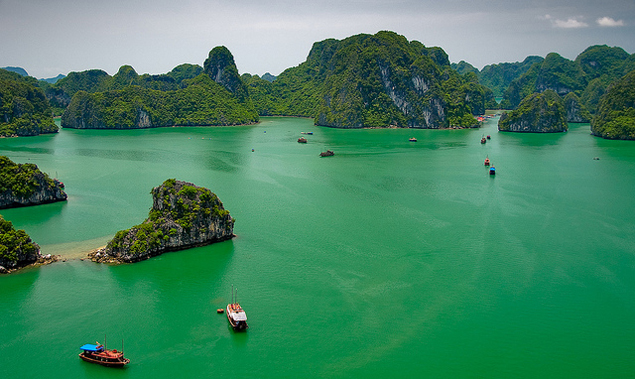 Why hire a boat when you can explore Southeast Asia's oceans, lakes, and rivers with just a kayak and a paddle? Southeast Asia is famous for its breathtaking waterways, and you can see them all while staying fit at the same time. Kayak through caves in Vietnam, down rivers in Laos, or on crystal lakes in Cambodia!
Vietnam: Ha Long Bay and Cat Ba
Many Ha Long Bay boat tours will give you the option of a short kayak trip. I did this while in Vietnam, and was able to spend 30 minutes kayaking through caves and around limestone cliffs! For those who want to spend the whole day kayaking this breathtaking bay, you can easily hop on a kayaking tour in Hanoi, or take a trip to Cat Ba National Park.
This past March, I ventured down to Cat Ba, where I spent the entire day kayaking and rock climbing on the stunning limestone cliffs. In the evenings, you can even see the sparkling bioluminescent plankton glow around you as you paddle to shore. I did my trip with Asia Outdoors, but there are many other great companies that can take you kayaking through this UNESCO World Heritage site.
Cambodia: Tonle Sap Lake
Angkor Wat isn't the only thing to see in Siem Reap! After a day of exploring Angkor's ancient temples, head to Tonle Sap Lake, only a short drive away. Kayaking Tonle Sap is perfect for beginners. Spend a leisurely afternoon kayaking through floating villages, waving hello to the local fishermen. Be sure to do a full-day kayaking tour to see the sunset over the beautiful, serene lake. Indochinex runs kayaking tours here.
Laos: Nam Khan River
While tubing is one of the most popular activities for backpackers in Luang Prabang, there are alternatives to exploring the Nam Khan River. Rent a kayak instead, and paddle down a less explored branch of the Mekong River.
Visit during Laos' rainy season for a more active adventure with larger rapids, or come in the dry season for a more leisurely experience. Green Discovery Laos is one of the bigger adventure tour providers in Laos.
Myanmar: Inle Lake
Inle Lake is a highlight of any trip to Myanmar. Usually, travelers explore the lake by speedboat or drive around the periphery in a van; however, if you want to get active, rent a kayak and explore at your own pace. Bring a (waterproof) camera to capture the stunning lake surrounded by mountains, paddle through stilt house villages, and of course, spot the fishermen who balance their traps in the water with one leg!
Thailand: Phang Nga Bay
Finally, don't forget Thailand's Phang Nga Bay! Famous for appearing in James Bond, this area has over 40 islands in addition to mangroves, coral reefs, and seagrass beds. Not far from Phuket, make a trip to Phang Nga Bay, rent a kayak, and explore!
Viator and Paddle Asia both run kayking trips in Thailand.
2. River Rafting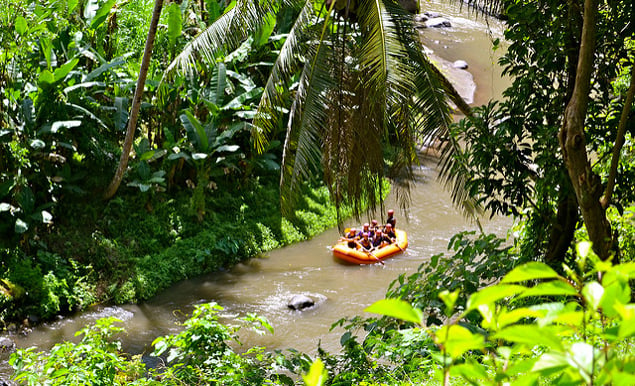 If you're looking to get your adrenaline pumping, try river rafting in one of Southeast Asia's rushing rivers. While Indonesia boasts the most whitewater river rafting, you can try this adventure in Malaysia and Thailand as well!
Bali, Indonesia: Ayung River
You can find 13 km of rapids running through Bali's countryside, surrounded by villages and rice paddies. The Ayung River runs through a canyon that you'll have to climb up at the end of your journey, adding a little extra workout to your rafting activity.
The rapids are perfect for newcomers year round. It has class 3 rapids that increase to class 4 during the rainy season in November through March. Keep in mind, Bali can be a bit more expensive than its neighbors at about $50 USD per person for a few hours of rafting. Bali White Water Rafting runs rafting tours.
Suwalesi, Indonesia: Ranoyapo and Nimanga Rivers
For those with a little more experience, try the Ranoyapo river on Suwalesi Island. Ranoyapo has 60 challenging rapids class 3 to 5+, which can be covered in two days by advanced groups.
For those with a little less experience, you can embark on a half-day rafting trip down an easier portion of the river.
For intermediate rafters, try Nimanga river, which offers 25 rapids where you may also see lizards, chickens, and wild pigs along the banks.
Malaysian Borneo: Padas River
Padas River runs through Kota Kinabalu National Park, and contains grade 3 and 4 rapids. Beginners should head to Borneo in the dry season (April through October) for an easier run, or try traditional bamboo rafting. For the adventure junkies, come in the wetter months for a really exhilarating ride!
Northern Thailand: Pai River
Venture out 62 miles from northern Thailand's hippie paradise to find the Pai River, which runs along the Myanmar border. These rapids are class 4, and in addition to rafting, you'll shower in waterfalls, swim in gorges, spot wildlife and enjoy hot springs!
Thai Adventure Rafting is one tour operator who can help you organize a rafting trip in Thailand.
3. Rock Climbing and Deep Water Soloing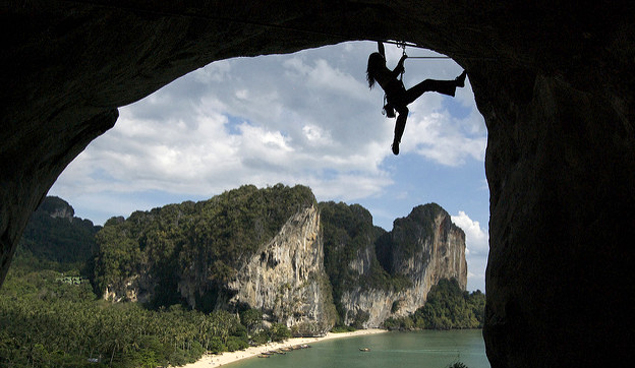 Sure, you've been indoor rock climbing before, or maybe you did an outdoor wall as a kid, but nothing beats rock climbing on a real mountain. While Thailand's Ton Sai and Railay beach might be the most famous location for rock climbing in Southeast Asia, there are plenty of places you can climb on your next trip!
Thailand: Railay and Ton Sai
Famous worldwide for amazing outdoor rock climbing, Ton Sai and Railay are located in Krabi Thailand. With white sandy beaches, turquoise waters and stunning limestone cliffs, who wouldn't want to make the journey to climb here? With plenty of routes for beginners and advanced climbers, Railay and Ton Sai will not disappoint! You can also try your hand at deep water soloing, which means you'll be climbing above the water without a harness!
Ko Yao Noi is another smaller and less crowded alternative, just a boat ride away from Krabi, to try if you run out of routes in Railay.
Vietnam: Ha Long Bay and Cat Ba
Cat Ba and Ha Long Bay aren't just good for kayaking, they're perfect spots to rock climb as well -- sometimes both in the same go. A UNESCO World Heritage site, these limestone cliffs formed over 500 million years ago! Ha Long Bay and Cat Ba are also one of the best places for deep water soloing in the world.
Laos: Vang Vieng and Luang Prabang
Rock climbing in Laos only began in 2002 when the government began offering a small number of permits to American and European climbers. Now anyone can climb for a small fee of $5 USD. Take a look at Tham Nam Them near Vang Vieng for some advanced climbing, and Gecko Mountain near Luang Prabang for cliffs overlooking the Mekong River.
A little further off the beaten path is a spot about a 20-minute tuk tuk ride outside of Thakhek in the southern part of Laos. Make the German-run hotel, Green Climber's Home your base, and head out to top-rope (or learn how to top-rope) on some well bolted single- and multi-pitch routes.
Thailand: Chiang Mai
Although not as popular as Krabi, Northern Thailand also boasts some incredible rock climbing, with Crazy Horse located about one hour's drive from Chiang Mai. Crazy Horse actually boasts the safest rock climbing in all of Asia. The area has U.S. trained guides who can work with beginners, as well as routes for more advanced climbers. Northern Thailand is also much less crowded than Krabi, making this a great destination for those looking to avoid high-season crowds.
4. Scuba Diving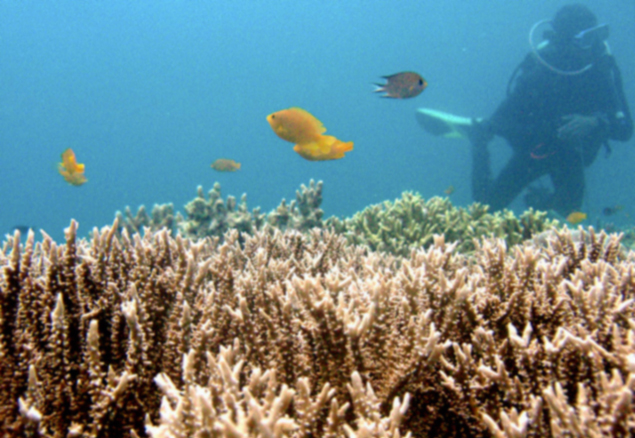 My personal favorite, Southeast Asia boasts some of the best scuba diving in the world! While you can go diving in every coastal country in Southeast Asia, here are a few of the best spots to jump in.
Thailand: Koh Tao
Famous for offering cheap certifications, Koh Tao is a perfect place to get your Open Water certification.
I received my Open Water here, and it was incredible to learn to scuba dive just off the shore. With incredible wildlife and a plethora of dive shops to choose from, you really can't go wrong on Koh Tao. This island also offers incredibly close dive sites, meaning you can go out twice a day if you want!
Learn more about the kinds of sports certifications you can get abroad or look specifically into scuba diving certification programs.
Thailand: Koh Phi Phi
While staying on Koh Lanta, I also took a trip out to nearby Koh Phi Phi for some incredible diving. While there I saw tiger sharks, an octopus, sea turtles, sea snakes and more! The visibility was crystal clear, and the coral was extremely healthy. To dive in this area you can stay in Koh Lanta, Koh Phi Phi or Krabi and take a day trip out to these waters!
Philippines: Malapasuca
One of my personal favorites, Malapascua is famous for their thresher shark dive. You'll need your advanced certification for this one, as it involves diving very deep down to thresher cove, where the thresher sharks come every morning to be cleaned by the resident "cleaner fish". The experience was incredible, and I managed to see multiple sharks who came very close!
Philippines: Moalboal and Apo Reef
Take a trip to Cebu to visit Moalboal, which hosts an incredible amount of rare sea life, including frog fish and electric clams! Moalboal is also famous for its "sardine run" where you can see clouds of sardines swimming near the surface. After Moalboal, head to nearby Dumaguete as your base for Apo Reef, some of the best diving in the entire world. Swim with sea turtles, and experience some of the most vibrant corals in existence!
Indonesia: Gili Islands
Another perfect place to earn your certification, the Gili Islands are the sea turtle capital of the world! Swim with white-tipped reef sharks, manta rays, lion fish and more! Be sure to visit shark point, a drift dive full of reef sharks and sea turtles.
To be honest, there are far too many incredible diving spots to feature here. Koh Rong in Cambodia, Phu Quoc Vietnam, Malaysian Borneo, Coron in the Philippines, basically all of Indonesia... To discover a complete list of the best diving spots in Southeast Asia, learn more with PADI.
5. Hiking and Trekking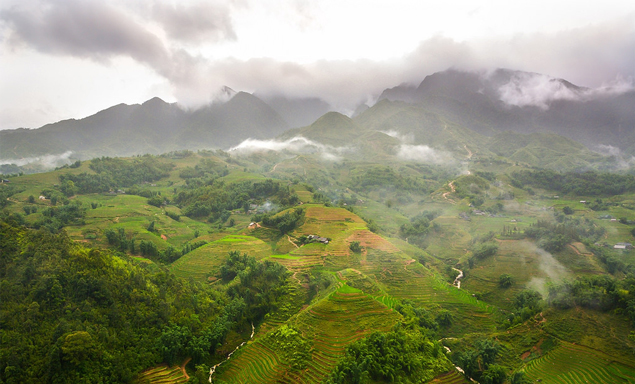 If hiking is more your thing, there are multiple options for short, easy day hikes and multi-day treks alike in Southeast Asia. Wander through tropical rainforests, around stunning views of rice fields, or even up an active volcanoe while trekking in Southeast Asia.
Indonesia: Volcano Trekking
Who wouldn't want to hike a volcano? In Indonesia, you can conquer steaming volcanoes, surrounded by clouds with giant craters and puffs of smoke. In East Java, popular climbs start from Yogykarta and head to the summit of Mount Semeru or Mount Bromo. For an easier climb, try Bali's Gunung Batur and Gunung Agung which can be tackled in a day, while Gunung Rinjani on the island of Lombok will take you three days to climb!
Malaysia: Mount Kinabalau
Head to Malaysian Borneo to take on Mount Kinabalau, the fifth highest mountain in Southeast Asia. It will take you about two days to summit, and people of all ages hike this mountain every hear. You can find a company based in Kota Kinabalu to help guide you up the mountain. When you finally reach the top, you'll be surrounded by puffy white clouds and stunning landscapes.
Laos: Luang Prabang
With river tubing, rock climbing, and kayaking on the list, why not add one more outdoor activity to Laos? Head to Luang Prabang and use it as a base to explore the surroundings and get an insight into the lives of the Khmu hill tribe people. Be sure to visit the Kouang Si Waterfalls, with their stunning turquoise waters and feet nibbling fish.
Vietnam: Sapa
Sapa is home to the Red Dao and Black H'mong people who cultivate rice terraces and paddy fields. While trekking through this beautiful region, you can visit the weekly mountain markets or participate in a homestay. The highest mountain is Fansipan, where you'll embark on a two-day climb that offers incredible views of the Sapa valley.
Thailand: Northern Thailand
Heading to Thailand? Be sure to embark on a jungle trek and hill tribe home stay in Northern Thailand.
Chiang Mai and Pai in Northern Thailand offer great bases for jungle treks and adventures into the hills and remote villages. Among others, you will come across Hmong, Karen, Lisu and Lahu tribes, who have been living for hundreds of years since their emigration from countries such as Tibet, China and Mongolia. Many of the trekking tours offer the chance to stay overnight in the local villages so you can catch a glimpse of their traditional way of life.
If you're heading on one of these trips, be sure to avoid treks that involve elephants. These trekking companies strap painful chairs to the backs of elephants that damage their spines when sat in by trekkers. They're also treated very poorly and often die of exhaustion. If you would like to have an elephant-friendly experience in Northern Thailand, I 100% recommend you head to Elephant Nature Park in Chiang Mai. This park rescues and rehabilitates abused elephants and lets you feed, bathe and care for elephants without riding them.
6. Ziplining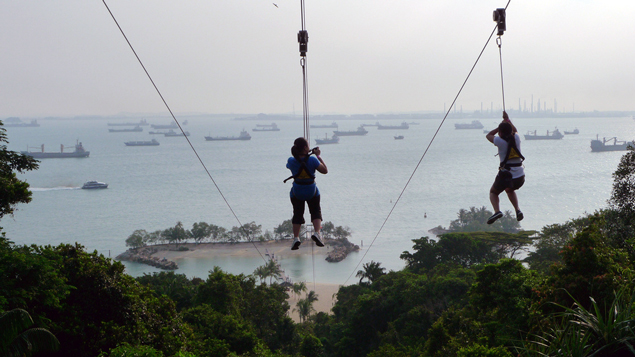 What a better way to explore the jungle than by zipline? Fly through the trees while admiring the jungle canyon. Participate in obstacle courses, and have an incredible day of adventure! You'll be able to find ziplining courses in all of the Southeast Asian countries, but here are a few of our favorites.
Thailand: Chiang Mai, Koh Phangan, and Krabi
You can't step foot in Northern Thailand without seeing signs for Flight of the Gibbon and Flying Squirrel ziplining experiences. Chiang Mai's flight of the Gibbon features 5km of zip lines with 33 platforms, in addition to sky bridges and rappelling (abseiling).
Not heading to Chiang Mai? Don't worry, Flight of the Gibbon has courses in Koh Phangan and Bangkok's countryside. You can also zip with Flying Fox in Krabi! I personally went ziplining with Flying Squirrel in Chiang Mai and had an incredible experience.
Philippines: Lake Sebu, Boracay, and more
Lake Sebu in South Cotabato contains the highest zipline in all of Southeast Asia at 180 meters tall. You'll also pass by seven waterfalls on your way down.
In addition to Lake Sebu, the Philippines has more than 20 zipline courses scattered throughout their many islands. If you're on Boracay try Fairways and Blue Water, or for Asia's longest zipline, visit the Dahilayan Adventure Park in Bukidnon for an 840-meter zip down a mountain!
Singapore
Looking for a little adventure in Asia's bustling city-nation? Forest Adventure features 50 obstacles, including zip lines across a resovoir, bridges, trapezes, logs and more.
Alternatively, Megazip offers a strenuous "ClimbMax" in addition to ziplining that includes wobbly bridges, tightropes, and cargo nets.
Malaysia
Bukit Tinggi's Flying Fox takes you to speeds reaching 70 to 80 kph while soaring 150 meters above the ground. The Flying Fox, part of the Aerial Forest Ropes Park, features multiple zipline and aerial rope courses. The park also offers rock climbing, a canopy bridge walk, and a rope obstacle course.
Another company to consider is the Langkawi Zipline Jungle Canopy Adventure, which will have you zipping across an ancient tropical rain forest canopy. During the trip, you'll abseil, climb, trek, and glide high above the ground on a cable system.
7. Canyoning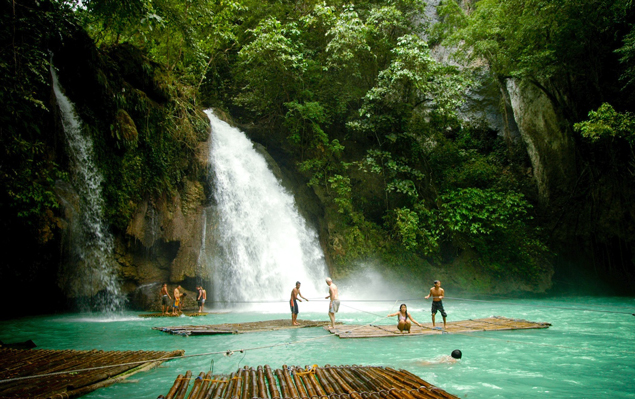 Have you ever wanted to go whitewater rafting, but without the raft? A combination of hiking, swimming, rock slides, rappelling and cliff jumping: canyoning can not be missed on your trip to Southeast Asia!
Philippines: Cebu
I went canyoning for the first time on my trip to the Philippines. The best place to go canyoning is Kawasan Falls, which can be reached from Moalboal. This adventure boasted rock water slides, swimming, hiking, rappelling down a rope with no harness and plenty of cliff jumps, including one that was 30 meters! Let's just say I've never been so scared in my life...
Vietnam: Dalat
Canyoning in Dalat involves a little more rappelling (or abseiling) than in the Philippines. A trip to Dalat will involve rappelling down an 80 ft waterfall! You'll also have the opportunity to go head-first down a rock waterside (don't worry, you'll have a helmet) and complete a cliff jump of 11 meters.
Indonesia: Bali
Head to Bali for a canyoning adventure that includes swimming through caves, rappelling down waterfalls, hiking through gorges and ravines, and swimming through whitewater. Head to the canyon with Adventure and Spirit, which offers a wide range of canyoning for different levels.
8. Surfing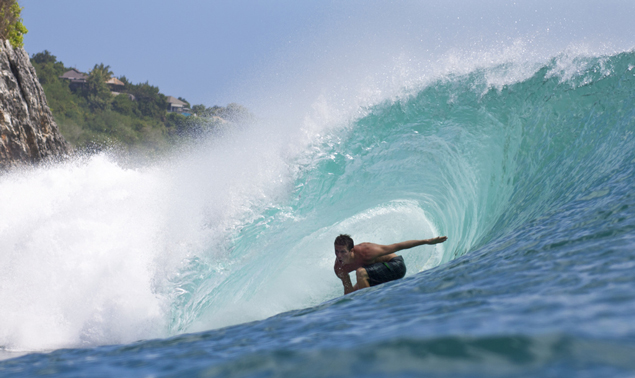 Whether you're just learning or very advanced, Southeast Asia also has plenty of surfing spots for you to explore. Ride the waves with a teacher, or with the best surfers in the world! Here's where you can find the best surfing spots.
Philippines: Siargao
This is where I first learned to surf! A small island near Mindanao, Siargao is a surfer's paradise with breaks all over the island. Siargao has consistently good waves year round, and plenty of spots for beginners and advanced surfers, as well as cheap surfing schools with experienced instructors. The most popular surfing spot is Cloud 9, which is a reef break, meaning the waves are never too far from shore, which is perfect for beginners who aren't used to paddling for hours on end.
Indonesia: Bali
For surfers, Bali is a true paradise. Bali is the starting point for your surfing adventure in Indonesia, drawing talented surfers from all over the world. With up to 20 top quality breaks on the Southeast and Southwest coast, including the famous Kuta beach, you'll be sure to find intimidatingly huge waves, or small waves for beginners.
Once you finish with Bali, head to West Java, West Sumbawa, Lombok, or Mentawai for more waves. Indonesia really is the perfect place for a surfing adventure!
Thailand: Phuket
Phuket is home to three major surfing spots you shouldn't miss! First, there's Kata Beach, which is an ideal spot for those with mixed abilities, with a rough swell that's also gentle. For more of a challenge, head to Pansea Beach, which hosts challenging point breaks for experienced surfers. Finally, head to Bang Tao beach, the most desirable surfing location. Surrounded by white sand and luxury hotels, these waves do not disappoint!
9. Sandboarding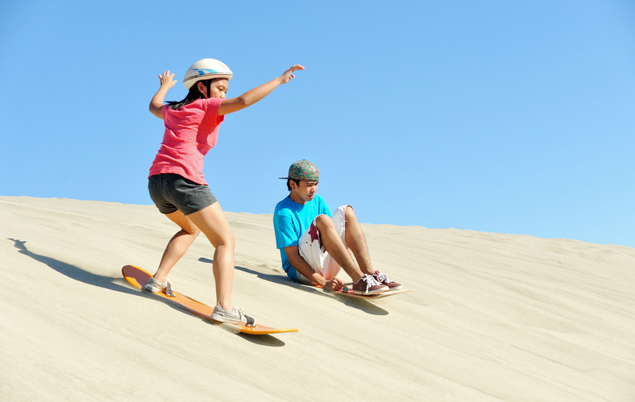 You've all heard of snowboarding, but what about sandboarding? Strap on a board and shred the sand dunes instead of the slopes! Here's where you can find the best sandboarding in Southeast Asia.
Philippines: Ilocos Norte
Don't forget to close your mouth while sliding down the Laoag La Paz sand dunes! You can slide down solo or in a pair. If you can balance, try standing up on the board for an extra adrenaline rush! You'll even have the experience of reaching the dunes in a 4X4.
Vietnam: Mui Ne
Head to Southern Vietnam for the sand dunes in Mui Ne. After renting a jeep from your guesthouse, head to the giant sand dunes. You'll have to hike up the dunes before you can slide down on your board, adding some additional exercise. Spend the entire afternoon sliding down these giant dunes, enjoying the exhilarating rush after a hefty workout!
10. Base and Bungee Jumping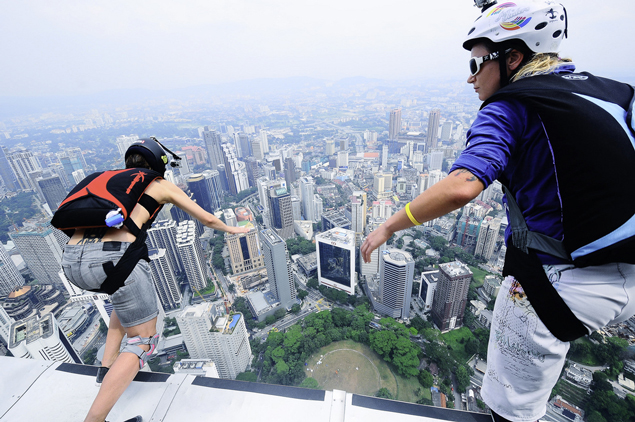 For the more extreme, why not go base jumping or bungee jumping on your Southeast Asian trip? We've compiled a list of safe and reputable places for you to get your kick of adrenaline.
Singapore: GMAX Reverse Bungee
Bungee jumping was banned in Singapore until 2003, when G-MAX's reverse bungee finally opened. On this ride, a three-person steel capsule shoots up a tower at 200 kilometers per hour! Let's hope you don't wet your pants on this one.
Thailand: Pattaya
Thailand's highest bungee, you'll panic while climbing the creaky, rusting crane while viewing the lagoon 56 meters below. Not a fan of this picture? Why not try skydiving instead? You'll fly out over Thailand's Nong Kho Reservoir, with views of Thailand's Western coast and lush greenery.
Malaysia: Kuala Lumpur
Looking for something really extreme? Why not try base jumping off the Kuala Lumpur Tower? Every year, hundreds of people risk their lives jumping off this tower. The best story comes from two jumpers in 2014 who managed to land in the swimming pool of a nearby skyscraper which was holding a rooftop party to celebrate the KL Tower International Base Jump Event!
What Will be Your Adventure?
Whether you're looking for a workout, an adrenaline rush, or to learn something new and challenging, Southeast Asia is full of adventure sports to fit your needs! Whether you're in the air about to jump out of a plane over Thailand, rushing down a river in Laos, or exploring the depths of the ocean with sharks in the Philippines, you'll never be bored in Southeast Asia!