Where Should I Intern in Spain: Barcelona or Madrid?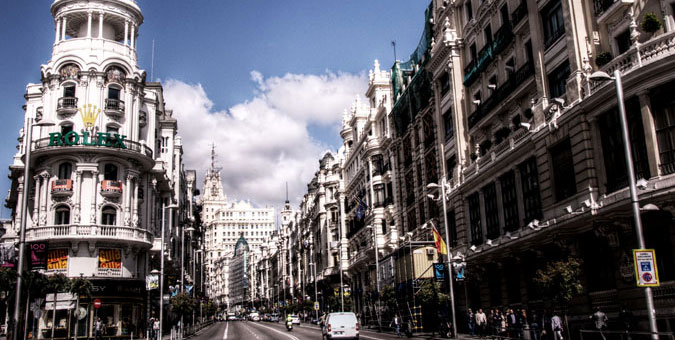 Spain. The name alone conjures up a soundtrack of flamenco music and thundering hooves (or is that just me?). This country has been a European drawcard for years, but it's not just for tourists or students who want to improve their Spanish. Work experience on a global level can boost anyone's resume, and what better way to start than with an international internship in another country? If you've already narrowed down your destination of choice to Spain, congratulations!
But now the real dilemma begins -- Where should you intern in Spain? Let's start with the two biggest cities in the country: Barcelona and Madrid.
As an intern in one of Europe's largest economies, most business internships are found in these two cities. If business isn't your thing, tourism internships are also a frontrunner. Spain is a great place to get an international perspective on the working world, but don't forget that you'll be living there as well as working there. Weigh up your options and decide which city appeals the most to you. It's a tough choice, but someone's got to do it!
Top 4 reasons to intern in Barcelona
Water babies will love this beachside lifestyle
World-renowned architecture
Unparalleled opportunity to learn and conduct business in Catalan
Growing economy in textiles, electronics, and industry
Top 4 Reasons to Intern in Madrid
The capital city is the financial and political center of Spain
A cultural hub, loaded with museums and history
Fewer tourists and increased interactions with locals
Ease of navigation within the city center
Background
Barcelona and Madrid are approximately 625 kilometers apart, which is six hours by car or 2 ¾ by high-speed train if you're feeling fancy. Despite their relatively close proximity, the two are dramatically different in landscape and vibe.
Madrid
At first glance, Madrid may pale in comparison to Barcelona, but don't rely on first impressions to make up your mind. Take a closer look at the buildings and you'll see a different sort of charm, one that is enhanced by all of the expanding green space in the city.
In recent years, Madrid has... earned a spot on a list of the world's greenest cities.
In recent years, Madrid has made an effort to expand its available parks and land, earning it a spot on a list of the world's greenest cities. In fact, with an estimated 300,000 aligned trees in Madrid, that number is second only to Tokyo. A staggering 8 percent of the total city is made up of green space. Eco-friendly internships, anyone?
Madrid is the third-largest city in the European Union, second to London and Berlin. It is a major financial hub, and influences the rest of Europe with its efforts in business, fashion, art, science, and entertainment. The summers are hot and winters can be cold, but there are plenty of things to see and do that will give you respite from the weather.
Barcelona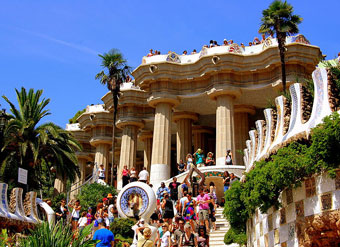 Madrid may be the capital of Spain, but Barcelona is the capital of Catalonia - and don't you forget it. The city is fiercely patriotic, and 75% of its inhabitants speak Catalán, most in addition to Spanish.
Barcelona is famous for its beaches and sightseeing destinations like Park Güell and Las Ramblas. The Mediterranean climate makes it appealing year-round, thanks to the sea breeze and nearby mountains.
Tourism is undeniably bigger in Barcelona, and that is often reflected in its prices. Certain elements of living in Barcelona may be more expensive, but with time you can learn to live 'locally,' scouting out shops and restaurants that are relatively unknown. Barcelona consistently ranks high on lists of the world's most liveable cities, and its bustling international port makes it an industry leader as well.
Internship Sectors
According to Spanish law, international interns cannot be paid, so it's a good idea to find your internship through a program provider. Spanish work culture and customs can be hard to navigate initially, because trust is an important factor and takes time to develop. A program provider is familiar with the ins and outs of interning in Spain, and can give you helpful information for your first few weeks. Regardless of where you choose to intern, summer is the most common period for internships.
Madrid
Madrid has a very diverse economy, but its strengths remain in the finance and services sectors, as well as international business. Although it was certainly hit by the global financial crisis, the city is expected to recover.
Read reviews of all internship programs in Madrid
Barcelona
Barcelona is part of the Catalonia region of Spain, traditionally one of the richest areas of Spain and the country's leader in exports. The city is pushing to attract international business in design, media, logistics, and biotechnology, which would complement an existing tourism and industrial market.
Read reviews of all internship programs in Barcelona
Work Culture in Spain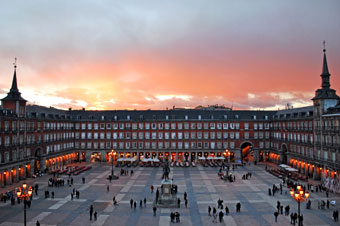 An internship abroad will introduce you to the cultural etiquette of working in a foreign country, and Spain has its own nuances to learn and practice. Doing business in Spain is a matter of trust, and as a new intern you'll need to dedicate some time to getting to know your colleagues and letting them get to know you. Whenever possible, opt for face-to-face communication over phone or e-mail. Presentation is important, as well as modesty.
The legendary Spanish siesta is still alive in some businesses, while it has been phased out in others. Don't be surprised if your office closes from 2-5 in the afternoon before reopening for a few more hours.
The siesta, historically a period of time to escape from the afternoon heat and sleep off a long, indulgent lunch, does still exist in the Spanish culture. However, it doesn't necessarily indicate a relaxed approach to work - the Spaniards are said to work up to 14 percent longer than their European counterparts.
Language
If your primary goal of an internship is to work on your Spanish language skills, you'll want to pay careful attention to this section. English is commonly spoken in international business circles, but learning Spanish is definitely advantageous. But make sure you recognize that there is a difference between Castilian and Catalan Spanish.
Madrid
Locals in Madrid speak Castilian, what you may think of as 'Spanish.' It's similar to the Spanish you may have learned in school, and is spoken by over 350 million people across the world.
Barcelona
Contrary to popular misconceptions, Catalan is not a dialect of Spanish, but its own language. Seven million people worldwide use it, mostly in the Catalonia region of Spain. Most signs will be written in both Catalan and Castilian Spanish. Although people will likely understand you if you speak Castilian, be aware that you will probably be surrounded by people who speak Catalan.
The Verdict
Maybe you've read through this article and come up with an obvious victor. Maybe not! The age-old debate between Barcelona and Madrid isn't likely to end anytime soon, with both cities offering so much to an international intern.
Lucky for you, there is no wrong choice when it comes to Spain - everybody wins!
To make your choice, think about the end goals of your internship and work backwards. The beachy tourist attractions of Barcelona might be the right fit, or it could be the buzz of capital city life in Madrid. Lucky for you, there is no wrong choice when it comes to Spain - everybody wins!
Photo Credits:
Gran Via, Madrid
,
Par Guell, Barcelona
, and
Plaza Mayor, Madrid
.