Is it Safe to Travel to Nepal Right Now and Volunteer?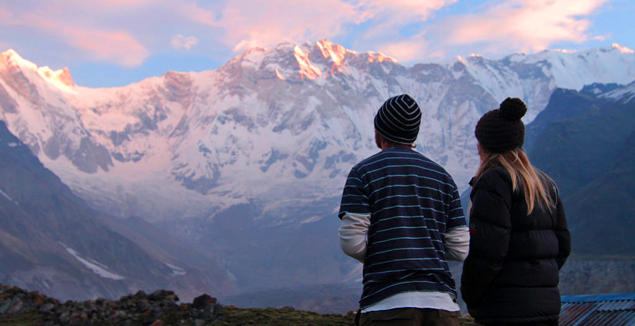 The Himalayan massif Annapurna is a familiar sight to Brad Hurvitz, founder of the non-profit Trek to Teach, which places teachers in rural villages in Nepal. However, when he arrived at the Annapurna Base Camp (ABC for short) in the spring of 2015, what he saw was far from familiar.
As a result of the 2015 Nepal Earthquake, tourism to the nation dropped significantly and immediately.
Instead of the usual crowds of tourists, guides, and porters, there was nobody there. "Literally, it was just me, a couple of our teachers, and our guide," Brad told me over the phone one sunny June afternoon. "Normally, once you arrive at Base Camp there are a couple hundred people. But this time, we were alone, and it was magnificent."
A Destination With No Travelers
As breathtaking as this rare site must have been for them, it was the manifestation of the current hardships facing Nepal. As a result of the 2015 Nepal Earthquake, tourism to the nation dropped significantly and immediately. Directly after, many tour companies reported up to 90% of their bookings canceled overnight.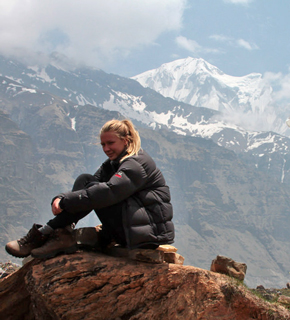 Brad too said Trek to Teach saw similar results, having some of the teachers who had applied for the fall term prematurely pull their applications based on the conditions in Nepal at the time. The summer program was also, sadly, cancelled for 6 would be volunteers.
For a nation that attributes 20% of its national income to tourism, this has been a huge blow to Nepal's economic development. Not to mention, it wasn't just tourism leaving the country -- volunteers and non-essential government employees (including Peace Corps Volunteers in Nepal) temporarily left Nepal directly after the earthquake.
After talking with Brad and several other teachers at Trek to Teach, it's clear that tourism, volunteers, and foreign teachers need to return. But is it safe yet to travel to Nepal? And how can volunteers help -- especially those not trained in disaster relief?
What Areas Were Affected By the Earthquake? How?
The first step to understanding whether or not it's safe to travel to a country that has just suffered a natural disaster (or political unrest, economic crisis... anything) is to fully understand the situation. While there's no shortage of reporting on Nepal's earthquake, let's get a few of the bigger facts out of the way:
Not all of Nepal was affected by the earthquake
The epicenter of last April's earthquake in Nepal unfortunately correlated with Nepal's most densely populated area: the capitol Kathmandu. Aftershocks sparked landslides and avalanches throughout the country and other areas of Asia. However, a good half of Nepal -- the western half -- didn't experience the earthquake itself or its aftershocks. The Washington Post did a fantastic job mapping out which areas of Nepal and nearby countries were affected by the earthquake (and was our reference for this data).
In the case of Trek to Teach, the villages they work in are located in Ghandruk, Chhomrong, and Tolka. All three villages are located to the west of Pokhara in the Annapurna Conservation Area, and were only minimally affected by the earthquake. Again, Brad said of his time in the Annapurna Conservation Area, "during my two weeks trekking through the region, I only recall one building that had been destroyed and it may have been poor structure to begin with."
International engineers who were sent in to the Annapurna Conservation Area had the same findings. "Engineers from Miyamoto, a US-based firm, found that the Annapurna route was largely unaffected, with only six of 250 guesthouses assessed needing repairs," reports the South China Morning Post.
While we definitely don't want to minimize the devastation caused by last spring's earthquake, it's important to understand that not all of Nepal was affected by the quake.
Earthquake damages weren't just structural
As mentioned before, the damage from the earthquake isn't limited to structural damages, collapsed buildings, deaths, or injuries. It's taken a toll on Nepal's economy and stalled development. Even months later, the earthquake's impact continues to be felt in this way for much of Nepal's population.
The earthquake, as well as the preceding landslides and avalanches caused by aftershocks, destroyed crops and fields. Questionable safety stopped tourists from visiting. As a result, both the agriculture and tourism sectors have been hard hit and left many without a job.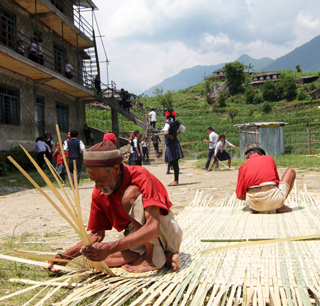 Ashley, one of the first teachers to work with Trek to Teach nearly two years ago, has stayed in contact with her Nepalese friends, many of whom were guides. After the earthquake hit, she immediately tried to get in touch with her friends there, and has been communicating with them regularly for months now.
"Tourism has basically disappeared," she said when I asked her what her guide friends said of the economic situation in Nepal.
"Tourism is a main industry... Now people are looking to make money, but it's hard to do that when there aren't any opportunities," Ashley explained.
This is the problem that remains: locals affected by the earthquake are struggling to figure out how they can make money, support their families, and meet their basic needs. Many left homeless by the earthquake continue to live in makeshift camps, now flooded by monsoons, but have no where else to turn to.
How Can Volunteers Help Nepal Recover from the Earthquake?
Ashley, like many who have taught in and fallen in love with Nepal, wanted to help the country when they first heard the news. "My immediate reaction was 'I need to be there,'" says Ashely, "but then I thought, what am I going to do? They need aid workers who are specialized in search and rescue. There's nothing that I personally can do besides fundraising."
Donate to disaster relief organizations
Through her current job back in the United States, Ashley raised money to donate towards disaster relief in Nepal, leaving the on the ground work to trained professionals (which, really, is the best move in this sort of situation). Trek to Teach as well diverted donations from their organization to disaster relief organizations in the immediate aftermath, recognizing that in those first few weeks, financial donations would make the most impact.
Individuals and organizations throughout the world contributed to disaster relief organizations, like The Red Cross and ShelterBox -- an organization that provides a shelter and basic goods to those in need -- all of which contributed to on the ground support by experts in Nepal. Donations continue to be a core part of Nepal's recovery.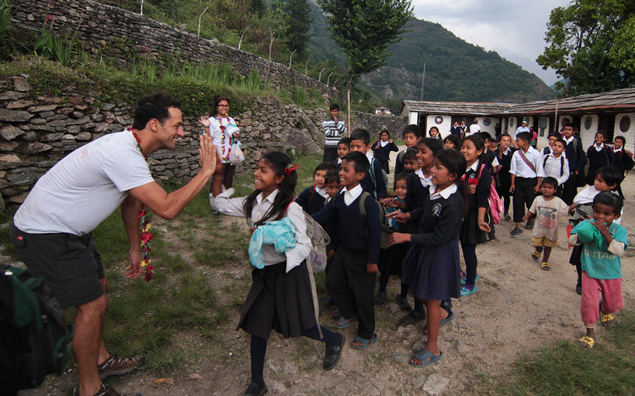 If you're interested in making a donation, The Guardian compiled a great list of organizations accepting donations towards disaster relief in Nepal, such as Oxfam, Tearfund, Unicef, and VSO. Likewise, Trek to Teach is continuing to accept donations to repair and rebuild damaged schools in areas neighboring the villages they work in.
Though we're no longer in the immediate aftermath, these organizations still need donor support to help provide clean water, housing, education, and protect vulnerable populations from human trafficking. "
Supporting a return to normalcy
Now, however, the concern has gone past providing basic shelter, medical care, or search and rescue. It's time to begin restoring infrastructure and economy. It's time to help Nepal return to normalcy.
Travelers need to return and support tourism. Children need to continue their studies. Locals need jobs to return to. Infrastructure needs to be rebuilt. Cleanup from the earthquake is well on the way, but not yet finished.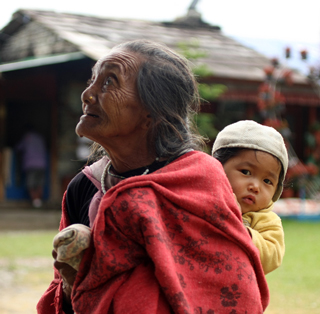 This is where volunteers can help out. As Brad mentioned, "[school] serves as a wonderful distraction and routine [for children] in a time of difficulty." Most schools have been back in session for awhile, and those who relied on volunteer teachers before the earthquake need to see their return.
In the schools that Trek to Teach works in, students eagerly trek for hours each way to get to and from school. It's a challenge, and one that students are more likely to embark on when there is a Trek to Teach teacher working in the school. Now more than ever it's important to have kids back in school and motivated to be there.
Other volunteer projects include reconstructing buildings and water stations, working with agriculture, health and environmental education, and various community development projects in rural areas.
Is Nepal ready to receive volunteers again?
With any disaster relief situation, immediate on the ground work should be left to trained professionals. However, have we waited long enough with Nepal? Is it ready to host foreign volunteers again? Is there a need?
The short answer is yes.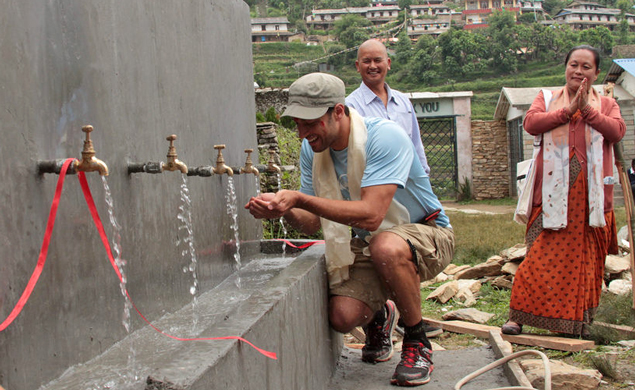 "For the most part, people have gotten back to their daily routines and the country needs volunteers more than ever now," says Brad. Hotels are up and running. Touristic areas have food and water to supply to travelers. Nepal is absolutely ready to support travelers and volunteers alike in their country.
Trek to Teach already has a couple of teachers confirmed for the upcoming fall term, and several other applications that they expect to turn in to teachers.
Is it Safe? How Can I Stay Safe?
Of course, anyone considering traveling to or volunteering in Nepal is likely concerned with safety within the country. While by no means back to its pre-earthquake state, travel to Nepal is safe.
"The people of Nepal are working hard to rebuild their communities," Ashley told me. "I don't think there's any reason to feel scared or unsafe traveling to Nepal."
Her statement is backed by the U.S. State Department in a recent update to their travel warning in Nepal. In the travel warning (dated June 30th -- so, even now over a month old), the U.S. State Department gives travelers the go ahead, but suggests consulting with trip providers (or volunteer placement provider) on location specific concerns. Currently, there may be a slightly higher risk of landslides in Nepal, but otherwise it's been approved for travel.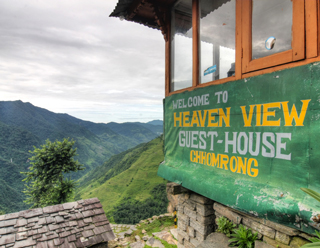 International engineers have also inspected and deemed the Annapurna circuit safe to trek in (some reports say that the circuit has been "re-opened", though in actuality it was never really closed -- more accurately, it's been inspected by experts and approved as safe to travel to.)
Instead, travelers should focus on the usual concerns associated with a remote, underdeveloped, mountainous country. However, going to Nepal with a volunteer program or a tour company means that you'll have experts who are knowledgeable of these risks and can both help educate you on them and mitigate them if necessary.
Now Is the Best Time to Visit Nepal
After my conversation with Ashley, one comment stuck out more than any other. "Every time I'd write this one guide whose village was completely destroyed, I'd say 'I'm so sad. I'm sorry'," Ashley said, "But he would say 'The people of Nepal are strong. This is the wheel of life.' ... Their reaction was so positive. I wanted so much to go help, but they were like 'that's life, we're going to get through this.'"
Nepal has always welcomed visitors warmly and with open arms, but at the kick start of this years peak season in September, travelers and volunteers will be especially welcomed.
You will be one of the few, not one in a mass of tourists. You will be visiting in a time when Nepal will most appreciate the presence of and return of tourists; a symbol of normalcy. You will see the country's strength. You will see its beauty. Go, visit and volunteer in Nepal.
Make an impact in Nepal with Trek to Teach and follow them on Instagram.