Italy Has Forever Changed How I'll Celebrate the Holidays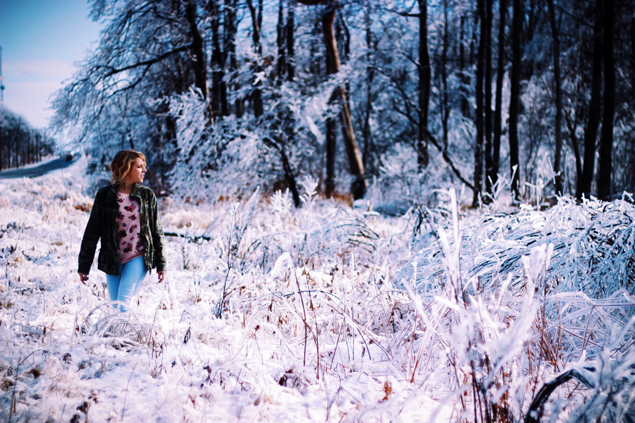 I am from New England -- which means the holiday season is exactly like what you hear in Christmas carols. I grew up with it snow, Christmas pageants, and Santa parades through my town. I'd wake up in a big wooden house and bound downstairs to see gifts under the tree and our stockings full.
Then we would go skiing or up to the lake house nestled in pine trees with the Christmas lights sparkling in the below-zero temperatures that made everything just that much more cozy. Basically, I grew up in a snow globe of New England Christmas cheer.
But then, I moved to Italy. Italy during Christmas! Your first thought is probably "Oh wow, that must be so great!" And it is the first time because it's so new and different. But, like any normal human being, I started to long for my holiday traditions, what I "thought" was Christmas. I wanted a Yankee Candle that smells like Home for the Holidays; I wanted Christmas music playing all night. On Christmas morning, I wanted to sit with my family in my PJs all morning, relax in the house, and eat amazing holiday food. This was the norm for me.
Instead, I was thrust into a different winter wonderland and it made me unhappy. I was so concerned with how "wrong" this type of Christmas was I couldn't see how right it was in every other way possible. It happened in small steps and then it hit me all at once.
My traditions are not universal and as someone who has traveled, I understand that. But I think sometimes we get bogged down in our own truths and forget to embrace others. And perhaps just the right mix of old and new is the best way to cure a bit of homesickness, and truly accept a life overseas. It will take awhile, but it will happen. And you'll be all the happier for it.
This is the story of my second Christmas in Italy, and how I finally learned to enjoy the holiday away from home.
Recreating Traditions with What I Have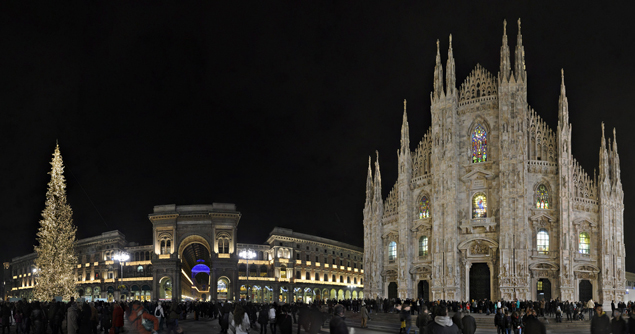 We meet next to the Carousel -- I'm walking from my new job on the Arno river, my husband Rami from home, passing the Duomo on his way. His stroll towards me is nonchalant -- as most Italians walk -- with a little less speed and a little more elegance. I wonder if I have managed to perfect it yet. He kisses me and we saunter arm in arm under the archways to the portable garden that appears there every Thursday morning. Under the marble arches, Florentine farmers set up their tables and flourish them with cacti, palm trees, poinsettias, tulips, reds and oranges, purples and deep simmering reds.
Last year, I had begged Rami for a tree. I had missed the smell of the pine. I had missed the lights shining in the December evenings. I had missed the dull ping of glass ornaments being placed just at the right spot within the branches. So we managed to get one -- complete with potted roots. It proudly stood on our table complete with a star from the Christmas market. After that season, it was retired to my in-laws porch where it has prospered, and is now too large to bring indoors again.
This year, I huffed a feeble excuse as to why we should just get a fake tree instead. I had lost my will for Christmas traditions, resigning to the fact that there would be no pine forest to chop down a tree, no snow falling softly on yards full of Christmas lights, no eggnog, no cheesecake, no family, and no 24 hour Christmas music radio stations. But my husband would hear none of it, so we decided to get a tree anyway and I begrudgingly obliged.
I pull Rami down to the end of the aisle and point to a little tree with a red tag still hanging from the highest branch -- a branch that only comes up to my elbow. I had seen it earlier on my walk to work, and I knew it was the perfect size. It was a Charlie Brown tree by definition, but to me it looked as perfect as a six foot Fraiser Fur cut from Turkey Hill Farm in Haverhill, Massachusetts. The spindly branches made me smile.
"E venti, ragazzi," the woman sang from her table behind us. She is bundled up despite the sixty-degree temperatures (you dress for the season not the weather in Italy). She jokes with Rami as he hands her a twenty Euro bill. We parade the little tree, potted and all, through two main piazzas towards home -- with tourists and Italians alike looking on in amusement.
Adjusting to the Holidays Abroad Isn't Always Easy
My heart hurts. Rami tells me that not only is he working Christmas Eve and Christmas Day, but New Year's Eve and New Year's Day as well. I want to run. I want to scream at something; but not at him. I know he's only trying to help us in the grand scheme of things. He says his "ciaos", and is off to work.
I slump down on the couch dejectedly in my pajamas. The advent calendar on the wall is almost completely opened and empty of chocolate. I wonder why we even wait for the right day to open each little box. I consider just ripping it from top to bottom right now, shoving the candies in my mouth and willing it to produce enough serotonin to lift my spirits.
The tree's lights dim in our apartment. The star isn't straight and the ornaments sag to the table below it -- a makeshift tree skirt made out of a napkin lists to one side of the pot. I think of New England as I water our poinsettia. I yearn for snow; I would kill for a day of skiing. I hear a yell of Buon Natale outside my window.
Resolutely, I fix the star and turn off the lights of the tree. I need to get out. I change my clothes and put my coat on.
Finding and Embracing Someone Else's Christmas Spirit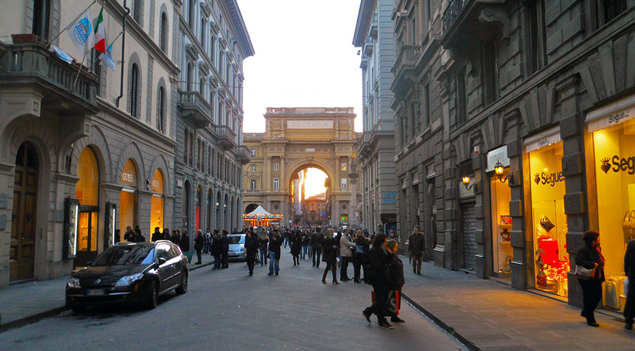 Outside my apartment, people stroll in both directions. I step down onto the sidewalk and look toward the Duomo. In the setting sun, the left side glows -- the terracotta shingles resemble the embers of a fire lit over five hundred years ago.
I walk into town, snaking the side streets to avoid the crowds. Christmas lights have been strung through the entire center, making my journey a magical pathway lit from above. Blue stars, gold chandeliers, Christmas lanterns -- each street is decorated differently, but with the same grandeur. The Christmas tree in front of the Duomo sparkles brightly and towers high above my head. The Nativity scene is a terracotta masterpiece laden with hay, and lights that make the manger look warm -- a perfectly cozy place for a baby to be laid down.
The stores are decorated with windows full of gifts. Bright red and green sweaters and dresses. Bottles of wine stacked in pyramids glimmer under colored lights. "Buon Natale" is displayed above doorways and shouted merrily through the streets. Groups of passerby stop to say hello to friends. Mannequins pose knee-deep in gold bows in their displays. Glitter shines on the sidewalks in different colors in front of the shop doors -- another festive touch to lure customers in.
All of it reminds me of the reindeer food my parents used to help us spread on Christmas Eve: oats and glitter on our front lawn to show Rudolph where to visit. Here, there are no oats. But as the silver dust settles on the tops of my boots like flurries of snow in, I can't help but smile at the gleam of it in the shine of Christmas lights.
Children press their faces to the glass of the toy store, watching the mechanical plane fly in circles among cotton ball clouds. Couples walk arm and arm on the Ponte Vecchio. A few women point at the silver and gold treasures, luminous in the wooden cases along the bridge -- hoping for a ring on their finger before the New Year rings in.
Families churn through the streets carrying bags upon bags filled with presents of all different sizes and colors. Some carry platters of pastries wrapped daintily with satin bows. Horses clip-clop down the roads and their silver bells jingle. The sound rings true in my ears and I breathe in deeply as I walk by the chestnuts burning on the coals -- the vendor's gloves are black from the smoke of the embers.
I find myself humming to the tune of "Silver Bells". I pass by friends, who shout their wishes to me as they scurry in the other direction with too many bags to count. Their faces are smiling bright and I respond with the same exuberance. I rush into a store and to my surprise actually find a Yankee Candle, then place-settings for our Christmas lunch, and another gift for Rami.
The cashier releases a flood of excited Italian upon seeing my purchases, and I surprise myself by responding just as quickly. She asks if the bag will be too heavy for me. I don't think it could ever be.
Creating Home Away from Home
I step back into the moonlit night proudly carrying my treasures. I turn right and take another crowded street and hear music -- a group of carolers sings and my heart echoes on the walls and flies up to the skies with their voices. Crossing in front of the Duomo, the tree shimmers as bright as the stars in the sky of New Hampshire. I walk into the cafe and Rami greets me with his perfect "Buon Giorno". As I slide into my normal stool at the bar, he slides me a cup of butter-yellow liquid.
"What is this?" I ask with slight trepidation.
"Eggnog, I just made it," he says nonchalantly. You can't find eggnog in Italy. I sip from the cup and the warm scent of nutmeg fills my nose.
"So, is it as good as home?" he asks. It's better. It's perfect. It's everything I needed in one cup and one beautiful face. I can only nod and tell him.
"I am home."
Photo Credits:
Caleb George
,
Florence
,
Milan
.