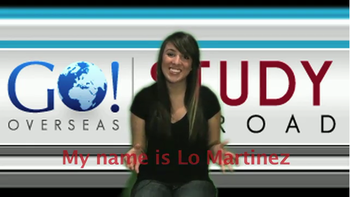 Today we would like to feature Lauren Martinez's Go Study Abroad Scholarship application essay. Lauren was recently awarded our Spring 2011 scholarship, and will soon by studying abroad in Salamanca, Spain! In her essay she shares some very valuable advice and information about why she wanted to study abroad and how she found her program in Spain. If you haven't already, be sure to watch her application video on YouTube. Very creative!
Visit this page for more information about our Go Study Abroad Scholarship and how to apply directly online. The deadline for our next scholarship is September 15th!
Which study abroad program are you enrolled in?
Lauren: I have applied to the "Spanish Language and Culture" program through Academic Programs International! The program will be during the Spring Quarter, and is hosted by the University of Salamanca in Spain. I found this program through a lot (I mean A LOT) of Googling and some guidance from my study abroad office.
When I began my search, I came up with some "requirements" for my prospective program. From there, I made lists of possibilities and crossed them off when I came across something that would hinder me from studying in that program. I was excited when I finally found the "Spanish Language and Culture" program because it was offered in a "quarter" format, was in my dream host city, and was more affordable than many other program I had come across.
Discuss the factors that led you to study abroad in Spain.
Lauren: My grandmother immigrated from Mexico to the United States at the age of 19, the same age I am now. She and her family left everything they knew behind in Monterrey, Mexico to start anew in the US. In the years since immigrating, she, with the help of my grandfather, built both an amazing family and packaging company from close to nothing. I consider her to be the epitome of the "American Dream," and her influence in my life has helped shape me into who I am today. Through my time with her, I have also learned a lot about the Latino world and formed a strong connection to my Mexican/Spanish heritage.
At this point, I have been able to visit Mexico, and I can say I am truly infatuated with the culture there. I am now looking to broaden my cultural experience in the Spanish-Speaking world in Salamanca, Spain this spring as an exchange student.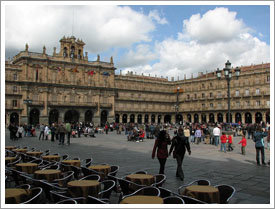 Spain is widely considered one of the top three places to live in the world so it's hard for me to think of reasons why someone wouldn't want to study there! One of the main reasons I have chosen to study in this country is that I feel like it offers aspects of Hispanic culture I have never experienced. I want to take in everything from the rich art history across Spain, to its music, authentic food and dances. Another reason is that I have heard it has amazing transportation. This would be extremely beneficial considering I would like to be able to see what all of the cities of Spain have to offer! I want to see the unique customs in every city and attend annual events occurring during the time of my studies in Spain.
Spain is ideal for another reason as well, and that is my intention to specialize or possibly minor in Spanish. Where better to really learn a language than in the country from which it originated. Salamanca, Spain would be the perfect place to learn the language. I feel that I would thrive in a city like Salamanca because of its size and navigability. Also because of the demographic of the city, I would have many opportunities to interact with my Spanish peers!
How will studying abroad in Spain have a positive impact on your career?
Lauren: I am currently studying journalism in the E.W. Scripps School of Journalism at Ohio University, and thus am required to have a "specialization." This choice is a very important one, as a student will devout a large portion of his or her overall collegiate course-load to his or her chosen field! I have chosen Spanish, and one of the main factors that influenced this choice was realization that there is an ever growing need in the journalism field for bilingual professionals. I want to be able to help fill that void and hopefully someday inspire other Latinas to do the same.
Obviously, such a dream will require me to become as fluent as possible before I graduate. Taking part in a study abroad program, like the one in Salamanca, Spain, would be extremely beneficial because it would not only put me on the right track for completing my specialization requirements, but it would also give me an unparalleled advantage in gaining fluency through my constant interactions with classmates, professors and native speakers. I also believe that I would grow in more than just fluency. I feel that the experience of being dropping in an unfamiliar setting would help shape me into a more self confident, mature, and maybe even more "worldly" individual! All of these traits would undoubtedly help make me a more competitive candidate when entering the workforce after graduation!
Thanks, Lauren. We wish you the best of luck during your study abroad experience in Salamanca, Spain! If Lauren's story inspired you to fulfill your study abroad dreams, then be sure to explore our study abroad programs in Spain page for more information.
Ready? Browse study abroad programs in Spain.