March Madness and Study Abroad: Which Country Will Win?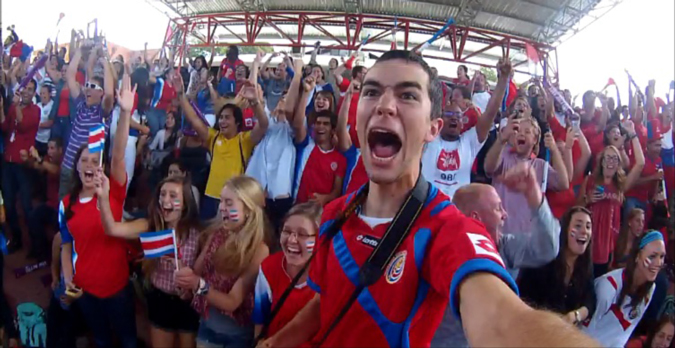 Every March sees the creation of more brackets than a construction boom in a gold rush town. Suddenly, your Facebook news feed is awash in Bobcats and Golden Bears, Fighting Illini and Runnin' Rebels, Blue Devils and whatever a Terrapin is. If April showers bring May flowers, it is only because the animals were being gathered to the ark in March.
In reality, the month of March hosts the annual NCAA college basketball tournament, which sees sixty-four of the nation's best collegiate basketball teams duke it out tournament-style to determine a national champion. While it may seem like the purpose of this tournament is to give your friends and coworkers a chance to act like a "bracketology" expert and compare their picks to yours, it is really designed for one reason: to determine a winner.
With that in mind, Go Overseas thought: how can the study abroad world get in on the fun? We're all fans of the study abroad destinations we chose, and let's face it -- we can get a little bit competitive. So we decided to host a little bracket bonanza of our own, study abroad style.
Below, we have taken eight of the most popular study abroad destinations and pitted them against one another in a bracket-style tournament! We've gone ahead and written up the "players" roster bios, as well as highlighted some noted strengths and weaknesses of each, and given them each a weighted "seed" based on their popularity. In the end, only one study abroad destination will win.
So let's blow the whistle and tip-off on Go Overseas' own brand of study abroad March Madness 2015!
#1 Seeds

The Skinny
As long as there have been Americans, there have been students who wanted to study abroad in England. Home to a handful of the greatest, oldest, and most sacred of all higher educational institutions, England is an academic pilgrimage for lovers of literature or science.
Also helping England's case is the popularity of British media in the States -- whether via the BBC, at the movies, or on our radio waves, Americans sure seem to dig a British accent.
Strengths
You'll never have to ask, "Do you speak English?" because you'll be met with an, "Aye, do YOU?" Also, every university and its brother has a study abroad program somewhere in England.
Weaknesses
Not much of a challenge for language learners, if you ask us. Also, the dollar is, was, and always will be, weaker than the pound, it seems. That means that your chicken tikka masala and your fish and chips are going to seem bloody expensive.
The Skinny
The newcomer to the top of the study abroad hill! Like your Cinderella underdog teams like George Mason University [Editor's note: Yeah, GMU!] and Butler University who upset the big boys, China has recently become one of the very hottest destinations for students to study abroad.
And the reason why is a sexy one: money. That's right, China's economy is absolutely exploding and more and more companies want to do business there. And more and more students want to get hired by those companies, work in China, and make the big bucks. Add that shiny new hotness together with an ancient, rich culture, and you've got a heavy-hitter in the study abroad bracket.
Strengths
One of the world's single greatest cultures, one of the world's single greatest economic engines, one of the world's single greatest cuisines. Also, many companies are now offering scholarships for students who want to study Mandarin in China. Look into them with your study abroad office; maybe you can travel for free!
Weaknesses
China is an awful long way away, especially if you're digging. Some students need a little time convincing their parents to let them study in a country that they grew up considering an "enemy." The "spooky" nature of the Communist government can make some students feel uneasy. Also, finding out General Tso's chicken is not "real" Chinese food.
#2 Seeds

The Skinny
How many students' daydreams include visions of studying abroad Paris? All -- is that, all of you? That's what I thought. Not only Paris, but France has perhaps more desirable cities to study abroad in than any other country. Marseille. Lyon. Grenoble. Nice. Cannes. Bordeaux. The list goes on and on.
France also has what many Americans consider to be the prototypical "continental" European culture, one of artisan wines and gourmet cheeses. As a result, France is the "Duke University" of our study abroad bracket: envied by many, but real tough to knock out of the championship.
Strengths
The best food in the world, probably. Seriously. Try the food. Lots of partnerships between French and American universities make transferring credits a breeze. A variety of different cities and landscapes give the language learner lots of options.
Weaknesses
Like much of Europe, France can be TRES CHER. And while undeserved, some city-dwellers in France have a reputation for being a little less than welcoming to American visitors. Also, probably too many cheeses. It shouldn't take over an hour to choose a cheese.

The Skinny
Ole! Seeing as how Spanish is the most-studied second language in the United States, it makes perfect sense that so many students want to study abroad in Spain! A vibrant, impassioned culture, splashed with the rich colors of its music, art, dance, and sports, paint Spain as an attractive destination for many.
From grade one when many of us were taught to count "uno, dos, tres," American students longing to finally use their second language find the chance to do so in Spain. Delicious food, gorgeous beaches, and warm people make it easy to do so.
Strengths
One of the nicest climates in Europe, and some of the most beautiful landscapes as well. A rich, proud culture is gladly shared with visitors as a source of pride. And the food, oh my gosh, the food.
Weaknesses
Some American students find that the Spanish spoken on the Iberian Peninsula does not sound like the Latin American Spanish they learned in this hemisphere. This can make understanding those around them a little difficult. Also, trying to schedule important appointments around siestas is tough.
#3 Seeds

The Skinny
Rivaled only by France for its combinations of beloved art, beloved cuisine, and beloved sun-drenched wine regions, Italy is just bella. The opportunity to study abroad in Italy is WHY students study Italian. While most universities and providers offer programs in Florence and/or Rome, the cities of Venice, Milan, Torin, and others offer students a whole Italian menu of choices!
Strengths
The birthplace of some of the most famous works of art on earth. A language so pretty, you studied it for years here in America just for the chance to use it for a week in Italy.
Weaknesses
Not very centrally located for trans-European travel. Slightly fewer university partnerships because slightly fewer universities maintain Italian departments. Also, lots of carbs.

The Skinny
The Down-Underdog of the tournament! Australia is the farthest country geographically from America on this list, but perhaps the most similar to it culturally. The next English-speaking option in line after England, Australia offers students a gentle language transition and an exciting, hip, young group of cities to make their own.
Strengths
Americans and Australians bond like long-lost cousins. Many classes are easier to succeed in because there is no language barrier for American students, which makes getting credit easier. Some pretty amazing opportunities for natural science and biology students due to Australia's isolated geography.
Weaknesses
It takes so, so long to get there, and some students can feel homesick. Fewer city options due to the vast swaths of uninhabited land in the center. Avoid the kangaroos; they kick.
#4 Seeds

The Skinny
One of the most unique and progressive cultures in the world, modern Japan is a dazzling conglomeration of the ancient and cutting edge. Once the seat of a vast empire, Japan now stakes its claim in the world as the heartbeat of the Body Technica. Many of the finest universities on the planet are found on the shores of this island nation.
Strengths
A culture that has found export all over the world, including America. One of the most revered and refined cuisines in the world, and one of the most dignified and elegant cultures in the world. Japan is also the headquarters of many companies' Asian divisions, so Japanese is a useful language for up-and-coming business students.
Weaknesses
Japan can be a little inaccessible if you don't speak the language and the gameshows can be dangerous. Watch out.

The Skinny
One of the most popular study abroad destinations in the southern hemisphere, Brazil is not just a whirlwind of color and excitement, but its position as one of the BRIC nations make it a fascinating case study for economics, sociology, international development, and government students.
Strengths
Home to possibly the proudest sporting culture in the world and some of its most breathtaking natural scenery, Brazil is an awesome choice for students who crave the outdoors. Also, no other country on this list offers the ecology or biology field opportunities of Brazil.
Weaknesses
While all countries have their areas to check out and areas to avoid, Brazil has perhaps attracted the most bad press for its "bad" areas. Portuguese, and Brazilian Portuguese specifically, are not the most common study abroad languages, which will hurt its chances in our bracket.
Which Study Abroad Destination Will Win March Madness 2015?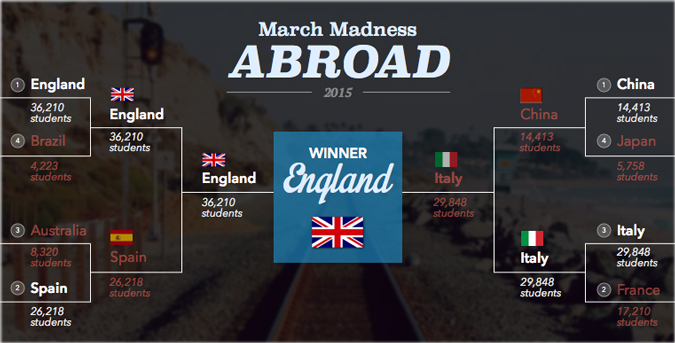 Round 1 Games:
In our first round of games, we had #1 England vs #4 Brazil. They both put up a great fight, but ultimately, England came out the champion after scoring a whopping 36,210 study abroad students where as Brazil only saw 4,223 students choosing to study abroad there. In sum England wins.
Likewise, in #1 China vs. #4 Japan: 1, Japan saw 4,413 students study abroad students, whereas China saw a close 5,758 students. In the end, China wins.
To recap #2 Spain vs. #3 Australia:, Spain had 26,218 study abroad students, and Australia 8,320. The math is easy, kiddos, Spain wins.
And finally, for #2 France vs. #3 Italy, we were shocked to see France come out with a score of 17,210 students and Italy with 29,848. Italy wins.
Round 2 Games
In our second round of games, we saw #1 England vs. #2 Spain. Again, it was England for the win with 36,210 students vs. 26,218 students. England wins.
And when China stood against Italy in #1 China vs. #3 Italy, Italy pulled to the front yet again with 29,848 students versus China's 14,413 students. Again, Italy wins.
The Championship Game
I don't know about you all, but we at Go Overseas were crossing our fingers and picking our sides when we put two longstanding champions in the study abroad world against each other in #1 England vs. #3 Italy. Both stood their ground, played their best moves, and came in at a close 36,210 students for England and 29,848 for Italy.
Add on that the fact that the percentage of ALL American study abroad students going to England increased by 4.5% last year, compared to an increase in market share of only 0.7% for Italy, means that England wins the championship game!
How Will You Celebrate March Madness 2015 Abroad?
Are you currently studying abroad and missing out on the March Madness.... madness? Tell us how you plan on keeping up with the games and taking part while you're abroad in the comments below.