Study Abroad
10 Spanish Foods & Drinks to Try While Studying Abroad in Spain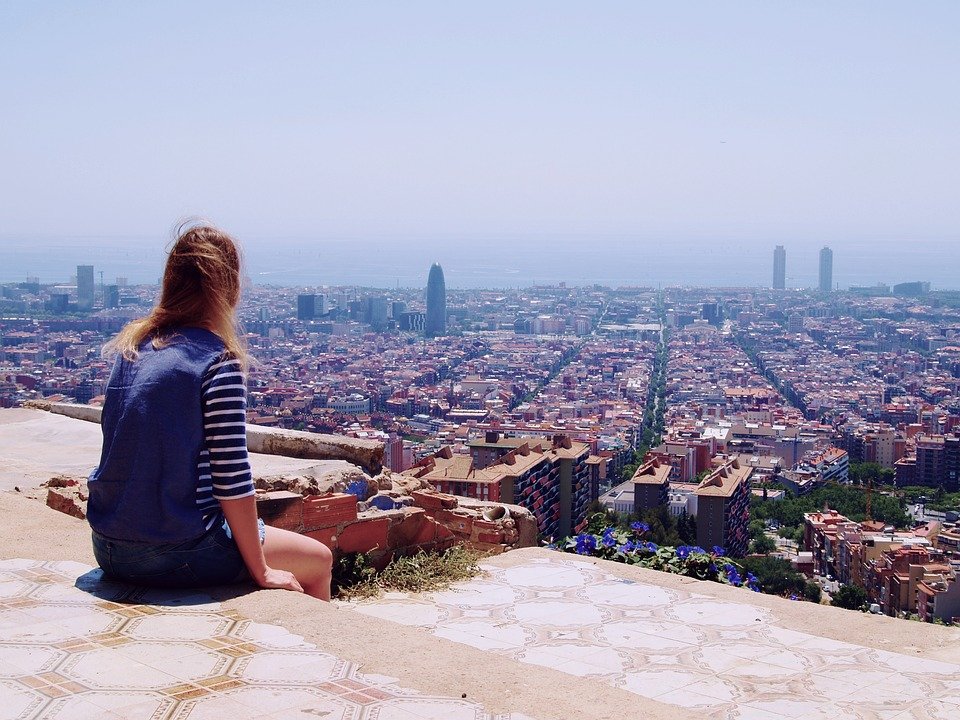 When traveling and studying abroad, one of the most exciting things to look forward to is trying new, authentic foods and drinks! And you've chosen Spain as your study abroad destination. You've chosen wisely -- Spain is one of the best places to get excited about eating and drinking, because there is plenty of delicious food and drinks to enjoy for hours upon end.
On average, lunch in Spain lasts for about 2-3 hours, which goes to show that Spaniards know how to enjoy and appreciate every last bite of their meals. Although it was difficult to narrow down, I comprised the following list of foods and drinks that are a must try when traveling or studying in Spain:
Agua de Valencia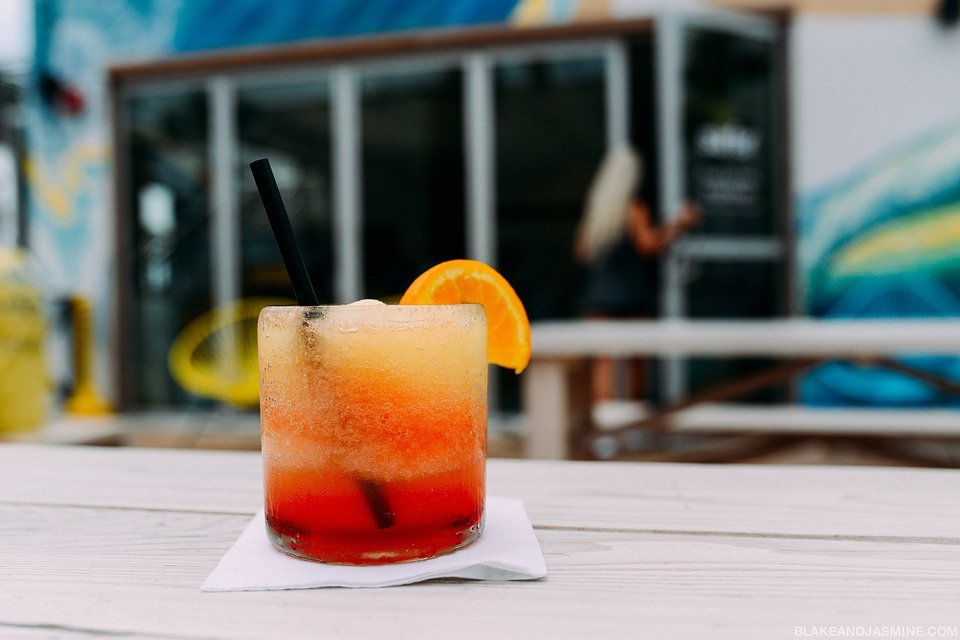 Whether you're studying in Valencia or not, the number one thing you should try when studying abroad in Spain is (drum roll please)... Agua de Valencia!
There's just something about the combination of Cava, orange juice, vodka and gin that keeps Valencians going. Agua de Valencia was first made in 1959 at a bar called Café Madrid de Valencia in Valencia but did not become popular until the 1970s, which is when the drink got its name "Agua de Valencia". The key to this drink is the world-renowned Valencian oranges.
The oranges (and the drink) are unlike anything you will taste and are worth a trip to the northeast coastal metropolis, Valencia. If you make it to Valencia when studying abroad in Spain, this sweet and tangy cocktail is sure to be a refreshing way to unwind after a long day of traveling.
Patatas Bravas
If there was one piece of advice that I could give to you before studying abroad in Spain, it would be that you should try Patatas Bravas everywhere you go.
Patatas Bravas are one of the most popular tapas dishes in all of Spain and consist of boiled-then-fried potatoes doused in a tangy, spicy sauce. Some Patatas Bravas also include a creamy sauce that varies by each city, which really balances out the other sauce in the dish.
They're normally served at bars, so it doubles as a great excuse to try the drinks mentioned in this article as well! I tried many variations of the dish and was glad I did because each variation was unique and delicious in its own way!
Cava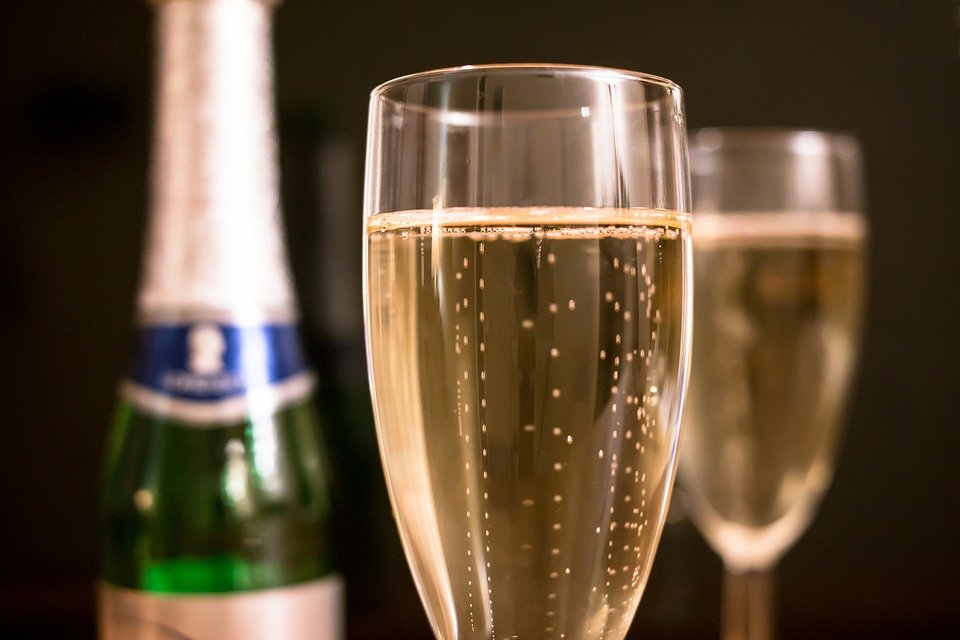 Cava is the Champagne of Spain. Fine sparkling wines can only be called Champagne if it is from the Champagne region in France, but Spain produces many fine sparkling wines, which they call Cava.
Catalonia is the most famous region in Spain for producing Cava, with the oldest and largest Cava producers being located there. In fact, most Cava is produced in Catalonia.
Cava is a light, bubbly wine which pairs well with tapas and was one of my favorite discoveries when studying abroad in Spain!
Available as both white (blanco) and rosé (rosado), Cava is traditionally and often consumed at celebrations, like at weddings and parties.
Sangria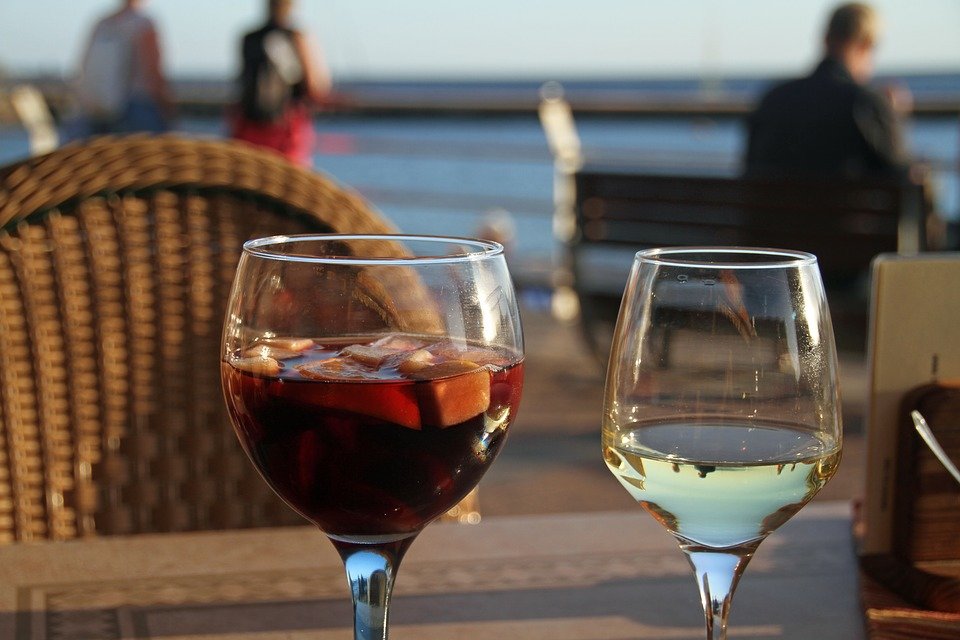 Sangria is without a doubt one of the most popular drinks in Spain, especially during summertime.
The base alcohol is red wine, but triple sec and brandy are also included, with the addition of lemon-lime soda, sugar, oranges, lemons and ice.
Sangria is often made in a large, punch-bowl style so it's great to make for a party or gathering! Restaurants often offer sangria in large serving containers with spouts, so that it can be easily shared -- a perfect drink for making life-long friends on your study abroad trip!
If you are into red wine and other drinks made with red wine, there are several other wine-based drinks in Spain you should try including:
Vino Tinto -- Red Wine in Spanish
Tinto de Verano -- similar to Sangria, but without Triple Sec and brandy, no sugar added
Kalimotxo -- red wine mixed with Coca Cola
Tortilla Española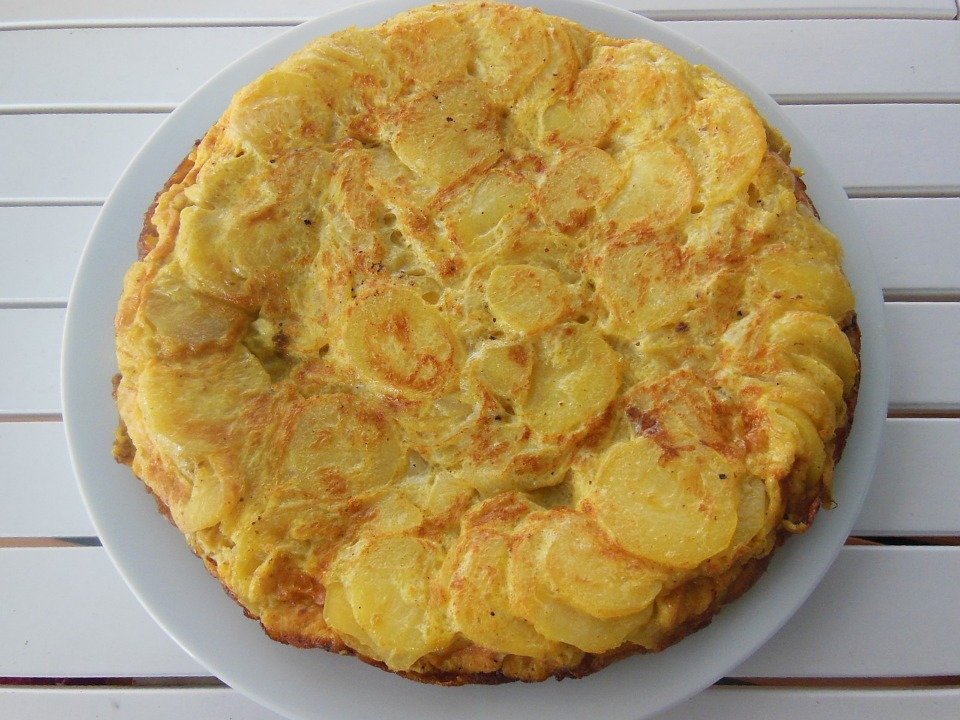 The Tortilla Española, or Spanish Omelet, is one of the most popular dishes throughout Spain. It is made with eggs, onions, potatoes and sometimes includes chorizo (see below), peppers, or ham.
It can be served as a tapa (Spanish small plate/appetizer), on a sandwich, or as a light dinner. Many homestay mothers in Barcelona, including my own, made Tortilla Española on a regular basis, and we all grew to love this typical Spanish dish.
Unlike the American omelette, this Spanish Omelet comes an inch and half thick and the size of a plate, so don't be surprised if it's heftier than when you normally think of omelettes. Variations of this dish include adding green peppers, zucchini, mushrooms, and eggplant.
Sign Up for Study Abroad Details
Travel info & inspiration, delivered straight to your inbox ✈️🌎👋
Chorizo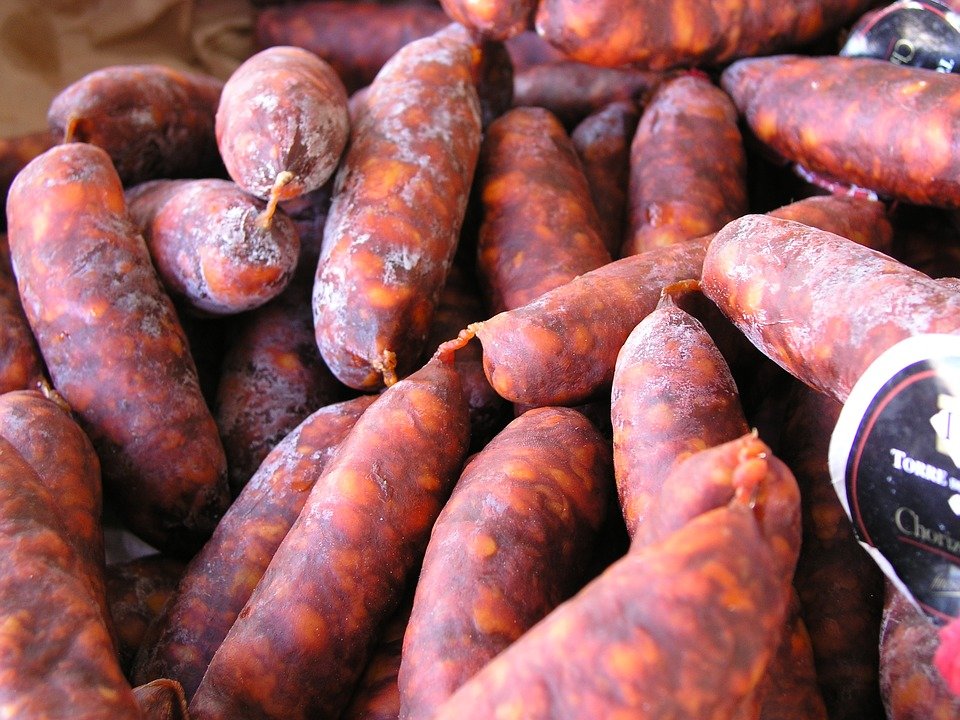 If there's one thing you should know about Spanish cuisine it is that Spaniards use pork products in a LOT of dishes. Spain is very proud of their pig products and for a good reason: they're good.
One of my personal favorites while studying abroad was chorizo, a pork sausage that comes smoked and unsmoked and is flavored with smoked paprika and garlic. It's savory, salty and undeniably mouthwatering. As chorizo contains paprika, some variations of it are spicy (picante) but even if you're not one for spice - fear not! - there are also sweet variations (dulce).
If you're wondering how to eat this awesome sausage, chorizo goes well in any savory Spanish dish or even just on a baguette with cheese. You choose!
Orxata (pronounced Horchata)
Not to be confused with horchata from Mexico and Latin American countries, which is a rice-based drink, Orxata in Spain is a refreshing, ice-cold drink that's perfect for a hot summer day. It originated in the region of Catalonia, in particular Valencia.
The idea of making this drink, which is made with tigernuts (chufas), water, and sugar and poured over ice, came from the Muslim presence in Valencia during the 8th-13th centuries.
As an added perk, since horchata is made with tigernut, a plant, horchata is suitable for vegetarians, vegans, and even people with nut allergies. An added bonus: this refreshing drink is often served alongside a sweet pastry called fartons, which are perfect to dip in the Orxata. Score!
Churros con Chocolate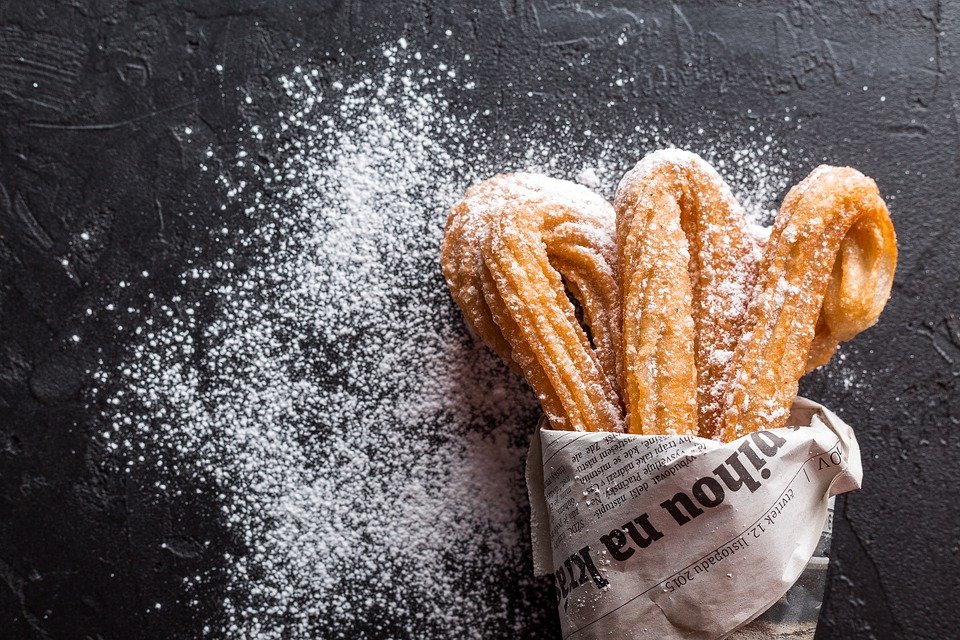 If you're looking for a sweet treat at any time of the day go for some churros con chocolate! These long, fried, sugary sticks of dough are coupled with a cup of thick Spanish hot chocolate. And believe me, this is no Swiss Miss, folks; Spanish "hot chocolate" is more like hot fudge, and it is delicious -- dark and rich enough to satisfy all your chocolate desires!
An order of churros con chocolate is a great snack to split between two people (or more if you're just looking for a small sugar fix), that is, if you're willing to share.
Not sure how to eat what seems like a cup of pure chocolate with some fried dough on the side? Here's our (not so) expert tip: dip the churro in your chocolate! Enjoy as breakfast, a snack, or dessert!
Paella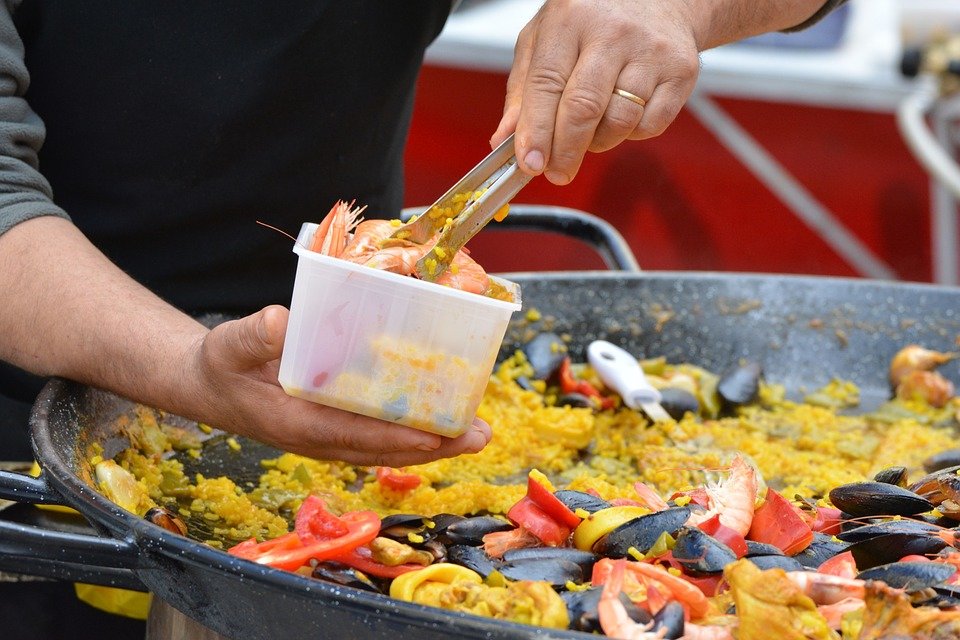 Paella is one of the most typical dishes that you will find when studying abroad in Spain. It's a rice dish, usually prepared in a big pot over an open fire, with a variety of vegetables, meat, chicken or fish added.
While the dish originated in Catalonia, Paella is now prepared all over Spain in many different ways. Each cook makes Paella differently, so it's good to try it more than once and at different restaurants.
A suggestion I would make would be to avoid the very touristy-looking Paella restaurants. For instance, when I was studying in Barcelona there were Sangria and Paella restaurants lining the main street, La Rambla. Though tempting, I was told by locals and teachers to avoid those restaurants and instead find somewhere more local and away from the main attractions to get a quality Paella (follow this rule for Sangria too!).
Café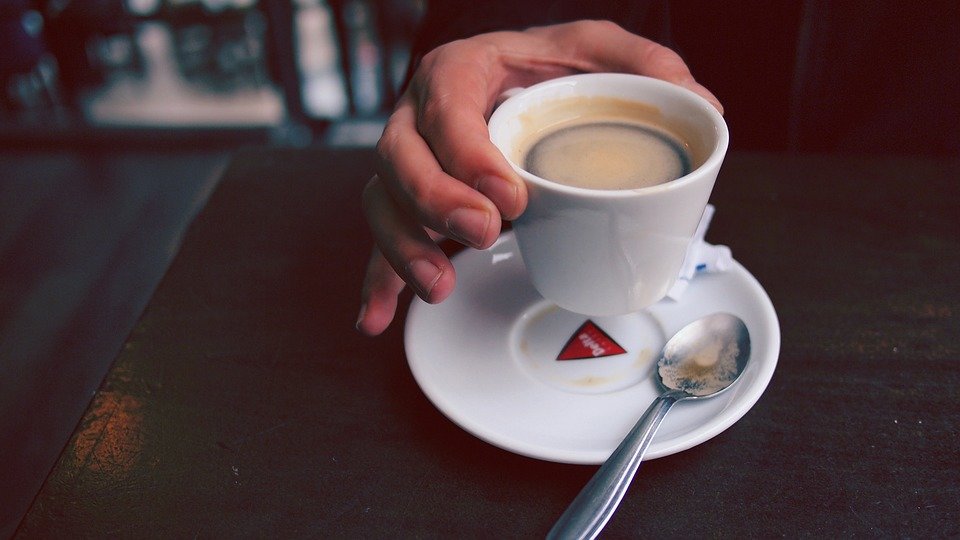 What is a Spanish breakfast without a little (or big) cup of Café, you ask? Absolutely nada.
A cup of strong Spanish coffee in the morning is exactly what you will need to keep you going during a long day of sight-seeing after a long night of not sleeping much.
It's not all that easy to adjust to the night owl ways of the Spanish, but you can definitely get by if you stop at one of the many quaint, little cafes that line the streets of the cities throughout Spain.
One thing you should know about coffee in Spain is that you never simply just order café (coffee in Spanish), there are a plethora of other terms that go hand-in-hand with ordering a coffee. Our cheat sheet:
Café solo -- espresso, the standard form of coffee in Spain
Café con leche -- espresso with milk, the most popular in Spain and my personal favorite
Café cortado -- espresso with a drop of milk
Café descafeinado -- decaf coffee
Café con hielo -- an espresso with a glass of ice
I'd assume there are other ways to have it, and there are Starbucks in Spain, but I'd stick to the Cafés if you want the true Spanish coffee experience.
I hope this offers an insider's view on what to try when traveling in Spain! Don't limit yourself to this list though. Try everything and try often. Sit down at a table for two or three hours and enjoy your drinks and meals with good company. That's what the meal experience is all about in Spain!
Read Next: What (Else) You Need to Know Before Studying Abroad in Spain