Should I Study or Intern Abroad in Summer 2015?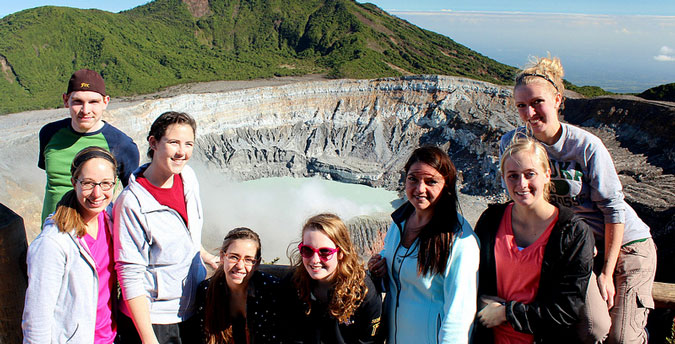 There's a whole big world out there! Seriously, go check! You back? Was I right? Good!
Of course, there are different ways to get out and see the world. Beyond simply your different means of conveyance (plains, trains, and automo-cars), there are different aspirations and institutions that can take you abroad, like say, studying, or interning, or one of the many other forms of meaningful travel we at Go Overseas love to talk about. But today, the focus of this little chit-chat is a question that troubles (or should trouble!) many students: should I study abroad or intern abroad this summer?
As always, we've got your back, and we're going to walk you through the process of choosing the best route for you! Let's get into it.
Lots of School Left? Go Study Abroad, Young (Wo)Man!
College is a long, strange journey, full of interesting people and terrible cafeteria food. The person you were as a freshman can be very different from the person you will be as a senior. That's why it is so important to ask: do I need credits or experience?
Studying abroad - besides being the best way to explore the world - can be a wonderfully unexpected two-fer; you get to go globetrotting and you'll receive credit for it too! And while colleges are there to help you land a great career after graduation, it's important to not overlook what happens before graduation. You've already invested so much money in your degree; make sure you get it finished before you move on to the next chapter.
Studying abroad -- you get to go globetrotting and you'll receive credit for it too!
Some internships will have partnerships with your university and will offer credit, but these are rare, and the credit will probably be meager. A well-picked summer study abroad, however, can offer you a full semester's worth of credit -- or at least a couple of classes worth. This means you can have your international experience while staying on track academically, and possibly even getting ahead. I mean really, who wants to pay for an extra semester of college?
Got the Real World Blues? Try Some Intern-al Medicine!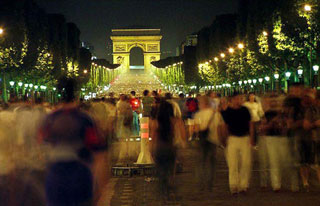 So you're about to graduate, huh? Big shot on campus! You've probably already taken all your pre-req's and your senior seminars, and you're chomping at the bit to walk across the stage at commencement and start making dollars. But you never got to go abroad and that bugs you, right? Try an internship!
It's harder than ever to land a job in your field upon graduation, as more and more qualified students with shiny new degrees like yours are flooding the market. To stand out from the crowd - while still getting your travel on - consider padding your resume with an international internship. There are even more companies that need interns than there are study abroad programs, so finding one shouldn't difficult. We especially recommend starting your search right here on Go Overseas' intern abroad page.
If you're on track to graduate on time, an internship abroad can do a number of good things for you professionally. First, you get work experience in your field, and you get your name familiar to the company, just as a domestic internship does. Additionally, an internship abroad shows potential employers that not only are you so interested in your field that you crossed the globe to pursue it, but that you are the kind of level-headed, responsible person who can handle the demands of doing business in a foreign country (if only they knew!). Landing a job is all about convincing your employer they can trust you with the job. Having interned abroad shows them that in spades.
What Are Your Plans After Graduation?
Another important thing to consider is your plan after graduation (you do plan to graduate eventually, right?) Are you planning to jump right into the workforce, immediately cashing checks and snapping necks, making bank, and grilling steak? If you are, we would recommend interning abroad, for the reasons discussed above. However, a study abroad on your resume can be a powerful tool when seeking a job, you just have to know how to talk about it. Nobody cares that you enjoyed yourself (except us!), but employers will be interested to hear that your study abroad taught you personal accountability, time-management skills, and poise under pressure. Like a bad garden, you want to avoid the flowery, and stick with the concrete.
To stand out from the crowd - while still getting your travel on - consider padding your resume with an international internship.
Many of you will go on to graduate school after graduation, though. Good for you! I decided I never wanted to hear the word "term paper" again, but... again, good for you! If you're someone who wants their degree to start with an "M" and not a "B," you have a couple options for going abroad.
Like applying for a job, grad schools applications are competitive, and you need to stand out. What better way to show your passion for English literature than a semester at Trinity College studying Chaucer? Gunning for your masters in international relations? How about having spent a summer in Johannesburg studying local and international economies? Study abroad is a great way to demonstrate your passion and intellectual curiosity for your subject.
Internships can get you into grad school, too. Depending on what degree you're seeking - an MBA being the most obvious - grad schools look very favorably upon impressive work experience. Grad schools are designed (in many cases) to give students the highly-specialized education needed for a certain career. Showing the admissions office that you are willing to supplement their instruction with your own initiative - especially something as gutsy as interning abroad - can really help convince them that they should bet on you.
Of course, if you can't decide between the two, you could always study and intern at the same time!
Everybody's Workin' for the Weekend - Except You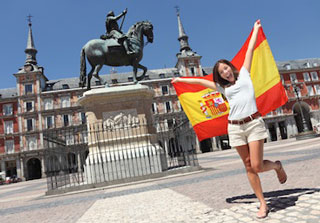 The final, perhaps most important question to ask yourself is this: how do you want to spend your actual time abroad? When comparing a summer internship with a summer spent studying abroad, the internship is going to be the most purpose-driven, with more actual program-per-hour than a study abroad. Like a job, and internship is going to require you be in attendance (whether in the office or other designated place) basically from 9-5, Monday through Friday. Of course, the specifics of this change from country to country -- interns in Spain and France get two hours off in the afternoon for a siesta - but in general if you are doing and internship abroad, well, you're going to be doing an internship, abroad.
On the other hand, a summer study abroad will only have you in class for three to four hours a day, and most programs include excursions, service learning, and trips within your host country. Yes, there will be papers to write, homework to do, and other super duper fun "extracurriculars," but actual class is a small portion of your day. This means that the rest of your day - if you are committed to spending it academically - is yours to explore museums, cultural music, public libraries, and local historical spots. I used this intellectual freedom to its fullest, and grew as a person tremendously.
Are you at a point in your life where you would rather have the tangible value of an internship, or the abstract value of a study abroad? Awesomely enough, the choice is yours.
It comes down to this: all that time at your internship will equal some phenomenally cool work experience, some shiny, impressive resume boosters, and a lot of tangibly valuable business networking connections to call upon later in your life (ie, the rest of your life). On the other hand, all that exploration time during your study abroad will equal some valuable lessons learned about yourself, your own personal strength to overcome challenges, and a ton of new confidence in yourself (also for the rest of your life). Are you at a point in your life where you would rather have the tangible value of an internship, or the abstract value of a study abroad? Awesomely enough, the choice is yours.
We understand that you start drooling like a hungry animal when looking at a world map. We get that you look at travel itineraries on Pinterest like some people look at Ferraris or Prada bags. Trust us, we get why you travel. And whether you your time abroad to be an academic study or a professional internship, we hope this guide will help you ask the right questions, weigh the right options, and make the right decision. And the right decision is always - of course - to Go Overseas!
Photo Credits:
The Leaf Project
,
The Intern Group
, and GoOverseas' resident hobbit.