How To Perfect Your Australian Accent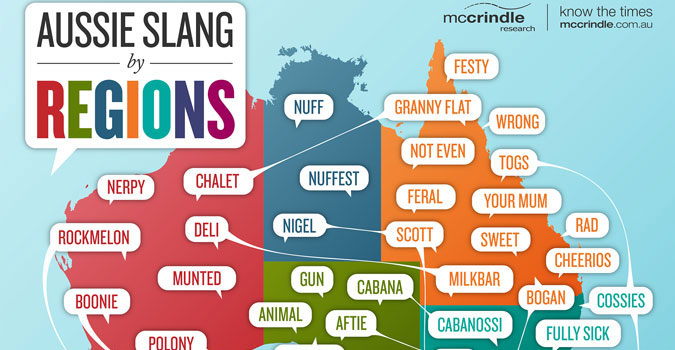 The first memory I have of the Australian accent, sadly, is from a Fosters commercial. Starting with, "How to speak Australian," a common phrase or term pops up, like locksmith, then a funny video follows of how that term is interpreted in Australia.
The truth? Australians don't even drink Fosters and the chances of you picking up a cute Aussie accent by sitting around watching a commercial millions of miles away is highly unlikely. To learn "how to speak Australian" and truly perfect your Aussie accent you need to head down under mate.
Not sure how? No worries! We're here to help with that and teach you a bit of Aussie dialect along the way.
Study Abroad

Australia is one of the most popular destinations for American students to study abroad and companies like Capa and AIFS offer programs that make it easy to do so. Obviously, you'll have to do this during college, usually after your Freshman year. Most students tend to study abroad during their junior year and with the strong alliance that exist between Australia and the USA, you could easily receive the proper visas to spend a semester, even an entire school year studying down under.
Perks: Some of the highlights of studying abroad in Australia are the fact that their summer is our winter, the country has a diverse eco-system and several Australian cities are rated amongst the most liveable in the world.
If it's the environment that interests you, try SFS Study Abroad Program in the tropical rainforest. Those interested in politics can study at the University of Canberra, Australia's capital city. Last but not least, those who want to spend their system near a beach with great surf can study with the Education Abroad Network at the University of Newcastle. These are just a few ways to spend your study abroad experience in Oz.
Must-know phrases: "Uni" (University), "Reckon" (use when offering an opinion in class) and "Wag" (skip school, which you shouldn't be doing).
View all study abroad programs in Australia
Work Holiday Visa

Spending time in Australia is not limited to those in college. In fact, the country gives youth from dozens of countries (including the U.S!) the opportunity to live and work in Australia for one year with no strings attached. Those 18-30 years old are eligible to apply for a work holiday visa and do not require sponsorship from a specific company nor a secondary degree, so when you go is up to you.
But a university degree always makes candidates more appealing for various jobs no matter what country they are applying in. Simply apply online, arrive in the country and experience the country's work force for yourself.
Perks: Home to "The Best Job in the World", Australia has some pretty breathtaking places to work. Under this visa you could work as a divemaster on the Great Barrier Reef, a barista in the coffee-crazed city of Melbourne or even on a cattle ranch in the outback. The possibilities are endless and a lot will be completely new to US citizens. Further, the Aussie dollar is stronger than the American at the moment and minimum wage in Australia is $16.88, making it an ideal place to save up lots of money to travel more.
Must-know phrases: "Yakka" (work), "Knock off" (end work) and "Arvo" (afternoon).
Work away in Australia resources:
Volunteer Abroad

Just as Australia's nature makes it a great place to study abroad, it also makes it a great place to volunteer. Australia has several programs that allow volunteers to contribute to the conservation of the country and work with animals.
There is no bad time to volunteer, so whether you have two weeks at summer or you want to take a few months sabbatical from work, Australia has plenty of options available to volunteers.
Perks: Home to the world's oldest rainforest and largest living organism, if you are passionate about nature and preservation, this is the place to invest your time with programs like Pacific Discovery and Global Vision International. If it's animals you care about, you could help rehabilitate endangered animals in Northern Australia.
Must-know phrases: "Aussie salute" (brushing away flies with your hand), "Mozzies" (mosquitos) and "Good on ya" (well done, which you'll hear often if you volunteer in Australia).
View all volunteer abroad programs in Australia
Intern Abroad

Similar to working abroad, interning in Australia will allow you to see what a day in the life of an Aussie worker is like. Since internships are often now required for completion of a college degree, this will give you an excuse to spend three months or more in this no-worries atmosphere.
Perks: Australia has a very strong work-hard, play-hard ethic. You'll learn a lot in whatever area of work you intern in down under and you'll have the opportunity to follow that up with a lot of partying. While some places in the USA are just the same, you might not be old enough to partake in the after-work activities, unlike Australia where the drinking age is 18 years old.
Must-know phrases: "Flat White and Americana" (basic white and black espresso-based drinks - since interns are also known as coffee-runners you should know that in Australia a plain old cup of coffee doesn't exist), "No worries" (repeat this every time you're asked to do something for the boss) and "Sweet as" (meaning good, Australians like to add "as" to the end of things).
View all intern abroad programs in Australia
High School

You might want to start your Aussie education even sooner in life, in which case you should look for opportunities to study in Australia for a year in High School as a foreign exchange student. Visiting this young might actually give you a life-long Aussie accent, but you should know - they don't even refer to this period of schooling the same down under.
Perks: The all-around perk of studying abroad in high school is that you'll be in a situation where you are completely surrounded by foreign people. Unlike studying abroad in college, you most-likely won't be visiting Australia with a group of fellow American students, which frees you up to make some real Aussie friends and maybe even family.
Most FES's live with a host family. Who knows, maybe your's will have a home right by the beach. Some fun possibilities about going to high school in Australia: joining the surf club, taking a ferry to school and eating meat pies for lunch.
Must-know phrases: "Chalkie" (school teacher) and "Schoolies' Week" (end of year celebration, which you won't want to miss).
View all high school abroad programs in Australia
Gap Year

Even if you can't find a way to stay in the country long-term and perfect your accent, you can pick up a few phrases while visiting Australia on a gap year of travel. People from all over the world visit the country on gap year, but they're primarily from the UK, Netherlands and Canada - so you may also find yourself saying "ay" and referring to fries as chips by the end of your stay.
Perks: Australia is a wonderland for travellers. The country is proud of its tourism industry and set up well for visitors. The country is easy to navigate and locals are very welcoming. Whether you hop from one surf town to the next on the east coast or totally lose yourself in the wild, wild west, this country will give you a gap year experience you'll never forget.
Must-know phrases: "Goon" (boxed wine, a staple amongst backpackers on the trail in Oz), "Yank" (how Australians refer to Americans) and "Thongs" (flip flops, so don't blush if an Aussie you meet on the beach says he or she likes your thongs).
View all gap year programs in Australia
Ready to Start Speakin' Like an Aussie?
Six very different ways that will have you speaking like an Aussie in no time. Hopefully these phrases have given you a head start to your adventure down under, whatever way it may be. If you ever get caught up just shorten your words and add a "y" or the word "as" to the end of it. Thanks for the chinwag, now I need to go make some brekkie and play my Didgeridoo.
Photo credits: Luke Durkin, AusAid, Melborne, Mccrindle.com.au, Stephanie Watson, and Marco Antoni.