Study Abroad
7 Volunteer and Study Abroad Programs with Awesome Alumni Groups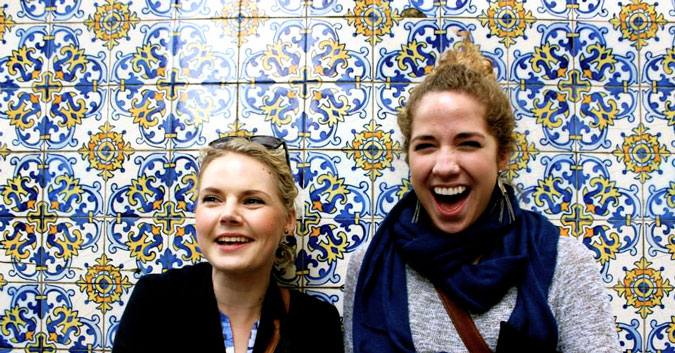 The benefits of spending time abroad last long after you return home, and chances are you'll want to continue to connect with your experience in different ways to maximize those benefits. Perhaps, you want to help others interested in your program go overseas, meet others who participated before you, or keep up with the friendships you made abroad.
Thankfully, some international programs do an awesome job of engaging their alumni and helping them to continue to get the most out of their experience in the years to come.
Thankfully, some international programs do an awesome job of engaging their alumni, providing post-program support, and helping them to continue to get the most out of their experience in the years to come. If you're looking for a program that offers exceptional alumni groups and opportunities for engagement, here are a few to consider:
After students travel and volunteer abroad with Rustic Pathways, the experience is far from over. Alumni are encouraged to join the Rustic Pathways Alumni Association "to continue to have an impact, stay in touch, and engage in communities near and far."
Open house events are held across the country for alumni to connect with each other and share stories (#sorustic!) with other students interested in participating in the programs. The alumni group sometimes also has service projects and other events that alumni can participate in to help impact their local communities.
Finally, alumni also have access to exclusive internship and job opportunities with the organization for alumni interested in continuing with an awesome post study abroad career in international education -- not too shabby!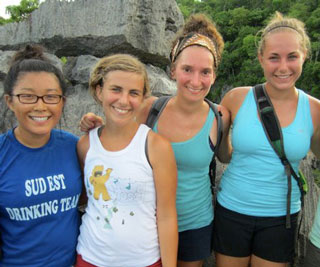 The National Peace Corps Association, made up of a network of more than 200,000 Returned Peace Corps Volunteers (RPCVs) is, well, huge.
Not to mention that many large cities have their own local groups that get together on a regular basis to host events or info sessions. With more than 35 years of experience in catering to alumni, the National Peace Corps Association knows what it's doing and pretty much has it down when it comes to benefits.
For example, there's a mentoring program to connect recently returned volunteers with RPCV mentors to help with adjusting to life back home, story slams, meet-ups, and networking events.
That's just the tip of the iceberg, though. Peace Corps alumni have access to a special RPCV Virtual Career Center to complete with job postings and hordes of resources as well as non competitive eligibility for government jobs.
Returned Peace Corps Volunteers are also eligible for all kinds of financial assistance at numerous universities, often with the opportunity to utilize their Peace Corps experience toward their graduate degree.
Alumni are encouraged to share their story with others and the association provides tons of opportunities and events for them to do so. Most of all, the network itself is a vast and strong support system that proves to be a huge benefit for Peace Corps alumni -- as any RPCV will tell you, find someone else who did Peace Corps and you've likely got yourself a fast friend!
The State Department has an International Exchange Alumni group for anyone who is an alum of any State-funded exchange program. And we mean anyone who has participated in a Fulbright program, Congress–Bundestag Youth Exchange Program, English Language Specialist Program, Arts Envoy Program, and so, so, so many more.
There are also a number of exclusive grant opportunities, professional development tools, and chances to connect and share stories.
Once students, interns, or volunteers who have participated in these programs return to the United States, they're eligible to join this alumni network (yes, you have to register). Like the Peace Corps, this online portal serves as a significant resource for exchange alumni all over the world -- an incredible opportunity to network and connect.
In addition to tons of professional development resources, there are also a number of exclusive grant opportunities, professional development tools, and chances to connect and share stories with some extremely impressive, accomplished fellow alumni across the globe.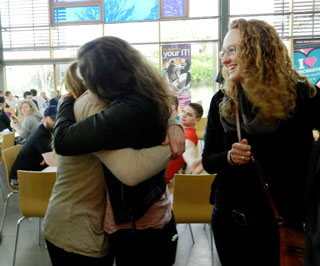 With a 350,000 person strong alumni group, study abroad provider CIEE offers a number of ways for alumni of their study and work abroad programs to stay connected with their experience
For alumni who want to help others go abroad, there's CIEE Alumni Ambassador Program, which is a nine-month training program developing alumni into leaders who promote CIEE programs on their campus.
Additionally, alumni can participate in CIEE alumni gatherings across the country, host other students studying abroad in the United States as a way to "give back" to other students like them, or mentor students about to go abroad.
For career-minded alumni, former CIEE students can get further involved in the study abroad field through the CIEE Alumni Internship Program, which allows 10 alumni to intern with CIEE for a summer at their headquarters in Maine. Both programs allow alumni to gain valuable skills and build a vast network long after they've come home and muddled their way through the post study abroad blues.
Alternatively, CIEE also offers some networking events for alumni and even created their own LinkedIn group for alum to virtually connect as well.
Volunteers returning from a United Planet program can continue to connect with their experience with United Planet's alumni resources. They can help others volunteer abroad by serving as a mentor to other volunteers before they depart, or by applying to become a campus outreach intern to share their experience with others.
Those looking to have even more involvement can join the Alumni Council, which provides leadership opportunities for returned volunteers.
United Planet alumni also have access to resources and webinars on topics related to transitioning to life back home, applying to schools, using your volunteer abroad experience to land a job, and finding other volunteer opportunities. United Planet definitely wants its volunteer alumni to stay connected!
Once you arrive home from your study abroad program with API, you'll immediately have access to a reentry toolkit full of resources to help you adjust to life back home and utilize your experience in the future.
The alumni experience doesn't end there, though. API Alumni can serve as campus advocates, peer mentors, or alumni specialists. Their peer mentor program is especially cool, since it not only allows alumni to promote study abroad to others, but to focus on researching an aspect of their study abroad program with an API staff member as their mentor.
Once you arrive home from your study abroad program with API, you'll immediately have access to a reentry toolkit... the alumni experience doesn't end there, though.
For API students who aren't quite done with life abroad, alumni are also eligible for discounts on any additional programs, such as their volunteer abroad programs, they participate on with API.
And as a cherry on top, API's Alumni Group on LinkedIn is a fantastic resource for networking, thoughtful discussion on international issues, and job openings!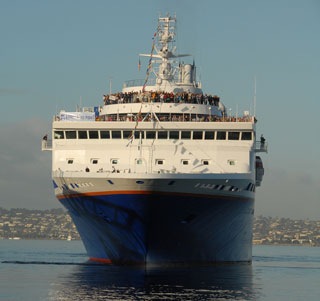 After having the unique experience of attending school on a ship, and inevitably forming a strong and extraordinary bond with your shipments, Semester at Sea alumni tend to return home with a strong tie to their experience and the organization they achieved it with.
So it's no surprise that with the SAS Alumni Association hosting 18 alumni chapters across the United States, that they're on our list.
In addition to serving as a networking opportunity, the chapters host "Bon Voyage/Welcome Home" events to send off and welcome home students from their voyages -- a great opportunity for alumni, parents, and current participants alike to connect and share their exceptional experiences. Chapters also host various other social events throughout the year, like their recent Founder's Day events.
Like many of the other organizations that made this list, SAS also has a Global Ambassadors program for student alumni to serve as ambassadors on their college campus. And every once in a while (this year was their 50th anniversary!) they have organized reunion voyages for alumni -- pretty sweet, huh?
8. Other Great Alumni Groups
This list is by no means exhaustive, or necessarily a compilation of the best. There are many more volunteer and study abroad programs that have fantastic alumni networks and support systems. Here are a few more that we've been notified of (and please, if you think there's a great alumni group worth mentioning, tell us in the comments below! Represent your volunteer / study abroad program, y'all!)
ISA - This study abroad provider has an extensive alumni network group, campus ambassador programs, and events for ISA alumni to get together.
WorldTeach - WorldTeach has been sending volunteer teachers abroad since 1986, and has built a strong group of alumni from the thousands of volunteers who have taught abroad with them. Their alumni group has special gatherings and is sometimes first to know of professional development opportunities.
From the beginning of your experience abroad, well on through the years after you return, these programs offer a strong sense of community and a plethora of opportunities to share your experience and use it to shape your future through professional development and networking.
They are indeed the kind of organizations that you may find yourself in a job interview 20 years later bonding with your interviewer about how you were both Peace Corps volunteers or SAS Voyagers… Or the kind you'll send your own kids off on one day and sniffle at the memories. And it's that sense of shared experience and community that will last you a lifetime!
Photo Credits: Lydia Voss, Corey Ackerman, Port of San Diego, and Clara Mattheessen.