6 Common Ways to Learn a Language Abroad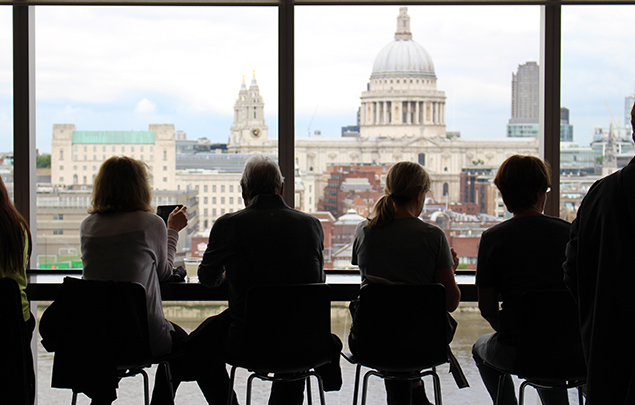 One of the best parts about traveling is becoming immersed in a foreign culture. It's wandering the streets of a newly discovered town, getting lost in its beauty and uniqueness. It's also trying to figure out what the heck people are saying to you -- because you don't speak the language.
There's probably no better way to learn a language than by working with a private tutor.
Learning a new language, especially when you no longer have the sponge-like brain functions of a toddler, can be hard. But that doesn't mean it can't be fun. We've sought out the best ways to learn a new language while traveling abroad, and we promise that you'll not only reap all of the benefits of your new linguistic talents, but you'll have a great time learning. Below are a the most common ways to learn a language abroad:
1. One-on-One Tutoring
Who it's best for: Students who want to practice conversation or want intensive, individualized study.
Pros: You can get a highly personalized education.
Cons: Paid tutoring lessons usually cost more than other ways of learning language.
Tips: Compliment group lessons with one weekly tutoring session or find a langauge exchange near you.
There's probably no better way to learn a language than by working with a private tutor. You'll get the one-on-one attention you need to really study, practice, and get a good handle on a new language. Your tutor will be able to tailor classes to your experience, level, interests, and schedule.
Say you're traveling France and want to focus on cuisine and viniculture, or maybe you're just tired of learning past simple for a third time -- not a problem, your tutor can create a program that will give you the vocabulary that you'll need. He/she will also be able to correct those tiny problems that might go unnoticed in a big class.
While it might be great to get a tutor when studying French, Spanish, or Italian, we really recommend it when tackling some of the trickier languages such as Arabic, Russian, Hindi, Japanese, or Chinese. Here you're working with entirely new alphabets and tonal sounds. If you're serious about making headway in these very new and very different languages, a private tutor will be able to make a huge difference in how long it takes to learn one of these languages.
Of course, before you imagine yourself strolling through the French markets with your handsome tutor gently correcting your pronunciation of l'artichaut, remember that private tutoring sessions can be expensive.
2. Group Classes
Who it's best for: Language learners (of all ages!) on a budget or who like learning in a group / classroom setting.
Pros: Make friends with other language learners.
Cons: Lessons aren't as individualized as tutoring sessions.
Tips: Look for smaller class sizes.
For those who don't have the means to book a private tutor (or book one for multiple sessions per week), consider taking a group class.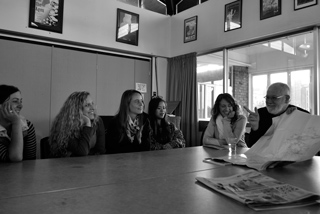 You might not get that one-on-one attention that a tutor would give you, but you'll have the added bonus of being with a group of interesting new people. You'll all be in the same boat, trying to learn this new language, and it probably won't be long before you've made great friends and are in the local bar practicing your new vocabulary together.
There are some excellent schools abroad that offer language classes, ones that have been around for decades and have excellent reputations. Consult our database of language schools to narrow down your language and location. From there you can research specific programs and classes, read reviews, and decide which one might be the perfect fit to take you from "huh?" to "mais, oui!"
3. Service Learning
Who it's best for: Language learners who want to put their skills to action and already have some foundation.
Pros: Real life context for your language learning.
Cons: Better for those who already have some command of the language.
Tips: Look for a program that includes a weekly/bi-weekly language class.
Some people love the classroom and some learn better by doing. If you're one of the latter, consider a service learning program that combines a volunteership or internship with learning and practicing a language. This is an interesting and exciting way to not only gain new skills, but immediately put those skills to work.
No matter what your interests might be, or what language you want to learn, or where you want to travel, there is a service learning opportunity for you. It's possible to learn Spanish in Argentina and Russian in Russia by volunteering or working on a project that means something to you.
You'll be surprised at how quickly you learn as you work with people who speak the language and how much you'll enjoy learning. It might require a little extra effort on your part, but in the end, you'll have an amazing experience and have gained so much more than just your new language skills.
4. Homestays
Who it's best for: Language learners who want the full cultural immersion experience.
Pros: Real life context for your language learning and changes to practice all day every day.
Cons: Let's be real, homestays can be a little awkward at times -- especially if you're the shy type!
Tips: Be picky with your host family and find one that you think you'll really get along with.
Homestays aren't just for high-schoolers anymore. The opportunities for homestays while traveling have expanded around the world so that you can take advantage of hospitality just about anywhere you go. There are so many wonderful advantages to a home stay -- you literally become part of someone's family and get to enjoy a truly unique cross-cultural experience. You'll get to see what life is really like in your new destination and, of course, get to practice those new language skills.
A home stay will force you to use and practice a new language, which will help you adapt and learn quickly. If you believe that travel is really, at its heart, about the people you meet, you will love a homestay. Of course, it's not for everyone – be sure to do your research and ensure that you've found a reputable program. Homestay.com is one place to search.
5. Study Abroad Programs
Who it's best for: High school and college students.
Pros: Learn a language and get credit.
Cons: Expensive.
Tips: Consider a summer abroad if a semester seems too expensive.
All of the previously mentioned ways of learning a language abroad are 100% open to language learners of all ages. However, if you're still in high school or college, you could get academic credit while learning a new language by going through a study abroad program.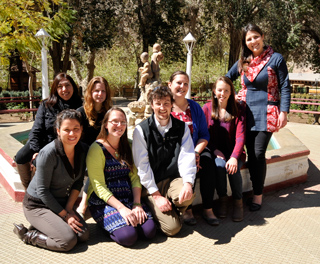 Study abroad programs focused on language learning exist in just about every country and for every language. They're run both during a single semester or during summer, winter, and spring breaks. Speaking broadly, both quality and price can vary widely from program to program, so definitely look at and compare a few programs before getting your heart set on one.
Also worth mentioning that if you're studying a language through a third party provider, these programs tend to be more expensive than simply enrolling in language school or directly enrolling in a foreign university -- though there are certainly some affordable programs out there! However, the extra cost may mean extra support, excursions, supplementary courses, and -- especially if your school has a partnership with them -- easy transfer of credit.
High schoolers: there are even language study abroad programs out there designed specifically for teens!
6. Traveling and Learning on Your Own
Who it's best for: Independent learners with basic language OR language learning skills.
Pros: It's free and you'll truly learn how to talk like a local.
Cons: It requires a lot of self-motiviation and discipline.
Tips: Pair your learning with language learning apps, podcasts, online resources, and look for language exchanges or social meetups along the way.
For some of us, just the joy of travel and self-study will give us just the amount of language skills we need. We want enough to be polite, to express interest, to find a bathroom, and to maybe make some new friends along the way.
With some keen observation skills, a good ear, and the motivation to learn, it is possible to learn plenty of a new language just by paying attention. Don't feel like you have to spend all of your time studying a new language when sometimes it's just enough to live it.
Give Language Learning Abroad a Go (Pun Intended)
Learning any amount of a new language will really make a difference when you travel. It will make people receptive to you, open up to you, and it will ensure that you can travel with confidence and greater understanding.
There are so many exciting and interesting ways to go about learning a language that it doesn't feel like school or work. It's more like a puzzle and the reward is a deeper connection to the place and people you visit.
Once you've narrowed down the type of learning opportunity that fits your needs, travel plans, and budget, use our language schools resource page to find the right program for you. Read reviews from our community members, reach out to our experts, compare program costs, dates, and courses. Find out the difference in learning Spanish in Argentina and Costa Rica and discover all of the amazing opportunities for learning, volunteering, homestays, travel, and adventure.
Photo Credits:
UnSplash
, Everto Gutierrez, and WorldTeach.