What Program Providers Offer Corporate Volunteering Abroad?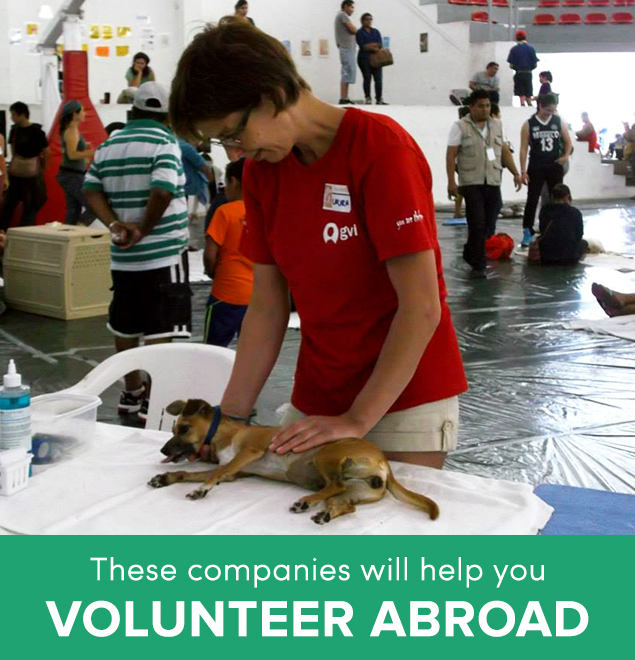 From providing sanctuary for injured animals in Ecuador to delivering aid to refugees in Thailand to building homes for the homeless in Ireland, global-minded citizens have found that volunteering abroad is a popular way to give back while traveling.
Studies show that from a business perspective, corporate volunteering can lead to increased employee engagement.
As a volunteer abroad, you have the unique opportunity to get to know a country beyond visiting the top ten "must-see" tourist destinations -- you get to see a new place up-close, learning about social issues, culture and even language as you connect with locals at the ground level in a meaningful way.
And volunteering abroad isn't just for youth groups, college students or recent graduates anymore. That's right, more and more professional adults are getting in on the action by participating in corporate volunteering.
Corporate Volunteering: A Definition
First things first, what exactly is corporate volunteering? Corporate volunteering is when a business creates volunteer experiences for their staff to work outside the office and give back to communities.
An increasing number of top companies, including Salesforce, Microsoft, and PwC offer corporate volunteer programs. Although most employees use this opportunity to volunteer at home, a daring few have looked overseas.
Some corporations will offer group corporate volunteering opportunities for their employees to work overseas with existing staff members from the company. Others will offer paid volunteer leave, an incentive that allows individual staff members to spend time volunteering out of the office setting while still getting paid for work (Getting paid to travel, give back, and saving those precious vacation days? What more could you ask for?)
If You Don't Already Offer Corporate Volunteering, Consider This: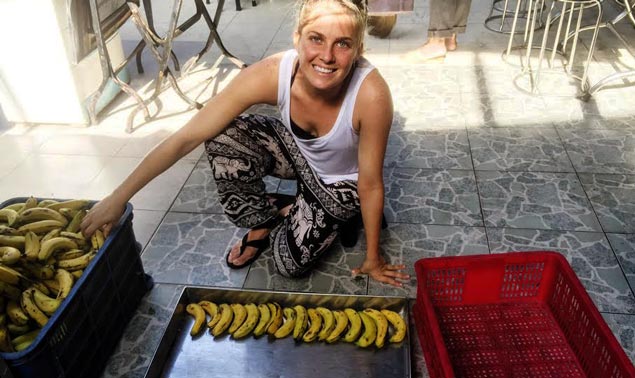 Corporate volunteering has many benefits. Studies show that from a business perspective, corporate volunteering can lead to increased employee engagement. When employees spend time in a change of scenery, actively giving back to the world through their own efforts, they are more likely to be satisfied in their jobs. And we all know that engaged employees lead to higher profit levels and productivity!
Businesses that permit their employees to volunteer will also appear more attractive to younger potential employees, as well as have higher employee retention results. Business will also have enhanced corporate visibility in today's global marketplace.
When employees volunteer together, there is increased team bonding and opportunities for growth in the areas of teamwork, interpersonal communications, and even skill development.
From an individual employee's perspective, corporate volunteering also has many personal benefits. Meaningful experiences abroad have eye-opening benefits and can help one find a sense of purpose, increase language skills and even add skills that boost one's resume.
Great Program Providers for Corporate Volunteering Abroad
Ok, so now you are convinced that corporate volunteering is the way to go, but where can you find corporate volunteer opportunities abroad? The following program providers are a good place to start:
Foundation for Sustainable Development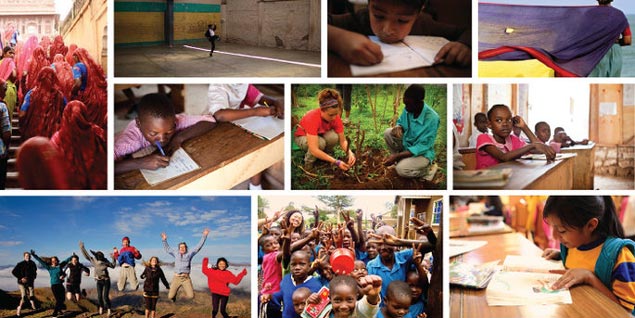 The Foundation for Sustainable Development works closely with small NGO's in project locations around the world to enhance the capacity of local communities, and address environmental conservation, healthcare, social and economic issues, and a variety of other issues. Programs, ranging from capacity building to grant writing to international development, are available in Argentina, Bolivia, India, Keyna, Nicaragua and Uganda.
Mary D., a program participant in Uganda in 2007, said of her experience, "My summer in Uganda helped me see where my true passions lie – at a macro-policy level – and helped shape my future educational career."
Surf For Life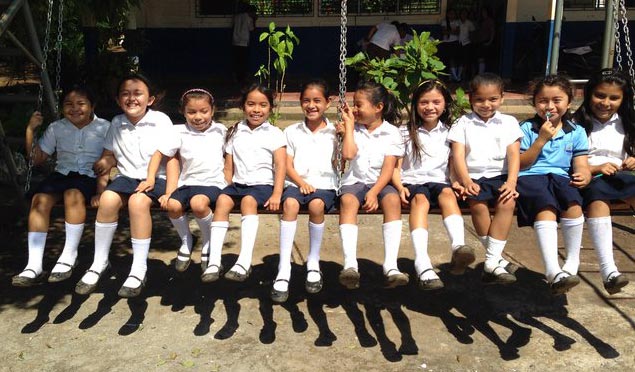 Surf For Life offers week-long volunteer programs in rural coastal towns throughout Central America. Groups of 8-12 volunteers work alongside local community members to build high impact projects, such as schools, community centers, and clean water initiatives. As the name suggests, this organization tends to attract volunteers who are also interested in surfing. If surfing is a passion of yours, this may be a great place to connect with like-minded volunteers.
Nick C., a 2014 Surf For Life Volunteer in Nicaragua, said of his experience, "I can't even begin to describe how much fun I had on this trip."
MovingWorlds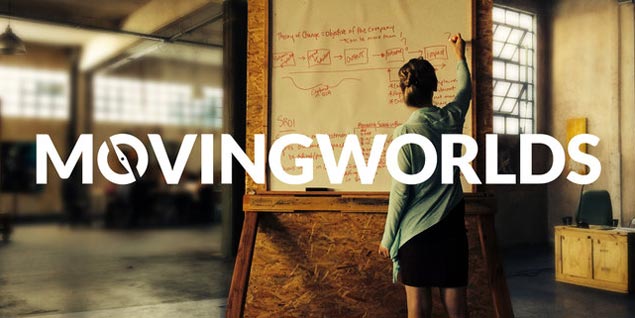 MovingWorlds is a membership community that connects volunteers with social impact organizations. Volunteers receive local benefits, such as accommodations and a meal stipend in exchange for skills. Members of this community can view existing projects and also sign up to receive information on new projects that match their skills. MovingWorlds also hosts a guided planning process before your departure to help manage expectations. Worldwide opportunities are currently available in North America, South America, Europe, Asia, and Africa.
Nicole W., an "experteer" with MovingWorlds in Brazil, encouraged prospective volunteers to "just go do it."
Madventurer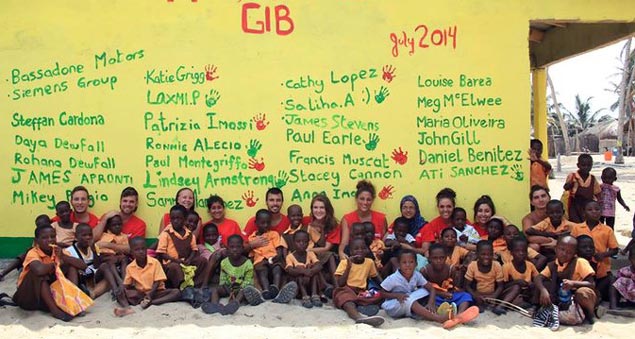 Madventurer offers a unique combination of empowering community development placements, service learning, and adventures activities. Projects here are generally centered around supporting education advancement and poverty relief through teaching, construction, health and sports development. Programs are available in Ghana, Kenya, Peru, Thailand, Fiji, Tanzania, and more. Madadventurer offers a "take a team" initiative that is suitable for corporate groups as well.
Natasha H, a Senior Volunteer Project Leader with the organization in Ghana and Tanzania said, "a lot of attention is paid to each and every project ensuring its managed well with positive outcomes."
African Impact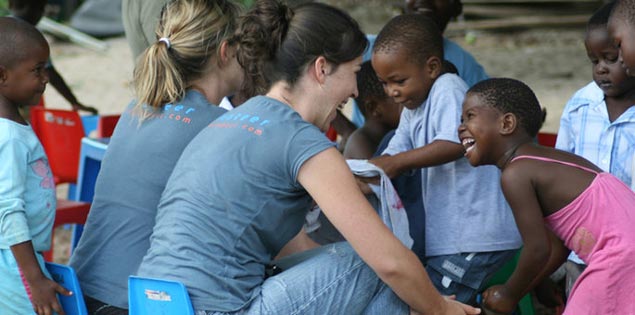 African Impact offers meaningful and responsible volunteer experiences and internship programs throughout the African continent in program areas including teaching, coaching, building, medicine, conservation, child care, gender equality and more. This organization hosts individual volunteers as well as groups, making it a good option for corporate teams that are interested in going overseas as a unit.
Sophie, a former program participant from the United Kingdom said of her experience, "to volunteer is to learn, to enjoy, to experience… if it does all this for you, just imagine what you can do for others."
UBELONG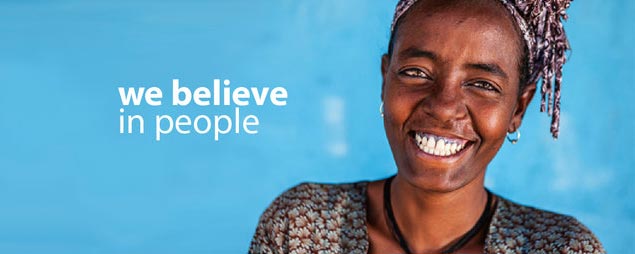 UBELONG is "an international volunteering and learning organization that brings people together across borders to collaborate for the common good." The organization was founded by two graduates of Cornell University who, after extensive travel and volunteer experiences of their own, decided to start an organization to help others follow in their path. The organization has programs in 12 countries throughout Asia, Latin America and Africa.
Leah M., a program participant in Laos said of her experience, "I'm so thankful to have had the opportunity to volunteer with UBELONG because I got to learn the Lao culture on a much deeper level than I would have if I were only passing through the country as a traveler."
Cross-Cultural Solutions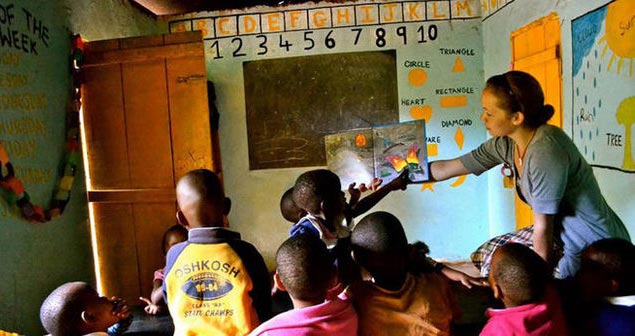 This organization has a team of Group Specialists that focus on planning corporate volunteer opportunities for groups and individuals. Cross-Cultural Solutions offers a lot of hands-on support including enrollment support, pre-departure training, volunteer assignments and customized cultural activities, as well as housing and meals. Programs are offered in 10 countries throughout Africa, Asia and Latin America.
Courtney H., a volunteer in Tanzania, said of her experience, " I couldn't hold it together…. I cried. I realized I had made an impact."
IVHQ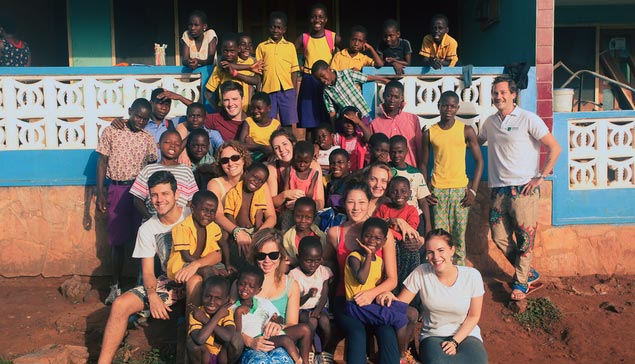 International Volunteer HQ offers more than 30 programs in a wide range of subject areas including teaching, childcare, construction, conservation and health care. Programs are located in Africa, Asia, Latin America, Europe and the Pacific. Their database matches volunteers with programs based on skill set and interest.
Phoebe W., a program participant in India, said her experience with International Volunteer HQ is "something that will stay with me for the rest of my life."
GVI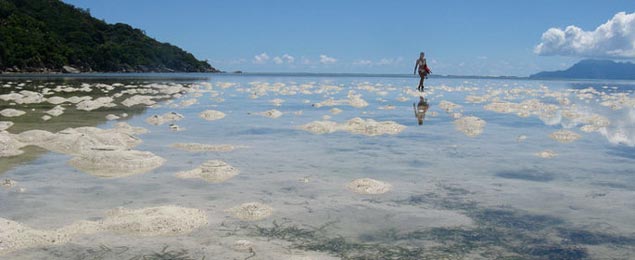 GVI offers high quality and high impact programs worldwide, and has programs that are specifically designed to help corporate volunteers abroad. The organization is family-run and completely dedicated to making sure their participants have the experience of a lifetime, while also attending to the needs of the communities they work with. There are over 90 programs across Asia, Africa, Latin America, North America, Australasia, and Europe.
Jon, a participant on GVI's Seychelles environmental conservation program said, "I never felt out of my comfort zone when I was there too. The staff are all experts in their fields so they know the limits and have been doing it for years!"
And there you have it -- our picks for corporate volunteering. Get out there and give back to the world. We promise it will touch you in beautiful and moving ways!
Browse all volunteer abroad options.
Photo Credit:
GVI alumni
.