What It's Like Doing High School Abroad in Costa Rica?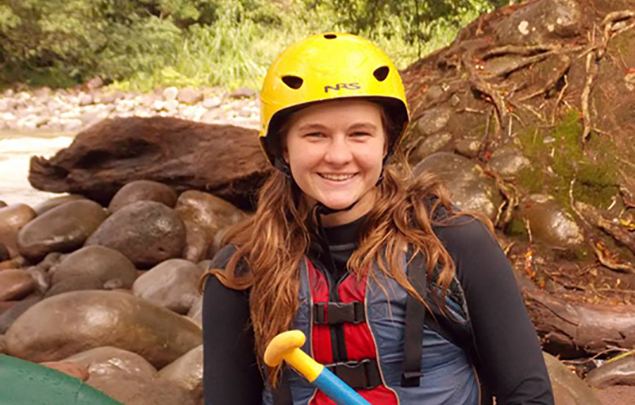 No matter how young you are, there are endless ways for students to gain international experience, be it high school study abroad, a gap year before starting college or doing an internship in another country. When it comes to educational experiences overseas, Bailey Palmer has seemingly done it all -- and she's only 19.
Once I got there it was the most eye-opening time ever because I got to experience a different culture.
This summer, the Ventura, California native is heading to Costa Rica to intern as an instructor with an outdoor experiential education company. The venture will mark her sixth opportunity to learn, grow and explore in Costa Rica.
"Every time I've gone [abroad], it has been a different experience," Bailey said. "I learned something else about the world, culture and also about myself."
An International Start in Costa Rica
The determined teen had her first experience abroad at just 14-years of age when she went to Costa Rica on a program with the Girl Scouts. Bailey was encouraged by other girls in her troop to visit and learn about another country on a Girl Scout Destination program.
She spent ten days in the land of "pura vida" with fellow Girl Scouts, hiking through the rainforest, learning about the local culture through homestays and giving back to local communities with service projects.
"It was scary and I didn't know what to expect," Bailey said of the days leading up to her first international trip without her parents. "Then once I got there it was the most eye-opening time ever because I got to experience a different culture."
Bailey said her first trip with the Girl Scouts served as a catalyst for future internationally summer opportunities. "Going to Costa Rica gave me a lot of independence," she said. "It gave me confidence and I realized that I am getting older and I can go on trips like this without my parents."
Costa Rica Was Love at First Sight
For Bailey, setting foot in Costa Rica was love at first sight. The local culture, customs, food and landscapes immediately spoke to her heart. During the next three summers she returned to the country, participating in summer high school abroad programs with the organization Outward Bound Costa Rica.
"Every course was different," she said of her decision to return each summer to the same destination with the same organization. "The continual growth I was getting from Outward Bound kept me coming back."
Coming Back With a Changed Perspective
During her courses, Bailey earned her scuba certification, worked with indigenous communities, rafted down class III whitewater rapids, toured the capital city of San Jose, and ziplined through jungle canopies.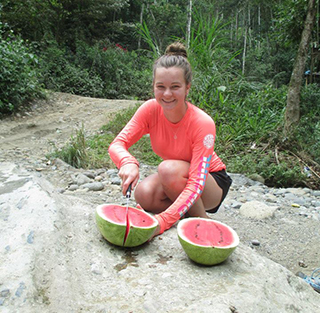 Her favorite part of all the courses, however, was a multi-day hike to the remote village of Piedras Blancas in Costa Rica's Central Valley. She recalled her interactions with the local community members there to be priceless.
"When you go abroad, you see all the different ways of living and different mindsets that people in other countries have," she stated. "Some families seem to have so little but they love how they live and they don't need any more than they have."
She said living in a rugged environment and doing intense physical activities "made me appreciate everything and realize there is a totally different way of living out there than I am used to."
Bailey also said doing high school study abroad prevented her from being bored in her hometown and encouraged her to think about life beyond her school's social circle -- something few teens her age seem to do.
"Going abroad in high school opened my eyes to the world," she said. "It gave me excitement about life and all the adventures you can take," she said.
Next Step: A Gap Year in Costa Rica
After graduating high school, Bailey decided to take a semester off and participate in a gap year course before enrolling at Ventura Community College. After so many summers in Central America, the Outdoor Leader Semester program offered by Outward Bound Costa Rica was a natural fit.
"I didn't have the motivation to go to college right away," she admitted. "After 13 years of public education, I was tired of sitting at a desk and I didn't want to do what everyone else was doing. I wanted to learn but in a different way. I figured a gap year course would give me the motivation to go to school the next semester. It did."
This fall, Bailey spent 65 days exploring learning about leadership in Costa Rica and Panama. She explored off the beaten path and hiked back to her favorite village of Piedras Blancas, this time participating in leadership roles along the course. She also studied a variety of wilderness skills, and earned seven certifications that will help her with her career goals of obtaining a job in the outdoor industry.
"The course made me consider careers that I didn't even think would be possible to pursue," she said.
On the gap year program she also earned ten college credits, and said the break from traditional academics was just what she needed to have a successful first semester at college.
"As the course went on I gained confidence and realized that I can lead [others]," she said. "It made me realize what I am capable of in life. I'm not just the little teenage girl I used to be. I'm an adult now and I am capable of a lot more than I thought I was."
Bailey Comes Full Circle With an Internship in Costa Rica
This summer, Bailey will bring her experiences full circle as she joins the Outward Bound Costa Rica team as an intern instructor.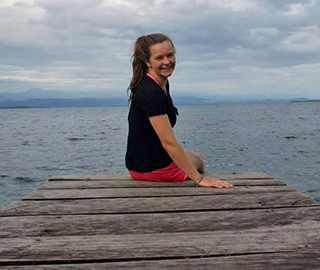 "When I've come in a past I've been a student," she said. "Having this opportunity to work with Costa Ricans and learn more about their culture is something I'm really looking forward to."
It is likely Bailey will be working with young Girl Scouts, leading courses similar to the one she took so many years ago that sparked her passion for pushing her limits and Costa Rica.
Looking back at her first experience in a foreign country, Bailey says she hopes to encourage other young girls to step out of their comfort zone and go overseas.
"Take the excitement and nerves in stride and just go for it," she said, when asked what she would tell a teen who was grappling with the decision to go overseas. "The jitters are totally normal, but if you decide to do it, It is going to be the most life changing and amazing experience you will ever have."
Photo Credits: Bailey