Grad School Abroad
What to Ask Yourself When Considering Grad School Abroad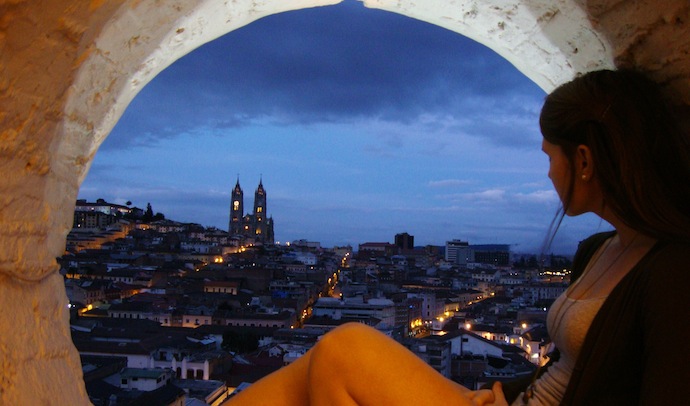 The phrase "graduate school abroad" might make you want to jump out of your seat with excitement. Grad school, in general, can often seem like a great idea, especially when you're standing at a crossroads in your life. Throw in the added appeal of studying overseas, and maybe you're already on the internet, hedging your bets on Kayak flight alerts.
Whoa, Nelly.
Stop right there. Yes, grad school abroad is a great idea, but you don't want to go in on a whim. If you're considering graduate school abroad, here are ten questions to ask yourself before booking those plane tickets.
1. How am I going to pay for this?
Be honest with yourself: can you afford to go to grad school overseas? Remember that you will need to cover the cost of tuition, housing, food, and transportation. Factor in the exchange rate when preparing your budget, and remember that it may fluctuate over your period of study. Will you be able to work on your student visa? If not, you might need to prepare extra funds.
If you plan on applying for federal student aid, make sure your overseas school is approved to receive federal funds. If a Stafford loan isn't enough to cover the entire costs, look into a Grad Plus loan. And remember – a loan isn't free money. Figure out how you plan to pay it off after graduation, and decide whether or not being in debt is for you.
2. What scholarships am I eligible for?
Good news! There are plenty of scholarships available for travel-hungry students like you who want to go to graduate school abroad. First, check your school itself. Do they offer a scholarship for international students? If they do, apply for it. Search for scholarships on websites like the Institute of International Education or through the local government in the country where you want to study. Go Overseas also has a nifty collection of 65 study abroad grants and resources worth scouring. Even if these scholarships cover only a portion of the fee, every little bit helps!
3. What are my expectations?
There are a lot of reasons to go to grad school overseas, and they don't all have to do with a career. However, if getting a good job is your ultimate goal, you'll want to pick a program that will help you get there. If studying a language in its home country is what you're after, your priorities might not be career-based. If you studied abroad as an undergraduate, or traveled through a country as a backpacker, make sure that you aren't trying to relive the past. What you hope to get out of your graduate school experience should help guide you in the selection process.
4. How does this fit into my long-term goals?
You might not have fixed long-term goals yet, and that's okay. But think long and hard about where this decision might take you. Chances are, it'll be an incredible experience that you won't regret for a second – but you are making a considerable financial investment, and that means saying no to other paths in your life. If it's travel you're after, maybe a working holiday visa or volunteer work would be better for you. Think about what you hope to do after you get your graduate degree. Maybe you want to stay on in your host country and work, so find out if that's a possibility before you commit. Don't be nervous about communicating the overall benefits of your experience studying at a grad school abroad, as overseas education makes an overall resume booster.
5. Where do I want to study?
If you're drawn to a specific country like Turkey or Japan, then you might already know the answer to this question. If you have a certain city in mind? Even better! But if all you know is that you want to go to grad school abroad, you might want to refer back to questions 1-4. If it's a specific degree you're after, that might help narrow it down. Scholarships and cost of living might do the same. Other factors to consider include language, climate, ease of obtaining student visas, and living conditions.
6. What program is best for me?
Typically, you'll have a choice between full-time and part-time programs. Your budget and goals may determine which one you pick, as well as the pros and cons of each. Does the program offer large classes? Small classes? One-on-one time? Language assistance? Read reviews from students who have participated on the programs you are considering. Chat with other people in your network who have experience studying longterm in another country. What are their thoughts? Take your time – this is one of the most important decisions you'll make.
7. Where will I live?
Do you want to live alone or in shared accommodations? On-campus or off-campus? In dorms or an apartment? In a homestay or with other foreign students? The international student office at your university might be able to help you find accommodations, so contact them before you arrive. The more research you can do before you get on the plane, the better equipped you'll be to hit the ground running. You'll probably want to focus on the course, your new country, and meeting people; not go on a wild goose chase for a suitable place to sleep.
8. How will I handle insurance?
You might qualify for national health care in your new country, which is fantastic. If not, this is something you need to sort out before you leave home. Find out if your current health care plan has options for overseas travel. Prepare yourself for the worst case scenario, just incase you end up sick or injured while abroad. Then think about travel insurance to cover the entire time you'll be away. Travel insurance is even more important these days, as students often carry expensive electronics like computers and cameras.
9. What's the visa process?
Visas can sometimes seem like the dark side of travel. You need to fill in forms, pay fees, and – worst of all – wait in anticipation. Without a visa, you're out of luck. Fortunately, the visa process should be pretty straightforward for students, but you want to take care of that before you even think about buying flights. Look at your timeline: when does your course start? Is it realistic to expect your visa by then?
10. Will my qualifications transfer?
If you're planning to base a job search on your new graduate degree, research the qualifications. Will your home country accept them or require additional credits? For example, if you want to be a teacher, you might not be able to find a teaching job back home with your MA in education from Australia. Check on the details of the degree you're studying towards, and get an idea of how it will hold up in any countries where you'd like to work.
Think long and hard about where this decision might take you. Chances are, it'll be an incredible experience that you won't regret for a second – but you are making a considerable financial investment, and that means saying no to other paths in your life.
Graduate school abroad is a big leap, even for a seasoned traveler. Don't take it lightly. It might be hard. It might be lonely. It might not be what you expected. Are you ready to face the ups and downs that come with being away from home? If your gut instinct says yes, then go for it! Even though it's challenging, graduate school abroad might just end up being one of the best things you've ever done.