Study Abroad
What to Wear in England While Studying Abroad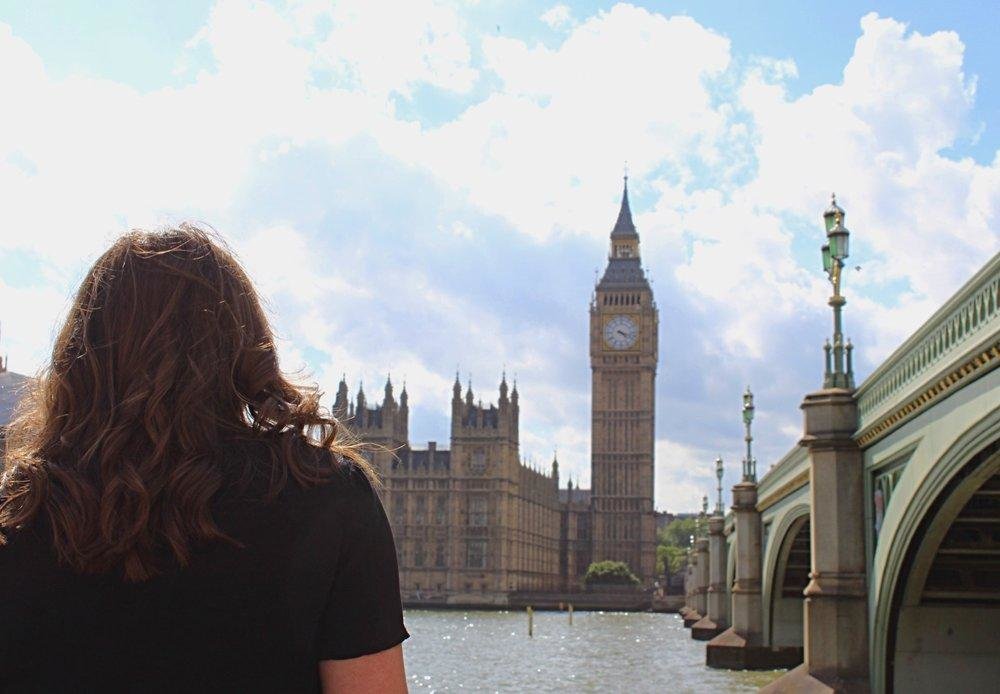 When thinking about their to-be trip to study abroad in England, many students forget that London is one of the fashion capitals of the world (and these people take this role seriously.)
Though perhaps on the more quirky side of fashion with oddities that the rest of the world sees as strange, England definitely has a steadfast place in this world as being fashionable -- and you'll want to dress the part. Not to mention, with it's cool, temperate, and often temperamental weather, you may not yet be familiar with what to wear in England's climate (that is, unless you're from Seattle...)
We collected a few opinions from students that have studied abroad and some expats that have moved their lives to the English Isle. Here is what they had to say about what to wear while studying abroad in the Royal Family's hometown:
Pack Clothes That Are Easy to Layer
England weather is known for it's… temperament… and for that, you need to be prepared for cranky mood swings regardless of what season it is. Even if you're studying in England in the summer, be prepared chilly weather and pack layers.
For example, on a spring day, grab your favorite pair of ankle-high booties, skinny jeans, a blouse (that's fancy enough for later), a button-up sweater, trench coat, and jewelry (or scarf if it's cooler). If it gets warmer later, you can take off layers until you're comfortable. If you head to grab drinks, you're covered as well!
There is the possibility for any temperature and precipitation throughout your days in London, Manchester, or whichever city you settle on, so make sure to bring lots of pieces that can be mixed and matched.
Pro Tip: Pack a sturdy large purse (like a tote), backpack, or day bag to throw those layers into! We recommend only bringing one (and doubling it as your carry on) and making sure it's a neutral color, so it matches everything.
Rain Gear that Doesn't Look Like Rain Gear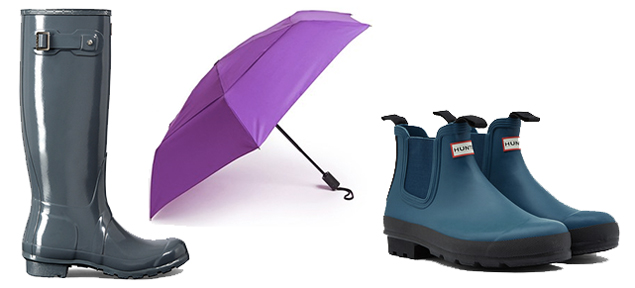 Squeaky rain jackets aren't the norm in London. Northface isn't going to cut it either. Instead of water-repelling clothing, go umbrella shopping (we're serious) for one that is sturdy, unique, and easy to pack. This will be your new best friend.
Need a suggestion? The ShedRain WindPro Umbrella (featured above) looks like it'd save your butt on a rainy day -- but what is even better is that the wind ventilation is clutch. Talking from experience, rain -- no problem. Rain plus wind plus cheap umbrella? You're going to have to replace it quite a few times -- so get one and pay more up front -- you'll thank us later.
Because of the umbrella, you don't need the rain jacket and are now able to grab a nice sturdy trench coat or peacoat to keep you warm instead of just keeping you dry. Water resistant is still a good feature to look for though.
Wellies, especially Hunters (also featured above), are also a trending trend that you will appreciate after your first day of wet feet. They come in low ankle boots, taller boots, and even flats -- so you're sure to find one that meets your fashion preference. Hunters also has a men's line.
Trends are Trendy and you should Follow Them (Sometimes)
Here are a few more trends we picked up from our friend, Kelsey Matheson, who studied in England just recently:
Ankle length boots (suede and leather) – take note that these are ankle and not knee! Knee-high boots (especially paired with leggings) is a big NO!
Trousers in dark denim
Trainers (sneakers for you newbies). Nike Air Max and Adidas are preferable
Tailored high waisted shorts
Graphic tees
Sweatshirts with French sayings
Peter pan collared shirts
Leather accents on everything
Hats
Pro Tip: though some people wear scarves like their necks depend on it, they are not as common as in Italy or other areas of Europe.
Buy a Playsuit and Go Play in It
This particular item has its own category because it's something that's not quite as popular in the U.S., but could be called essential for an EU wardrobe.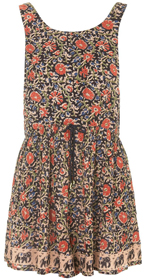 Called jumpers in the US, these one-piece wonders will make you feel dressed in an instant and with so many patterns and styles from casual to fancy-pants, you will be sure to find one that fits you perfectly. Though the name is quite strange, this type of outfit is extremely popular within England and Ireland alike.
European based, TopShop, has a great selection of playsuits (we featured their Elephant Print Playsuit). Forever21 and other big American brands will have a selection as well.
Shorts, pants, sleeveless, long sleeves, lace, to leather, the options for playsuits are endless! The only problem is getting completely naked to use the bathroom -- so plan your nights accordingly...
Mix Dainty With Clunky
European fashion overall is a bit rough around the edges (can we call it edgy?) but with Londoners, the roughness is definitely apparent in how they break fashion rules constantly.
Londoners match pieces that an American wouldn't even dream of pairing. Yellow and green printed sundress but its only April? Throw it on, grab some black tights and some Doc. Martens clunky shoes -- add a sweater and you're good to go! Take daring leaps with fashion in London – this is the place where valiant is thought of as fashionable.
Accessories Can Make an Outfit on Their Own
If your outfit is a bit boring for Regent Street, then spice it up with a great bag, a brightly colored manicure, and some earrings that'll turn heads.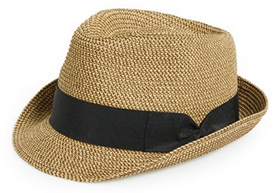 Wide-rimmed fedoras are a huge hit (and will help you out with the frizz issue in this terrible weather) as well as any hat for that matter.
On that note, hats are in. In England, wearing a hat is part of the cultural norm for special events, and, as we discussed, the everyday hat (like BP's Straw Fedora) is also appreciated and can complete an outfit.
Accessories are a great way to re-wear an outfit while abroad and help you pack light while packing multiple outfit variations. Just don't pack too many. Stick to 3 - 5 of your favorites that you'll wear and re-wear. The rest will be waiting for you when you get home!
Less Skin is More "Proper"
"To look nice, girls wear dresses and tights. The dresses are usually cut rather conservatively," explains Jess – who frequents the nightlife scene as part of her job in London.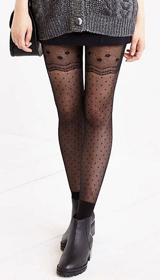 Though fashion is huge, not all styles fit the Londoner's approach. Clothes in London shy away from bare-all cuts and styles. Though "going-out" clothes in England still aim to make you look good on a night out, there is a significant difference between the two -- fit and function.
If you are adamant on getting a bit naked, doing it in a classy way will get you much farther in the social scenes. Tights (like the polka dotted tights from UO) are huge in London and the rest of England, and you'll see that most girls that wear dresses out are pairing them with all styles of tights to cover their bare legs (also clutch on cold nights out).
This doesn't have to be boring or uncomfortable. Patterns are fashionable as well as printed tights! So spice up your wardrobe while also staying warm!
NO Sweatpants-Days in England
"Absolutely no t-shirts or sweats. That's anywhere for both guys and girls," Jessica Dante, an American expat living in Wimbledon says.
She continued to explain how as in many countries in Europe, looking presentable while out on the town is the norm so lazy Sunday morning brunch still involves a cute outfit -- not your PJ's from the night before.
"But, BUT!" you all begin. We know, we know. We like trudging to the dining hall or the downtown breakfast place in our boyfriends' sweatpants and a sweatshirt too (don't forget the completely terrible messy bun) but you can still get that feeling of comfy while looking nice. We promise.
Instead of reaching for those fuzzy comfies, think about seeking out jeans that are comfortable. Think skinny stretch in elastic fabric, or maybe a loose boyfriend jean (we featured Gap's 1969 boyfriend jeans) is what you're searching for. Throw on some boots, flats, or slip-on sneakers (but never flip-flops!) and you're good to go.
Men, We Didn't Forget about Your Fashion Needs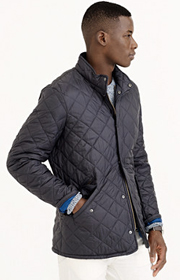 Men get a little leeway on fashion in this country because there are many styles that do pop up as "ok." But if we're talking fashion and not fashion faux pas, we are talking about proper attire that any British gent would appreciate. For your England wardrobe, try:
Items like dark wash tailored jeans (emphasis on the tailored!)
Smart sneakers (Doc. Martens work well for you too! Just make sure they're not scuffed up)
A nice sweater layered under a dark-colored fitted jacket
Stephen Rogers, another student that spent a semester in London, told us that he saw a lot of guys with jeans, jackets like J. Crew's Barbour flyweight, and simple boot or leather shoe.
Men's Fashion from a true Brit that hates the Trends (but knows all about them)
Our friend Dean who is from Chester, England helped us out with some key items for men's apparel in London, (most which we mentioned already).
He is known to take the typical style in stride -- tailored jeans or shorts, acceptable shoes, and a nice shirt is the norm. However, he also is very savvy about what is going on fashion-wise inside the sub-cultures of London.
Here is a short list, in his words, as to the fashion norm for men in their 20's/30's in England (of course this description was dripping with English sarcasm and lingo so be prepared:)
Lacoste Trackies (track suits)
Fred Perry Polos with the top button done up
A daft (translation: silly, eccentric) Liam Gallagher haircut to go with the Polo
Barbour Coat that should be worn on a farm and not while riding a fixie
Stan Smith Trainers are making a comeback in heavily-tattoed-hipster people's footwear
Those incredibly large over-sized rimmed hats for girls
Every single person has a nose ring nowadays with some old school tattoo of an owl smoking a pipe while riding a unicycle or something silly
Overly white Converse
A beard and a man bun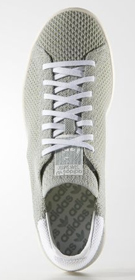 What this list shows is that the trends are strong, but also, that these trends are being systematized into sub-cultures, which he explained are popular. Think hipsters in the US. As the "tattoed" people wearing Stan Smith sneakers and then there is even the "Mod" Culture of England that even have their own website to assist men (and ladies) as to where to buy the perfect "style."
What does this mean? Even though we are giving you a pretty lengthy style guide, there are still many, many options for creating your own unique style while you're living or studying in England. Don't think that this guide is strictly the only way to "fit in" in your new home.
When You're There: A Shopping Guide
If you do decide to take a chance and do most of your shopping after you've landed in Heathrow, here are a few tips as to where to point those toes to find great designers and unique shopping experiences:
Regent Street -- If you're looking for the main shopping street in London, you've found it. Regent Street is the world-class shopping area and might want to be your first stop in your shopping spree to hit up names like Burberry, Anthropologie, and Zara.
East End Retail (Shoreditch, Spitalfields, Brick Lane) -- In this area of the city, think cute little boutique stores run by funky artists and fashionistas alike. If you want "charming" atmosphere with a ton of unique flair, this is your spot.
Camden -- As there are curiosities in the East End, there are some in Camden too – with multiple mini markets making up the title of this shopping area. Here, you can find great vintage but also all sorts of shopping here. Grab some lunch! You won't be disappointed.
Harrods -- Harrods opened in 1849 but today it is one of the most recognized department stores in the world. This massive store has seven floors of shopping heaven and a restaurant for any taste buds.
Dover Street Market -- Dover Street Market is known for being the fashion-forward way of retail on the streets of London. It's owned by Comme des Garçons and known for its store displays as much as for what they're displaying.
Head from Dover toward Oxford Circus making sure to stop in these areas and visit key stores listed. The Liberty Department store is also a must! It's known to be the most beautiful store in London, mostly for the architecture and brands sold.
Stop by Selfridges and Topshop at Oxford Circus, Regent and Oxford streets for stores like Superdry, Guess, All Saints etc. Carnaby street area has Lee, Diesel, Miss Sixty, Edwin, G-Star etc. You can also follow Carnaby's official website for latest events!
Afterwards, you can continue to Marylebone, an area known for its own style of fashion-forward and picturesque boutiques, New and Old Bond Streets sell high ends brands,
Savile Row is famous for it's tailoring (remember, a tailor is your best friend!), and South Molton Street is famous for the girliest favorite: Shoe shopping!
Final Tip: Be Yourself
Clothes are a simple way of expressing yourself – as long as you are confident with what you are wearing, you should be happy with your fashion sense!
In the end, ladies and gents, if all else fails just ask yourself, WWKW? What would Kate Wear? If the Duchess isn't going to touch it, well, maybe you should just put it right back on the hanger too.