Study Abroad
Helpful Tips on What to Wear While Studying Abroad in Italy
Though I had believed I had grasped the concept from watching Under the Tuscan Sun (pretty dresses and straw hats for days) and reading that Italians were more "classy," I showed up to study abroad in Italy with kitten-heeled fake leather booties, not even one pair of skinny jeans, and a flaming red trench coat to top it all off. This was not correct for "fitting in".
Dressing like an Italian makes it easier to live in the culture, even in a tourist destination like Florence or Rome.
Was I appropriate enough? Yes. But did my skinny heels disintegrate after a month of cobblestones? Absolutely. Did my coat allow me to blend in with the locals? No, actually it made me stand out more. And so my attire immediately indicated I was the American student of the town and was treated as such -- in both good and bad ways.
The main reason to do as the Romans do and wear what the Romans wear is so that you can see your study abroad semester, not from a tourist perspective, but from a local's. If you can dress the part, it's the first step to seeing Italy as if you're an Italian. Here are a few tips on how to dress Italiano and figure out what to wear while studying abroad in Italy:
First: What Not to Wear in Italy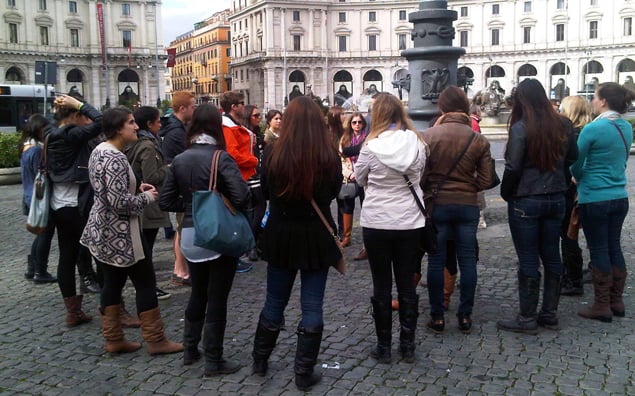 Leave your Northface jackets at home, ladies. Seriously, this is a thing and I can spot you from a mile away if you're wearing it. I'm still unsure if this is an "I want to be EuroFab" move or if it is simply how girls dress in college now (I'm old and don't know these things anymore), but when you transfer it to Italy, you might want to adjust what you wear.
Here's an example of what not to wear while studying abroad in Italy (unless you don't mind standing out as foreign, of course):
Black or brown leather knee-high boots
Skinny jeans or black leggings
Sweater or zip up hoodie
NorthFace (or equivalent) jacket in colors too bright for Italy (Italians prefer colors that don't stand out for everyday wear)
Either a Longchamp bag or a small, leather, low-strung bag that you leave hanging at your hip.
And, though it is only optional, usually the hairstyle that accompanies this uniform is flat-ironed shoulder-length hair without many layers and brushed thoroughly.
This is a beautiful outfit for back home with style and comfort. I understand why it's a go-to on the college campus, but abroad it's so stereotypical United-States-College-Student that, as I said, you'll be targeted if you wear it.
Now that we've got that out of the way, let's get to the tips on what to wear.
What to Wear in Italy: Sample Outfit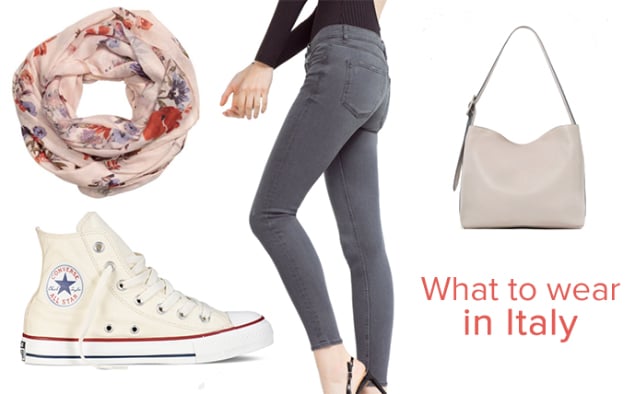 My go-to while in Italy is something like the following:
Locally purchased shoes: Anything from a pair of booties for 15 Euros to a pair of Prada wedge sneakers will do. Or your favorite pair of Converse!
Pants/Jeans: Usually skinny and that fit correctly to your body type.
Fitted layers: Like a shirt or sweater with perhaps another vest or open sweater on top -- layering is key.
Scarf: These should be your new go to accessory!
Big shoulder bags: Like those from the local leather market or a designer (ps. they don't have to be real!) instead of long-strapped ones that hang at your waist.
Fashionable winter jacket: Like a down-feather or equivalent winter jacket that is fitted to the body and sometimes has a belt, or a sheepskin/leather jacket with fur hood.
Wear Tailored & Fitted Clothes
The largest and most obvious difference between Italian (and generally European) and American style is how it fits your body. When I graduated college, my style was athletic, simple, and the bigger the flare of my jeans, the better. I liked to be comfortable, as most of the U.S. does. But it wasn't very Italian. To help with that, I made a few simple changes:
Now, my jeans are all skinny and my boots are studded, comfy, ankle-height numbers that I can successfully walk miles in.
Scarves have become an everyday thing and I have a rack by my door of more styles than I can count. Stock up on some basics and some funky patterned ones. You won't regret it. Guys too!
A simple t-shirt doesn't usually cut it – instead, lots of funky layers with diagonal zippers, and dresses matched with patterned tights are my fashion sense.
If I had to describe popular Italian fashion in one word it'd be unique – many styles have an off-center zipper, a strange but cool looking screen-print, or a little bit of extra fabric right where it looks unique. I've also grown to love Diesel Jeans. But remember, all of these pieces should still fit well!
This Means You Too, Guys
Guys, don't think you're out of range of the fitting-properly rule. If there are pleats in the front of your dress pants, they will not fly in Europe. No, more fitted jeans don't have to be "gay" looking (and seriously just cut all of that name calling crap out right now), nor do they have to be skin-tight. Tailoring is not something to be scared of. Try it, you may just like it.
Look for Sales in January and July
I know, I know, I'm sure you're all saying "But Lisa! We are mere study abroad students! We don't have the money to wear Diesel or go to outlets!" Fear not! The locals don't have the money either. Especially with the economy of Italy at the moment, not many are rushing out their doors to barge into Cavalli and buy the new Spring 2016 collections. However, when you see an Italian wearing Cavalli, you know that odds are, it's real; the secret is, they may have spent half of what you think they've spent.
Showing too much skin in Italy is thought of as trashy -- and if you choose to ignore this, a little Italian nonna will certainly give you a lecture.
Italians are some of the best bargain hunters I've seen. Sales ("saldi" in Italian) are only two times a year in January and July, but they are nationwide with some stores selling their last-season items for as much as 80% off in the end of the sale.
If you really want to reap the benefits like the locals do, take time to locate the outlets of the designer stores. You can find Armani sweatshirts for as little as 10 euro and I recently just snatched up a beautiful long-sleeve dress from Alexander McQueen for 30 euros. Though mostly outside of the city centers, transportation is usually made easily available to foreigners.
No Short Shorts or Flip Flops
Though I now do pretty well at disguising myself as an Italian, sometimes my victories of my Italian fashion sense are thwarted by outside elements that I cannot physically control. This usually comes to pass in the summer, when my New England blood still does not agree with Florentine temperatures which rise up routinely above 90 degrees Fahrenheit.
Showing too much skin in Italy is thought of as trashy – and if you choose to ignore this factoid, a little Italian nonna complete with a fur coat on in May will certainly give you a lecture on the sidewalk as to how this is not the beach and being half "nudo" is an obscenity. I learned this from experience.
Sometimes, regardless if you purchased all of your clothes from Italy, culture customs still get in the way of what you should and shouldn't wear. In this sense, the high-waisted jean shorts that let your bum leak out the bottom? Yeah, leave those at home.
And if you do find a reasonable pair of shorts, flip-flops are not the right accessory. I know, I still love my Old Navy $1 pairs too, and YES you should bring them because they will be a priceless item once you are introduced to hostel showers. But on the streets of Italy, they are non-existent.
Switch it up with a pair of Converse or leather sandals and you'll be immediately climbing the "Italian style" scale. I know this is confusing but trust me, Europeans love our sneakers and they pay big money for them so grab a pair at home before you cross the pond and you'll be happy you did!
Benefits of Dressing "Italian"
Dressing like an Italian makes it easier to live in the culture, even in a tourist destination like Florence or Rome. Street vendors won't target you as much; neither will Romani or any other promotional reps out to make money off of your time abroad. Bottom line: when you are dressing the part of a local, locals will treat you as such.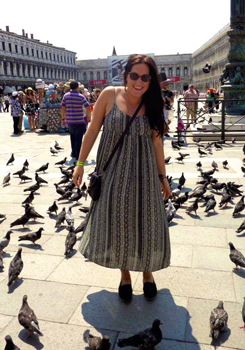 Now that I have changed my look, I don't get stopped for flyers from restaurants, nor do promotional reps come up to me to give me the latest drink deal, and when I walk into the store, I get a "ciao" instead of a "hello". Employees will speak to me in Italian because I look Italian (or at least not American) and then even though they understand that I'm foreign when I open my mouth, they appreciate that I answered in their language and can attempt to continue in it.
Miuccia Prada said it perfectly: "What you wear is how you present yourself to the world, especially today, when human contacts are so quick. Fashion is instant language." The way you dress is your first impression. Make it count and show you are interested in breaking out of your US comfort zone.
Best Thing You Can Wear Abroad? Humility.
Clothing can only take you so far when you're studying abroad in Italy. Regardless if you're decked out in Cavalli or if your entire wardrobe is from the Salvation Army, your attitude is going to make all the difference.
Yes, fashion is the first impression, but when you open your mouth, that is the lasting one. Be respectful of the culture you have decided to immerse yourself in. If you try and dress to fit in, it doesn't mean that you have the key to the city – actions speak louder than Converse sneakers. In Italy, it's custom to catch the employee's eye when you walk into a store and say "buongiorno" or at least throw a "ciao" their way -- that'll get you a lot more respect than if you're wearing the latest coat from Mango (a popular brand here).
Be courteous and if you don't know the protocol on dressing rooms or how to find your shoe size, ask (in Italian if you can!) and you're sure to get a smile out of your politeness and genuine interest in learning how things work around here. Who was it that said that amazing quote:
If you reject the food, ignore the customs, fear the religion and avoid the people, you might better stay home.
Thanks to James Michener for "getting it" and you will too. I swear it. So when you're shopping for a new wardrobe, try and fit in as much as you'd like to. Grab those new-style shoes, buy those more expensive jeans, and when in doubt, look at what the locals are wearing around you, but remember -- that is just your abroad costume. Your true outfit is how you present yourself and what your actions are overseas. Make your inner outfit shine greater than the sparkles on that new sweater dress and you'll be golden.