Where Should I Volunteer in South Africa: Cape Town or Johannesburg?
If you're obsessed with the idea of volunteering in South Africa, you're in good company; between South Africa's rich culture, astounding natural beauty, and poignant past, it's no wonder it's one of the most popular volunteer abroad destinations in the world.
English is one of the country's 11 official languages, and the country's rapid post-apartheid growth and development – and accompanying challenges – have helped transform South Africa into one of the most popular volunteer destinations in the entire African continent. But once you've set your heart on volunteering in South Africa, you're faced with a difficult choice: Cape Town or Johannesburg?
Cape Town v. Johannesburg: The Basics
Cape Town and Johannesburg are both large, modern cities situated within convenient travel distance of some stunning natural wonders, yet they couldn't be more different in spirit and personality.
Jo'burg (or Jozi, as Johannesburg is known to locals) is characterized by its location in the Northeastern Guateng region. With a population of over 3 million, Jozi is the largest city in South Africa and, as the country's financial and business powerhouse, the most prosperous city in the entire African continent. If the hustle and bustle of the South African equivalent of New York City or Washington, D.C. isn't your thing, Jozi also boasts a prime location near dozens of national parks and game reserves, making it a popular destination for animal-lovers as well as type A's. If you volunteer in Jozi, you can plan on taking safaris in your free time, seeing some of the earliest hominid remains in the world at the Cradle of Humankind World Heritage Site, or enjoying a rich art scene and vibrant nightlife in the city center.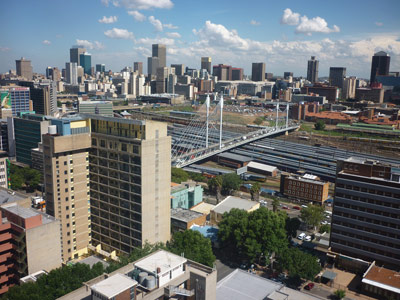 Cape Town, South Africa's second-largest city, has a much more laid-back vibe than Jozi, like a South African San Francisco. Cape Town's prize location on the southwest coast – it was named the 2nd best beach city in the world by National Geographic in 2011 – only adds to its mellow feel, but its surprisingly varied weather patterns can put a damper (literally) on the fun sometimes; a local joke is that you can experience four seasons all in one day.
Cape Town prides itself on its spectacular natural beauty, from Table Mountain, one of the New Wonders of the World, to the Kirstenbosch Botanical Gardens, a UNESCO World Heritage Site, to the famous Garden Route in its outlying areas. Cape Town's location is perfect for weekend safaris, wine tours, and shark cage diving, making the most popular travel destination in all of Africa. In addition, Cape Town's post-apartheid era has seen a boom in the social service sector, and it plays host to numerous international NGOs, making it a prize location for volunteers.
The Volunteer Work
As different as Jozi and Cape Town are in character, the real differences distill down to the volunteer work opportunities in each area.
Johannesburg
If you've already started researching, you may have noticed that there are far and away more volunteer programs that operate in Cape Town than Johannesburg. While Jozi's relative prosperity – it practically invented the term "Afropolitan" – translates to fewer community development programs, Jozi still copes with the disparity between rich and poor and a post-apartheid racial legacy that create challenges as well as volunteer opportunities.
In addition, Jozi corners the market on a very particular kind of volunteering: wildlife conservation. As more and more big cat species inch towards "endangered" or "threatened" status, animal reserves are working tirelessly to keep populations up and maintain South Africa's incredible biodiversity through reintroduction and breeding programs. While these opportunities are typically well outside of Jozi's city center, most programs refer to the location as Jozi, the nearest city. Johannesburg's social and environmental issues make it a great place to volunteer; keep an eye out for more programs as its international volunteer sector grows through the coming years.
Volunteer Opportunities in and around Johannesburg:
Cape Town
As already mentioned, there is no dearth of community-based volunteer opportunities in Cape Town. Cape Town seems emblematic of the entire country in its post-apartheid struggle to end racial inequalities, eradicate poverty, and halt the spread of HIV/AIDS.
If you're looking to make a difference in a rapidly-changing urban society by helping in the growing social service sector, your options will be practically overwhelmingly endless. While the social service sector is thriving in Cape Town, it is also a natural paradise, with plenty of conservation and marine life opportunities. Whether you want to swim with marine life, or make a difference in the life of a child, chances are, you'll find an opportunity to do so in Cape Town.
Volunteer Opportunities in Cape Town:
Promote child development, teach, or support children and adult with special needs with UBELONG, Volunteering Solutions, and Cross-Cultural Solutions, all top-ranked programs.
Projects Abroad taps into some more niche professional skills, with opportunities in health, education, conservation, sports, journalism, business, law, and even construction fields.
Approach HIV/AIDS from a medical or public health perspective with Connect 123.
Hang ten while doing good with IVHQ's highly-ranked surf coach program. They also offer sports development, childcare, teaching, and computer training projects.
Work with sharks, whales, dolphins, seals, and penguins with Marine Dynamics or Travellers Worldwide.
While citizens of Cape Town and Johannesburg maintain a friendly, if fierce, rivalry, try not to fret too much about that as a volunteer. Start by finding the programs that most excite you, and go from there (sorry, can't volunteer in Jozi if you want to swim with the sharks). If you find yourself torn between similar programs in both cities, remember the following:

You want a fast-paced urban environment, OR a rustic experience on a reserve.
You want to play with lion cubs.
You want to spend your free time on safari or in museums and art galleries.
You prefer a mild climate.

You want a laid-back beach city with some of the best sight-seeing around.
You want to care for or teach children.
You want to spend your free time on a wine tour or swimming with sharks.
You like experiencing all 4 seasons…in one day.
And don't stress! It's important to research your programs, sure, but also remember that no matter which one you do, you will be helping to make a positive difference on this planet! Ultimately, listen to your gut, trust your instincts, and you'll be well on your way to an incredible South African volunteer experience.
Still not satisfied? Look at these volunteer opportunities elsewhere in South Africa:
Travellers Worldwide runs wildlife conservation programs out of Zululand, in the Eastern Cape
For a classic wildlife volunteer experience in Limpopo, try GVI's wildlife research program.