Which American Universities Have the Most Well-Traveled Students?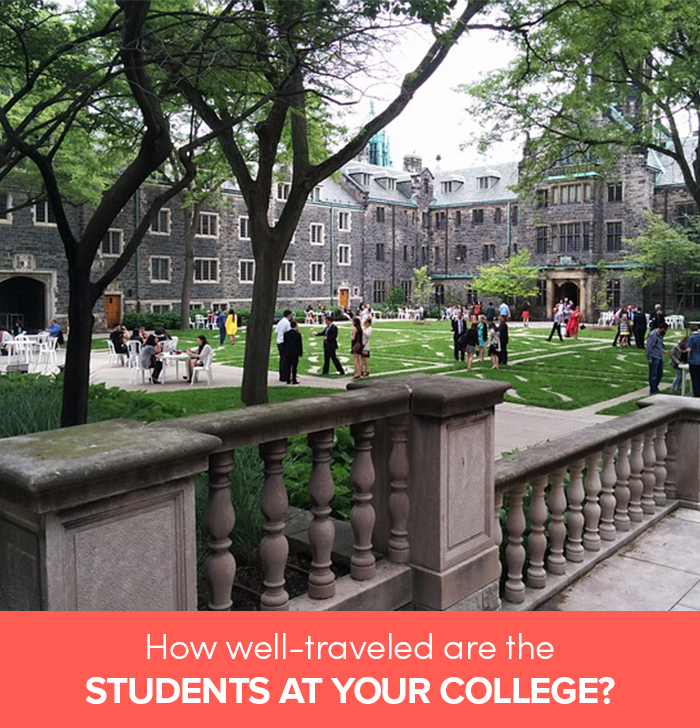 There are around 4,700 universities in the US right now. Most of them send 1-2% of their student body abroad each year. However, there are a few extraordinary universities that either send a huge number of students abroad or their entire student body abroad!
So where does your university rank? Are you among the well-traveled or the homebodies? Read on to find out which American universities have the most well-traveled students:
Organizations With High Overall Sending Numbers Per Year:
1. New York University: 4k out of 57k students
New York University is known for just a few important things: being located in Manhattan, being the source of an unreasonable number of Tony, Oscar, and Grammy winners, and of course, having campuses in Abu Dhabi and Shanghai.
If you need any other reasons to love NYU, here are 10 more: Accra, Ghana; Berlin, Germany, Buenos Aires, Argentina; Florence, Italy; London, England; Madrid, Spain; Paris, France; Prague, the Czech Republic; Shanghai, China; and Tel Aviv, Israel. Those are their "Academic Sites" where they most commonly send students abroad.
2. University of Texas at Austin: 3k out of 50k students
As one of the flagship campuses of Texas, UT Austin has huge enrollment numbers and an incredible reputation to match. Not only is it part of the Public Ivy League, they send practically an entire liberal arts college worth of students abroad each year.
They accomplish this impressive feat through an extraordinarily well-organized study abroad web page, a dedicated team of advisors and administrators that are openly dedicated to diversity and equal opportunity for students who want to study abroad, and an incredibly broad collection of programs ranging from volunteer projects to faculty lead short term trips all the way to semester abroad programs and year-long exchanges.
3. Texas A&M: 2.9k out of 58k students
Texas is huge. It's only fitting that Texas has two flagship state universities, A&M being one of them. It's the fourth largest university in the US by total enrollment, and they have an equally impressive number of students who study abroad.
Don't mind that nearly 3000 students going abroad every year is only about 5% of the Texas A&M total enrollment. It may not sound as impressive as their total enrollment it but it's actually outrageous given most universities average 1-2%. Texas universities have set the bar high.
4. University of Southern California: 2.8k out of 43k students
Very few people want to leave LA after they discover that it has perfect weather and global cuisine all year round. Despite that, USC somehow manages to kick 2.8 thousand students out of southern California and on trips around the world each year. Not bad, especially considering they have the smallest enrollment of any college on this part of the list.
5. University of Michigan - Ann Arbor: 2.7k out of 43k students
The University of Michigan at Ann Arbor is the flagship state university in Michigan. They do a magnificent job of highlighting student study abroad stories on their school website and encourage thousands of students from their campus to study abroad by doing a campus exchange or foreign language program. Plus, they have a program called Compass that helps students find funding for whatever internship, service, or travel experience a University of Michigan student might want!
All of these universities send an astounding number of students abroad. For comparison, huge dedicated program providers like CIEE send only 2-3x as many many students abroad each year. These top 5 universities alone send almost 10% of all students who study abroad from the US each year.
Universities That Send Almost All Students Abroad:
Now let's look at some universities that send far less total students abroad -- but who stand out nonetheless because they manage to send such a huge percentage of their total student body overseas.
1. Goucher College: Sends 100% of 2.1k students
Goucher was the first US college to require that each undergraduate student graduate with "at least one" study abroad experience under their belt. This is an extraordinary (and probably sometimes quite difficult) requirement. They have successfully paved the way toward a goal that many would have assumed was either impossible or terribly impractical.
2. Soka University of America: 100% of 500 students
Soka's tagline is "bringing the world to our students," when in fact they are clearly bringing their students to the world. Soka is the second college to require 100% of their student body study abroad. Soka gets its emphasis on globalization and travel from the fact that it is the American sister school of the very similarly named Soka University in Japan.
3. College of the Holy Cross: 90% of 2.7k students
Not to be confused with Holy Cross College, the College of the Holy Cross sends a much more realistic but still impressive 9 out of 10 of its students overseas. Located in Massachusetts, The Holy Cross ranked first in 2014 for long-term study abroad participation by the Institute of International Education.
4. Arcadia University: 87% of 2.6k students
Arcadia has partner programs in 13 different countries and standardizes their study abroad experience as mandatory for students in their third year. Arcadia was first in this list of top universities for nearly a decade until Goucher recently announced its mandatory study abroad program.
The most impressive statistic is the one year that 700+ Arcadia students study abroad. Considering that the graduating class is only about 400, Arcadia has technically achieved an 180% study abroad participation rate. But who's counting?
5. Centre College: 85% of 1.2k students
Centre maintains ongoing long-term student programs with 3 different countries and offers partner programs to 8 others. Centre College also features a "Centre term" in January where students can take a J-Term-like trip to any of Centre's 10 partner program locations. All these opportunities combined mean that almost every Centre student has an international travel experience of some kind -- just like we believe every student should!
These institutions of higher learning have proven that it is certainly possible for a single university to make a dent in the number of students studying abroad from the US. Is your school on this list?
Explore study abroad programs.