Why Don't More People Teach Abroad?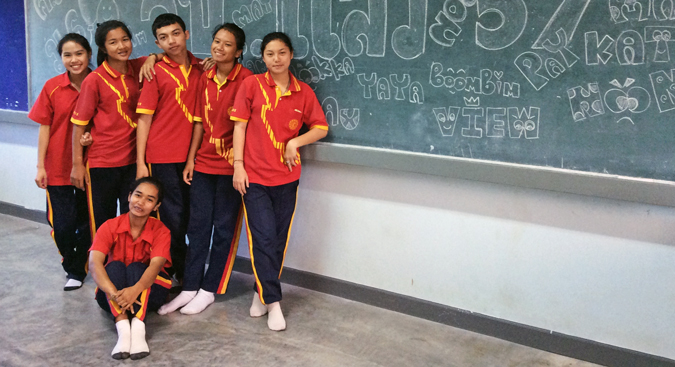 Each year hundreds of thousands of English speakers leave home to teach abroad -- and that's fantastic. But many, many more could, and would benefit from the experience like a fish benefits from water.
It's a common misconception about teaching English that you need to know another language.
As part of an ongoing series here at Go Overseas, we're going to take an in-depth look at why people should teach abroad, why they don't, and what we can do about it. So, pencils down! It's time to ask, why don't more people teach abroad?
1. I Have Student Loans
At first glance, getting a job as teacher seems low-paying and not the right way to help pay back your student debt -- but that really just depends on where you go.
For example, most teaching positions in Latin America aren't terribly lucrative, and they won't help you make those monthly payments. However, many teachers in South Korea will regularly save up to $1,000 per month of their teacher salary. Yes, you could absolutely use that money to go on a post-teach-abroad jaunt around the world, but you could also use some of it to make those student loan payments.
Some programs (like Peace Corps) will also help you defer (certain) loans for your first year or two out of college. Take a look in to that before giving up on this idea altogether.
2. I Don't Speak Another Language
It's a common misconception about teaching English that you need to know another language. In reality, teaching by translation is the worst way to teach a language, and one of the most antiquated methods out there. If you really want your students to acquire a new language, you'll have to show them, make them think about, and create a false-immersion setting. That means: English only.
Of course, if you're teaching in a non-anglophone country, you absolutely should learn some of the local language. You may not use it to teach, but you will want to know a few words to run errands, make friends, and interact with local teachers. All of that you can pick up as you go!
3. I'm Too Old Now -- I Missed My Chance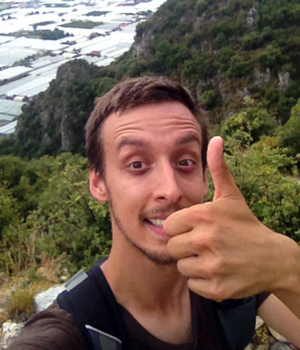 Many (but certainly not all) people who teach abroad are college students or recent graduates. It almost gives off the false illusion that teaching abroad is a young person's game.
Spencer Carter, graduate of the Ferrum College Class of 2009, echoes this sentiment. "I wanted to teach abroad, but I wanted some money first coming out of college. I'd like to go back and do it now, but a lot of the companies that do it are only hiring right out of college; you gotta do it while you're young."
Actually, some teaching positions will require their applicants to be at least 25 or 26 years old. They recognize that older teachers carry a certain level of maturity and responsibility, and won't be teaching just to travel the world. Reality is, you can teach abroad at any age, and sometimes it's better -- for both you and your students -- to wait a little bit.
So, to every person who says "I wish I had taught abroad when I was younger," I say, "It's not too late! The opportunity hasn't gone anywhere."
4. Moving Abroad is Scary. Will I Make Friends?
When you studied abroad, you were able to connect with other students on your program or at your university. But teaching abroad is a much more independent endeavor -- and at times intimidating. You're worried that you won't make friends, that you won't know how to get basic errands done.
In my time teaching abroad, I met colleagues from truly all walks.
You really shouldn't worry about this at all though. If you choose to live in a city with other foreigners, you'll have expat groups who will happily befriend you simply because you speak the same language, or stick out in the same way. You'll have your fellow teachers and co-workers. Or, you'll be living in a place where people are it's not as strange to just strike up a conversation in the streets (like it is in the U.S.)
Don't worry, you'll make friends while living abroad!
5. I'm Not the Teacher Type
In my time teaching abroad, I met colleagues from truly all walks -- college hippie dropouts, retired diplomats looking to start their twilight years, maternally-instincted nurses, former football coaches and players -- any type you can name each found a way to find the joy in teaching abroad.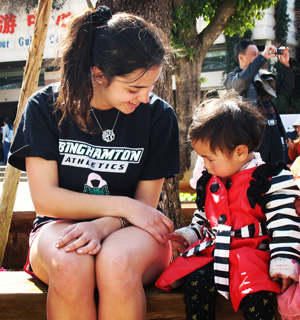 One of these nonconventional teaching types was Jessica Pullman, graduate of the University of Connecticut Class of 2011. "I wasn't going to teach abroad. One, I never really wanted to teach. One of the primary reasons I considered it was to live abroad, and I started looking for other means to live abroad without having to teach," Jessica explains.
But she found her options were limited, and teaching abroad gave her the best variety of choices of location, hours, and a decent living. So Jessica went for it.
"I didn't think I'd be able to do it at first. I have no maternal instinct. I don't even like kids that much. But the company I worked with trained me really well -- to the point that I felt pretty confident -- and set me up with high-schoolers, who I had a much better time connecting with. Plus the company offered resources on-site that you could talk to if you had problems." With all these advantages in her hand, Jessica taught abroad and was so glad for it.
And how did she like the experience? "Oh, it was the best," Jessica describes it. "The absolute best. Teach abroad, seriously. Anyone that reads this, even if you don't think it's for you -- it is, and you're going to be so glad you did it."
6. I Don't Like Kids
Well... then don't teach kids. English is a huge asset to anyone who wants to get ahead in their career, so unlike teaching, say, math, English teachers can teach students of any age.
Teaching can help you acquire tons of transferable skills for non-teaching careers.
As a teacher, you can ask to be paired with students aged from preschoolers to seniors. You can teach English to adults, or university students. In short, there is a teach abroad experience for you, and it's waiting to change your life if you are bold enough to take it.
7. It's Not Part of My Career Path
Okay, so teaching abroad sounds great, but that's not what you want to do as a career. Thing is, teaching abroad, especially for those who are fresh out of college and need professional experience, can help you acquire tons of transferable skills for non-teaching careers.
If you're a bit older, taking a year to teach abroad could help you switch careers -- so long as you choose a teaching gig that helps you with this. For example, if you want to transition into international development, NGO work, or disaster relief, you could volunteer teach with refugees in Thailand. If you want to learn more about international business and entrepreneurialship, teach business English abroad. Get creative, and be sure to know how to market yourself later!
8. I Don't Know Where to Start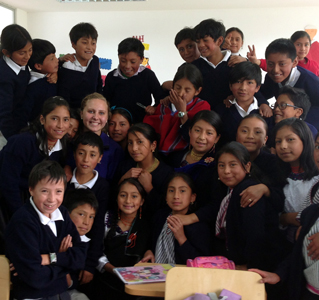 We get it, there's a lot of conflicting information about how to get started teaching abroad. Some regions require a TEFL Certification and a college degree, others will take inexperienced teachers without a degree. Some mostly use recruiters to hire foreign teachers, others prefer you show up in person and go door to door.
What this means is, it's kind of confusing to know where to get started teaching abroad.
Joel Azario is a graduate of the University of Southern California Class of 2010, and wishes he'd known the best way to begin his search. "It's not that I didn't want to [teach abroad], I just had a lot of other things going on; so many things that I just didn't have the time to commit to the search." He regrets it now, he says. "I wish I'd had a nudge in the right direction." Well, reader, you're in the right place.
Get Started Teaching Abroad
The first place to start is to ask the professionals. Find someone you know who has taught abroad, consult someone who works at a language school or with TEFL certifications, or search your LinkedIn network.
If you're the type who likes to do your own informed research, well, ahem, you're already in the right place. Here at Go Overseas, this is kind of what we do. And what we do is offer ranked reviews of teach abroad programs, resources, and a full teaching job board full of jobs you can apply to now.
Secondly, you read Go Overseas' articles on teaching abroad for tips and advice on every aspect of it, from tips on getting TEFL certified to ways to meet and connect with fellow expats while teaching. Take two articles, and call me in the morning.
Enough Excuses
So why don't more people teach abroad? Hopefully, after reading this: for far fewer reasons. Whether money is the primary concern, or whether it's disposition or something else -- teaching abroad is within reach for anyone. All you have to do is reach in the right direction!
Photo Credits: Chelsea Perez, Alyssa Berkowitz, Aubrey Elliott, and
Danielle Slowik
.