Why Don't More Men Study Abroad?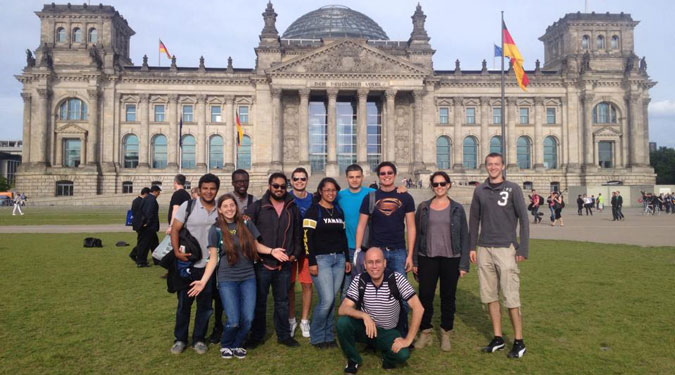 [Editor's note: Men. They simply don't study abroad as much as women do. Why is that? In partnership with Missy Gluckmann of Melibee Global, we're tackling this question via our blogs. Today, we're cross blogging on the subject, sharing two perspectives on the topic with Go Overseas' own Jason Rogers' post below, and Melibee Global's piece Men, Travel, and Growth. Enjoy them. Pass them around. And please feel free to comment on each respective post!]
"The world for a young man is a moveable feast." That's how Hemingway described being in Paris in his early twenties. Any interest you fancy, any fancy that interests, you are free to hop aboard a plane and go discover the world and reinvent yourself.
Today, less than one-in-three students who study abroad are men. Compared to the other relevant statistics -- namely that forty-five percent of college students are men and that one in every two people on earth is a man (who knew!) -- this figure suggests that something else is to blame. It isn't just the numbers. There must be a reason (or reasons) why men are not studying abroad.
I remember the guys in my class who studied abroad -- but more importantly, the ones who didn't.
Personally, I had the blessed, wild, rocket-to-the-moon good fortune of studying abroad when I was in college. I know the options I weighed, and the considerations -- both tangible, and a little more difficult to describe -- that affected my choice. I remember the guys in my class who studied abroad -- but more importantly, the ones who didn't. I remember my brothers in my fraternity who felt like studying abroad "wasn't for them."
Since I, honestly, couldn't think of one good reason why anyone, guy or girl, would choose NOT to study abroad, I've reached out to several of my friends for their help with this article. With their input, and their stories of deciding whether to study abroad (and some not), Go Overseas and I have put together a look at why men study abroad, why men don't study abroad, and why you, I, we, really, really should!
Why Guys Don't Study Abroad
First, let's take a look at the some of the reasons why guys don't study abroad. A potent cocktail of societal stigmas, preconceived misunderstandings, and underserviced market share are to blame -- and we're going to dissect these problems and, hopefully, help to dispel them!
"It's Not For Me"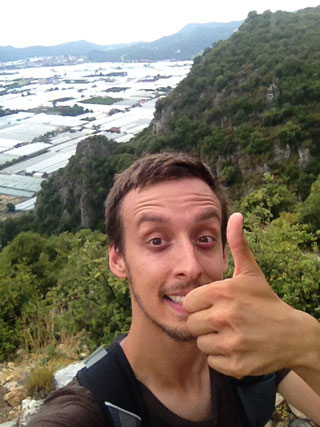 I hear this all the time. Many men -- friends of mine, classmates, family -- just don't think studying abroad is "for them." It's one of the most ubiquitous and common excuses for politely refusing anything.
However in this case, it represents a casual shrugging off of one of the most wonderful, life-changing opportunities a man can be offered. So, it's worth having a frank, honest discussion about what guys mean when they say "it's not for me."
First of all, there's a feeling in the study abroad universe that "guy stuff," in whatever form that phrase conjures for you, is not worth going abroad to study. Things that demographically skew heavily towards males – like sports and athletics fandom, passion for distillery and brewery history, to name a few examples – are acknowledged by the industry with a pat on the head and a patronizing, "good for you for having a hobby," and promptly never talked about again.
But in reality, genuine passions are worthy pursuits. Full stop. It doesn't matter if you're driven to study abroad to experience another culture's sports, or so you can add a competitive edge to your business degree. A deep love for a culture, coupled with an earnest curiosity to explore how the rest of the world experiences it, is precisely what study abroad is for. After all, there's a whole world out there, and you're sure to find something you'll love about your host country -- it just might not be what was on that shiny study abroad poster.
The "guy stuff" in question does admittedly tend to fall along the "recreational" end of the spectrum, and is perhaps not as purely academic as philosophy, mathematics, or history. To that I say this: the real meat and potatoes of life, for most of our time spent on this earth living it, is spent in those "recreational" pursuits. If those recreational pursuits are nurtured and validated from an early age, they often turn into careers.
Not only that, but a failure to instill lessons in recreation with educational value is not a failure of the student, but of our own. Football clubs, for an example, have for decades been and continue to be way markers of the political and religious climate of their times and areas. An understanding of their history is an understanding of their region, nation, and raison d'être.
A life-long passion for learning can be kindled anywhere, not just your home university, but it sparks easiest on something you love.
"I Have Other Priorities"
This is another one I hear from guys a lot as well. "I would have studied abroad, but I didn't have time."
Between varsity sports, clubs, and those ever-important credits, studying abroad simply gets pushed to the back burner, and eventually, forgotten. This is the way it goes for many pursuits, but it is an unacceptable shame when it happens to studying abroad.
Justin Tutt, graduate of the Christopher Newport University Class of 2013, played wide-receiver on the football team, and never studied abroad. "I wanted to," Justin says, "I just couldn't with football." A year-round commitment, football meant a traditional study abroad semester wasn't in the cards. Justin didn't feel like he could study abroad and be an athlete too. "Training camp was in the spring, summer was all practices and two-a-days, and then the season ran through December."
Does Justin regret not studying abroad today? "Yeah," he says. "I wanted to study in Spain. I'd studied Spanish for six years and hoped to use it. I wanted to go to soccer games, experience the culture, see what their 'football' fans are like."
With busy collegiate schedules, many men just don't see how to work in studying abroad.
Stories like Justin's are common among men. With busy collegiate schedules, many men just don't see how to work in studying abroad. Fortunately, however, it is as easy as finding the right program and prioritizing the experience. For every bummer of a tale like Justin's, there is one of success from guys like Patrick Heil, graduate of the Virginia Tech Class of 2012.
"I studied in Moscow winter break of my junior year," Patrick says. He played summer hockey, and during the school year was involved in video game development classes he didn't want to miss. But he was interested in Russian culture, had taken a few Russian courses, and wanted to go see it for himself. So he found a shorter, winter program that fit his availability.
"I didn't have to take any time off from school, so pretty much as soon as winter break started, I left for Moscow for the month." Patrick's university -- like many universities and probably yours, too – had several professors that led their own study abroad itineraries, including his Russian professor. "It was great. We had class in the AM, free time during the day, and at night had some sort of activity like a ballet performance," he says.
Patrick's story proves that even for a busy college student like Justin, study abroad is possible -- just maybe not for an entire year or semester. If this sounds good to you, be sure to ask professors of languages and areas of study you are interested in whether the department ever leads its own trips abroad. Many do, and are one of the easiest ways to find a program that's perfect for your schedule. And the best part? "I didn't miss school and I got credits out of it," Patrick says. Winning!
Suggested Study Abroad Programs
"I Need to Graduate On Time"
This is probably the most practical and sympathetic of the common objections. We go to college to get that degree, that little hundred-grand piece of paper that tells the real world, "hire me, pay me more, look what I got." With tuition costing tens of thousands of dollars every semester, I would not in good conscience be able to advocate for something that would rack up that bill.
That's the good thing about studying abroad, though. It doesn't push back your graduation date. At all. Seriously. Whatever your major is, there is a study abroad program catered to it.
A simple meeting with your academic and major advisors and a little knowledge of the course catalog at your intended host university is all it takes to make sure you get credit towards graduation for studying abroad. Check out my advice on how direct enrollment can help you get all those tasty credits.
Study abroad doesn't push back your graduation date. At all. Seriously. Whatever your major is, there is a study abroad program catered to it.
If you choose to study abroad over summer or winter break, you can even knock out a whole semester's worth of credits in between semesters. Suddenly, you're ahead of schedule, and you can either: a) graduate early and save some serious cash, or b) take fewer credits your remaining semesters and enjoy yourself one fine senior year.
I mentioned earlier, for many men, being able to study abroad is simply a matter of prioritizing it. Fortunately, your graduation date is not, I repeat, not something that has to take a back seat!
Pro Tip: Ask your study abroad department which foreign universities they have direct partnerships with. This greatly improves your odds of getting full credit and making sure your classes transfer.
What Are Guys Missing Out On?
So what, exactly, are men missing out on by not studying abroad? Let's take a look. I could bombard you with statistics about students who study abroad -- and I will. But I also want to share the experiences of some men who have studied abroad and the value of the intangible, the value of an experience that is truly once-in-a-lifetime.
P.S: Students who study abroad have higher graduation rates, find employment after graduation faster, make more money, and achieve higher ranks in Fortune 500 companies than student's who don't. See, told you.
A Healthy Dose of Culture Shock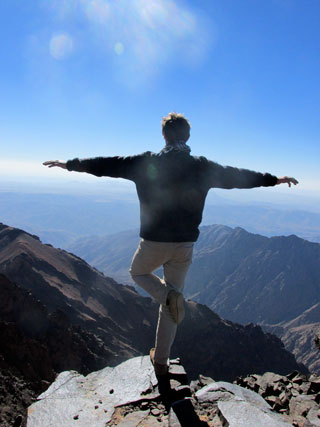 Men have been accused of being proud, sometimes to a fault. What sort of evolutionary instinct it stems from, I don't know. But I do know that it can be hard to see the world outside of your own routine.
Studying abroad doesn't just lead you out of your comfort zone. It yanks you out of it by force and beats you over the head with what it used to be. But there is important, impossible-to-replicate growth in this process. Nothing, and I mean nothing, bolsters your confidence for the rest of your life like the ability to survive abroad.
After navigating the public transportation of a city where you don't speak the language, when the public transportation employees have gone on strike, on the day of your final exam -- having the confidence to speak in that next board meeting or ask that cute concertgoer out is nothing.
Life is merely a contest of who believes in themselves the most, and is willing to continue to try until they succeed; studying abroad shows you just how much higher your threshold for trying again is than you thought.
Further, studying abroad introduces men to people completely unlike themselves.
As Patrick who studied in Russia observed, "My favorite part was meeting new people. People I would have never even met, let alone had deep, meaningful conversations with over vodka." Patrick, a self-described conservative American, says he is grateful for the experience he had in Moscow. "I see the world as so much bigger, now. And that's what life is, isn't it? One long attempt to try to figure out what the world really is. Studying abroad accelerated that process for me, ten-fold."
A Chance to Be the Man You've Always Wanted
Going to college is billed to men who didn't have a great time in high school as "a new beginning," a "fresh start." To an extent, this is true. But if you go to a large state school, along with a good portion of your graduating class, it can be tougher than expected to leave your past self behind, to "hakuna matata," as it were.
Not that we advocate running from your past. But we do advocate shaping your present and future into what you want it to be. Enter studying abroad.
Think people won't know anything about you in college? How about in another country? The malaise and ennui of everyday life can have a suffocating effect on ambition, when routine and a "groove" are easier, more attractive options than taking the brave choices required to make our life the one we want.
I, for example, wanted to be a writer. But being from Manassas, Virginia, it was hard to get my head into the right state of mind. The endless pavement drudgery of McDonalds, IHOPs and dry cleaners made it hard to get in the mood. But when I studied in Paris, all I had to do was walk down the street and I was inspired.
Every day, I got to "try out" someone new, because no one knew who I really was.
Here I was, in Paris! I was an anonymous young man, in the world's most beautiful and literary city, and no one knew squat about me. Was I the kind of guy who ordered a scotch and smoked a brooding cigarette and read Dostoyevsky? I didn't know, but I got to try it! People looked at me, and said, "oh, he's one of those brooding men who drinks scotch and reads Dostoyevsky." The next day, I was a bombastic Hemingway-type, laughing with the barkeep at a new cafe, entertaining the regulars and chatting about philosophy. Every day, I got to "try out" someone new, because no one knew who I really was.
And that's the thing. The only thing keeping who we "really are" from being who we want, is us. Studying abroad brings that truth into striking focus. If nothing else, every man should study abroad, because it's like one of those baseball fantasy camps, but for Life. Try on a costume, and if you like it -- keep it on.
A Way To See Life Through New Eyes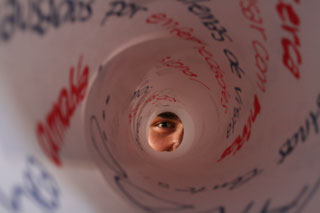 The difference between visiting somewhere and living somewhere is as vast as the difference between a dew drop and an ocean. There is a pervasive "us versus them" mentality in the world and its affairs today. We tend to view our upbringing as normal, and everything else as other, as necessarily abnormal. This sticks a big fat roadblock in the way of understanding, peace, and world commerce.
John Cobb, graduate of the College of William and Mary Class of 2013, studied abroad in Spain, and agrees with this sentiment.
"The chance to experience the culture of a place – and I don't mean what the textbooks call its 'culture,' I mean the actual day-to-day culture like restaurants, history, nightlife – from what felt like a more natural, local perspective was life-changing. To experience it in the first-person, instead of as an observational outsider looking in, was like the first time I had seen life for what it really is."
We share this planet with seven billion other human beings. In an increasingly global world with an increasingly global economy, odds are good that you will interact with people from other parts of it -- people who have nothing in common with.
It will allow you to place your idea of "normal" alongside countless other "normals" and count them all as equal, all as valid, and all as beautifully human and nuanced.
I'm not saying studying abroad will allow you to identify with them, but it will allow you to imagine being able to. It will allow you to place your idea of "normal" alongside countless other "normals" and count them all as equal, all as valid, and all as beautifully human and nuanced.
Look, life is about how each person lives it. Don't you want to be as equipped to understand that as possible before setting out? You should.
In conclusion, Men, study abroad. It is for you. You do have time. It is worth it.
At the same time, you absolutely do not need to choose an experience that conforms to what your friends, female or otherwise, have done. You can shape it after your interests. You can study what you want. You can go where you want. You can live where you want.
It will change your life for the much, much better. I encourage all men who claim to be citizens of this world to go out and explore, come back more educated than you did before, and maybe even pick up a sexy accent along the way. Because hey, we are men after all, right?
Photo Credits: Rachael Silverman, Aubrey Elliott, Madeleine Loney, and Alex Schoemann