Why These 10 Organizations Want to Help You Take a Gap Year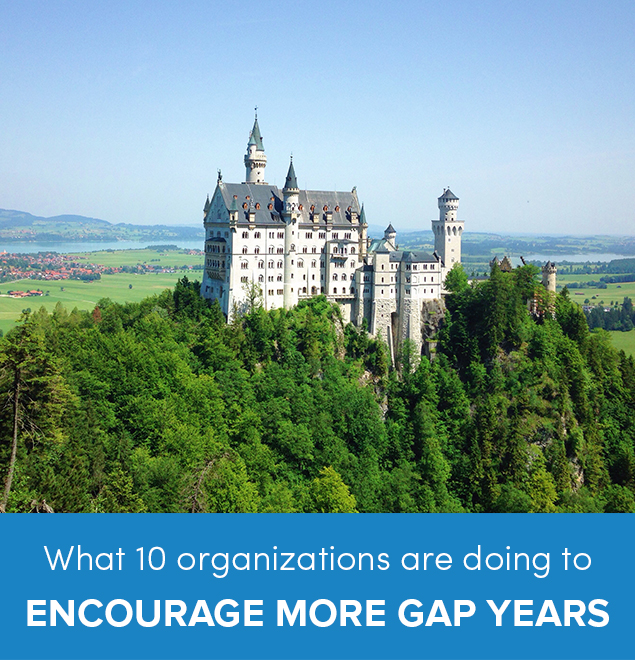 Many of us have been raised in a culture that intrinsically places a strong emphasis on what amounts to a "set life course": primary and secondary school, higher education, professional work, marriage, family, and retirement.
This path of development is usually pursued without much interruption, and taking dedicated time away for personal or professional growth in unconventional ways is often met with resistance, skepticism, and anxiety: How can one resume her planned course after interrupting its momentum? How can our child be successful in the long-term if he is taking too many detours? Will delaying my education to travel put me behind the competition?
The interruption we're speaking about is, of course, the idea of a "gap year," which can actually be taken at any point during the course of one's life: before college, during college, after college, after a few years of professional work, after marriage, while raising children, during career transitions -- you get the point.
What is a Gap Year?
Traditionally, gap years are done immediately before or after university studies, and have been more prevalent in Australia, the United Kingdom, and parts of Europe. Fortunately, the idea is spreading to North America and beyond, so more and more young people -- and people of all ages -- are reaping the benefits of purposeful time to travel, develop life skills and experience, explore alternative professional pathways, gain firsthand exposure to unique parts of the world, and develop a greater appreciation of all the ways life can be meaningful outside of the "set life course".
In case you needed any convincing of the benefits of taking a gap year, Go Overseas asked the leaders at 10 organizations dedicated to providing gap year opportunities why they think taking a gap year is important, as well as what their company is doing to promote more people going abroad for an extended period of growth and development.
Why Do You Think Taking a Gap Year is Important?
What's the value in a gap year? Why should people take one? Our panel of experts weigh in:
1. It teaches you a different way of thinking
Ethan Knight, Executive Director
,
American Gap Association
: Students need them. Society needs us to take them. Taking a gap year is radically important to young people because when else in your life are you going to ask the fundamental question about what it is to live a life with purpose or meaning?
More to the point, most students go their entire lives chasing society's definition of success -- typically involving not much more than income and status. On a gap year, students are confronted with so many different ways to 'do this thing called Life.' Understanding our own unique contribution to the world and how we fit into it with purpose is the basis of any good gap year.
A gap year of travel teaches you to think globally.
Lewis Jenkins, Director, The Intern Group: School teaches you to think logically. University teaches you to think laterally. A gap year of travel teaches you to think globally.
Michael Fotheringham, OzIntro: I think you can learn more about the world and the people in it by taking a gap year and studying and living overseas than you can by staying home.
2. It's a real-world education
Kathy Cheng, Dynamy: I believe a gap year can be a pivotal part of every student's education, as it provides an opportunity to step out of the traditional classroom and experience hands-on real world learning.
It is an opportunity to learn more about themselves through service, internships, travel, immersion, and volunteer. So often students go into college unsure of their next steps and this will not only help them find direction but often a sense of self-awareness.
It provides an opportunity to... experience hands-on real world learning.
Daniele Leao, Marketing Executive, Australian Internships: Besides all of the fun experiences a gap year can provide, the personal and professional, tangible and intangible benefits you can take from it are tremendous! After finishing high school or graduating from college, many students are still not sure which path to follow in their personal and professional lives.
A gap year abroad is definitely a good way to be in touch with your inner self, face new challenges, be in contact with different cultures and develop a sense of direction. Candidates who take a gap year abroad are usually perceived as more mature and confident when they start college or their career afterward.
Alex Paisner, Enrollment Director, Global Experiences: The concept of a gap year is still new in the United States, but it's advantageous and sets students up for a productive college career with a global perspective.
We are products of our environment, and being introduced to many different environments can act as a catalyst for personal growth. A gap year helps students gain what we call "grounded confidence" in their abilities.
3. It allows you to make new connections
Dirk Radke, GM - Sales and Marketing, Ultimate Adventure Travel: It might be easy to browse the internet for articles, pictures, and videos to find information about all those places you keep hearing about, but it's just not the same as to actually smell the fresh air on top of that mountain, go swimming on that stunning beach with strangers who've only just met, or treating your taste buds to delicious meals you won't ever be able to pronounce.
Though, taking a gap year is not just about the places you see and the people you meet, it's about experiencing something new, learning to appreciate what really matters and to respect that everyone is different.
It's about experiencing something new, learning to appreciate what really matters and to respect that everyone is different.
Juuso Klemola, The Global Work & Travel Co.: The amount of freedom to try new things, experience the unexperienced, and meet interesting people from different backgrounds is what a gap year is all about.
You will definitely learn a lot about different cultures, different traditions, different approaches to everyday things, perhaps even a different language. But the biggest thing is the personal growth that you will gain when you have to adapt to a completely different environment than what you're used to.
Taking a gap year overseas can be seen as gaining an unofficial diploma in life skills, and I've never heard anyone say, "I wish I hadn't taken the time to travel, learn about new cultures and experience the world."
4. It'll alter your worldview... for the better
James Bridge, Working Abroad Program Manager, InterExchange: When we travel we take a step away from all we've ever known and learned, bringing it all into a new and sharper perspective.
Gap year travel makes it possible to envision new and adventurous life paths in a diverse world. No matter what we've learned in our youth, a gap year will shake our foundations and broaden our view.
It... expands horizons, gives you new perspective and independence.
Hanna Friess, Sales and Marketing Coordinator, BUNAC: A gap year gives you a once in a lifetime opportunity to spend an extended amount of time in a foreign country while working and traveling. It expands horizons, gives you new perspective and independence, and allows you to experience things and meet people far outside of your normal life.
People finish gap years with new international friends, work experience and exposure, an open mind, and qualities above and beyond what a future employer or professor would desire.
What is Your Organization Doing to Encourage More People Doing Gap Years?
Each of the organizations I interviewed were tackling different pain points for potential gappers. Here's what each group is doing to help more people take a gap year:
1. Making gap years affordable and easy to organize
James Bridge: Many people think traveling is either prohibitively expensive or just too difficult to organize. InterExchange tackles both challenges by offering programs that are well-thought-out and affordable.
Global Experiences provide need and merit-based scholarships to students.
Juuso Klemola: The Global Work & Travel Co. specializes in making meaningful travel experiences easy, and offers hundreds of different gap year options to the market. We are a one-stop-shop for all gap year needs with dedicated one-on-one guidance for all our customers.
Alex Paisner: In keeping our mission of helping young people discover their path sooner in life through international travel, Global Experiences provides need and merit-based scholarships to students who have a head start on their careers.
2. Creating an opportunity to gain professional experience
Lewis Jenkins: Intern Australia promotes gap years without the 'gap'. We offer professional experience in an international context, providing a platform for your career to begin your traveling adventure in one of the world's most desirable locations. Our global team understands deeply how important international professional experience is in today's job market.
Candidates... have the chance to develop their professional skills, build up their resumes, and improve their employability.
Daniele Leao: Our programs not only offer a great opportunity to come to Australia and be in touch with a different culture, but also provide candidates with the chance to develop their professional skills, build up their resumes, and improve their employability.
3. Facilitating friendships and connections while abroad
Dirk Radke: Ultimate Travel's aim is to bring people together and making sure they have the most amazing time while being away from home. All of our crew are passionate travelers constantly looking for new adventures and I think that passion is contagious to our travelers.
By going as part of a group, it's a great way to meet people and make friends!
Michael Fotheringham: If you're taking a gap year in Australia or traveling to Thailand or Bali then OzIntro will help you have amazing experiences, get help with everything you need, and, by going as part of a group, it's a great way to meet people and make friends!
4. Support services for newbie travelers
Hanna Friess: BUNAC programs support you through the entire year, so no matter where you are in your year, you can utilize the job support, accommodation assistance, social events, tax help, mail forwarding, luggage storage, and everything else included in our package.
5. Collecting data and educating the nation on gap years
Ethan Knight: Fundamentally, our work is to get more students taking gap years given the incredible data we have in support of improved GPAs, career prospects, and, perhaps most importantly, the improved career satisfaction seen in gap year graduates versus those who didn't take a gap year.
We collect data to help identify common outcomes of gap year graduates
The AGA is regularly asked to contribute to national media -- most recently Time; we provide resources for students to plan their own gap year; we collect data to help identify common outcomes of gap year graduates; and we work to provide financial aid opportunities for young people to take advantage of what all gap year graduates call a 'positively life changing' experience.
Photo Credit: Ying Ruan.