Study Abroad
How One Woman Turned Studying Abroad into Living Abroad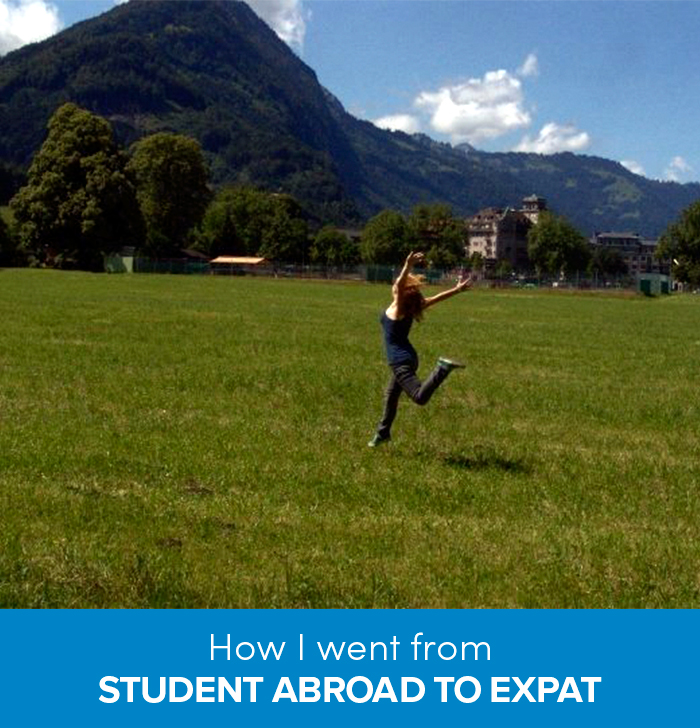 We hear a lot about how a semester or year abroad will open up a whole new world of opportunity. Study abroad advisors tell us going overseas will help us be more competitive for jobs, expand our skill set and generally just make us better human beings. But sometimes it's hard to see exactly how that semester abroad can transition into a career move, instead of just six incredible months of learning and mispronunciation.
In our quest for proof of this elusive reality, we set out to find people who have turned studying abroad into part of their greater international ambitions, and found ways to keep working and living abroad long after final grades were submitted.
This is the first in a series of profiles which will offer perspective from real live study abroad alumni who have found ways to turn their semester overseas into a career path.
For the first profile, we spoke with to teacher, artist, and Francophile Anna, who enlightened us about the joys of living by the water, teaching global citizenship and dealing with taco homesickness.
Anna, tell us about yourself:
Name: Anna
Age: 28
Originally from: Austin, Texas
College: Hampshire College, Amherst, Massachusetts
Studied abroad in: Paros, Greece, 2009
Traveled to: 26 countries and counting
Other countries lived in: I lived in France from 2012-2015, in a few different places. Then I moved to Phuket, Thailand, where I lived from 2015-2016, and now I'm in Pohang, South Korea.
One funny thing I just realized is that, aside from France, all the places I've lived abroad have been P-names close to the water: Paros, Phuket, Pohang! Maybe this is a sign that I really should just live on an island.
First foreign country ever visited?
The first foreign country I ever traveled to was France in 2000, when I was 12 years old. It was a life-changing experience for me, as it was my first time abroad and in a big city. I was scared at first, but ended up having an amazing time in Paris thanks to the Euro Cup. We'd been following the games during the summer, and when France won the cup, we celebrated in the streets of Paris along with all the locals.
Why did you decide to study in Greece?
I knew I wanted to study abroad, and I'd narrowed my decision down to France or Greece. I'd visited both countries before and loved them, so I was excited to go back, and I knew I wanted to go abroad specifically for art. I decided on Greece because I fell in love with the intimate program, the idea of studying art on a Greek island, and going to a place where I didn't know the language. I liked the idea of spending a semester somewhere that I could really challenge myself.
What was your study abroad experience like?
It was life-changing in so many ways. It even left a physical mark on me -- I have a tattoo of eudaimonia (it sounds prettier with the Greek pronunciation than in English). It's a Greek word that means "human flourishing," and that's exactly what I did there.
I challenged myself, I learned, and I grew in ways I never could have anticipated. I never got homesick or wanted to be anywhere else because I was in a program full of awesome people, and taking classes that I was really passionate about. This meant that I had a good support system there, and actual time for me to do my class readings, work on my paintings, and explore.
What was the best part of study abroad? What was the biggest challenge?
The best part for me was being immersed in a new environment where I believed in my abilities. For the first time, I actually called myself an artist and a painter, because that's what I was doing. I took risks in classes as well as outside. I know the language barrier is sometimes a big concern for people studying abroad, but it wasn't really a problem for me, since my program was conducted in English and most people on the island spoke some English.
It's hard to say exactly what my biggest challenge was, but honestly I think it might've been being in a long-distance relationship with someone back in the States. Fortunately for me, many other girls in my program were in a similar situation, so we could commiserate together. But I think I struggled with finding myself, growing and changing, and developing my own independence while still being tied to someone back home. That maybe sounds bad, and I don't mean to be negative about my relationship at the time. I was happy to be with that person, it was just a conflicting push-pull at times to maintain that while I was trying to immerse myself in this experience abroad.
What was your first job abroad?
My first real job abroad was through TAPIF (Teaching Assistant Program in France), which places native English speakers in elementary and secondary schools in France.
How did you find that job?
I did research into different teaching programs in French, took French night classes, and then applied to the program. I knew I wanted to go to France with a visa already in hand.
How long did you stay there?
That job placement was only for eight months, but I ended up staying in France for about 3 years, working in different jobs. I worked as a private English tutor, at American Village (an English-language residential camp) as a counselor and then later as the Director, and as a teacher with Les Petits Bilingues, a private language program.
What was your favorite thing about your first job abroad?
TAPIF was a great introduction to the teaching abroad world. It came with many of its own challenges, of course, but it was nice to come over to France through a program, to have an apartment already sorted, a lead teacher to help me with getting settled at school and introducing me to how things work over there, and a brief orientation to make friends.
What was the biggest challenge?
Moving to Grenoble [after I finished my time with TAPIF] was a different story. It took me more than a year to get my visa and it was one of the most difficult years of my life. Looking back at my time in France is confusing for me, because it holds some of my happiest but also some of my hardest memories.
What's your favorite place you've ever lived, and why?
Thailand was a dream. I lived on an island surrounded by places that belong on postcards. The people were friendly, the food was great, and the adventures were endless. I did struggle there too, though.
I didn't come over with a program, so it was harder to get my feet on the ground. I didn't know my way around, I didn't have friends at first, and I was really sick (the sickest I've ever been in my life) for months. I also saw a dark and disgusting side of tourism, and witnessed how the other side of tourism can negatively shape and impact a developing country.
Even so, I look back at my time in Thailand with fondness. Honestly, it's hard to be angry amidst such beauty. And there's something to be said about the challenges and learning experience of throwing yourself into gritty, colorful chaos.
But then there's France. France was my actual life, for three years. I had to learn the language, live as the French do, make my own foreign friends. I had a partner, a cat, an apartment. There's something to be said about really living in a place for longer than a year, and finding a place that starts to feel like home.
What do you love about living and working abroad?
I'm beginning to think that I equate a huge part of my happiness to learning and growing, and traveling allows me to do that. But living and working abroad challenges me in a more defined way.
I love seeing the world in a hands-on way. I love learning the intricacies and oddities of language, trying new foods, learning new ways to greet or thank someone, seeing new sights. I like to understand human psychology and history, and to see the ways in which our differences can actually help us connect. I try to teach my students with the mentality that we are all global citizens, and that we can always learn from our surroundings and one another.
When I travel just for fun, my experiences are a bit more surface-level. But living and working in another country allows you to see the underbelly, to understand the complete picture. It's not always pretty, and sometimes it means that a place loses some of its sense of mystique, but you learn so much more by engaging and being a part of it.
Your students and everyday environment inadvertently teach you the language in a natural, hands-on way. Your coworkers introduce you to new foods and drinks you might've been too chicken to try on your own. Your random apartment location allows you to explore off the beaten path. I've lived in places a guidebook would never recommend, but I'm happy to have had to chance to experience a more authentic environment.
Usually, the buildup and process that goes into just preparing to live abroad is so involved and frustrating that even in the hard moments abroad, I try to remind myself, "I'm here. I am actually living here."
What financial advice would you give to someone who wants to pursue a career working or teaching abroad?
Save some money first and bring more than you expect you'll need or more than people tell you just to get started. You always spend more than you plan for in that first month of getting settled in, when you're setting up your living space, eating out more often because you're too tired to cook, or paying extra for certain comforts. The jet lag is real, the initial immersion process can be exhausting and sometimes the mental peace of paying a little extra for something is worth it for your emotional health.
Once you're settled, though, you have to remember that you're working, and not on a long vacation. Come up with a plan to start saving, whatever you can. Cut your paycheck in half, or take a certain portion out every month. Just do it. It is possible to live abroad on a budget and it's so worth it to have money saved away (for more traveling).
Where are you now?
I'm working in Pohang, a city on the east coast of South Korea, teaching 26 different English classes at two different schools.
What's next?
That is the question! There's still so much of the world I want to see, and I still feel the pull of wanting to teach abroad. But then there are the days I miss my veggie burgers and tacos. I miss actually seeing my friends and family rather than having to schedule talks around a 14-hour time difference. I miss the convenience of a car, or even a bus stop with directions in my language. But those days are normal, and they come and go.
For me, the biggest shift that's happened over the years is my experience in the classroom. I don't really want to be the teacher who's just thrown into the crazy environment for six months or a year. I want to be the teacher who is part of the school. I'm starting to think about looking at jobs at international schools. I've been working in schools for 10 years, and this is my 5th year teaching abroad, so I'm starting to feel it's time I have some consistency in the classroom, wherever that classroom may be.
Otherwise, I'll just go back to the States and open my own crazy travel camp for other kids like me!