Company News
Ragnar Relay: A Lesson on (Extreme) Team Bonding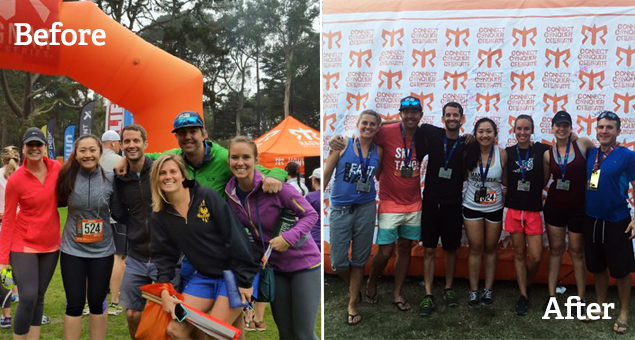 At Go Overseas, we try to do fun, original team activities each quarter. This year we've enjoyed oysters in Tomales Bay and attempted to Escape the Room in downtown San Francisco. For Q3 we decided to add a 36 hour, 200 mile Ragnar Relay to the list.
Reflecting back on this experience, it's funny how strong the parallels were between our Ragnar experience and daily office life.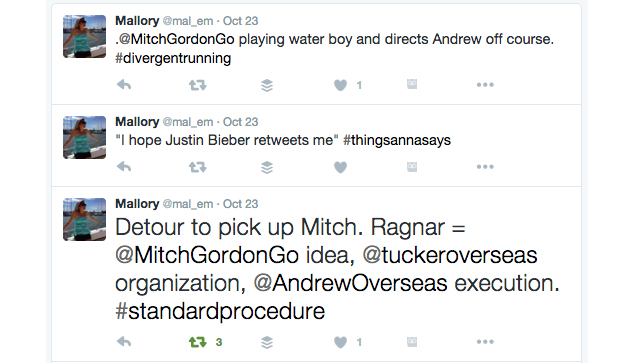 Here are just a few of the many Go Overseas metaphors the Ragnar race brought to life:
1. Sometimes we don't realize what we have gotten ourselves into...
...until we're 150 miles in, and it's 1:00 AM and we're running down an abandoned street.
Here's the email that started it all: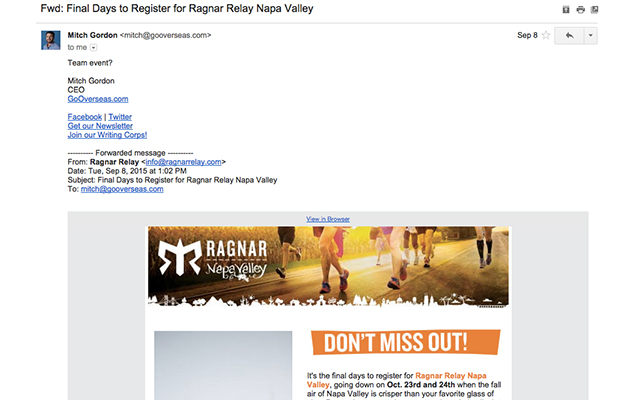 Needless to say, when Mitch initially suggested that we sign up for Ragnar, I didn't really think about what it meant to spend 36 straight hours with our team, running over 200 miles with little to no training. There were many moments throughout the race when I wondered just what the hell I had gotten myself into (and I'm sure I wasn't alone).
With no finish line in sight, the ability to rely on my team and get excited about working together towards a common goal is what motivated me to keep going -- no matter how over ambitious and unattainable that goal may have seemed at times.
2. Sometimes things don't end up going quite as planned.
About halfway through the race, we were waiting for our COO Tucker at the end of his leg. After nearly an hour had passed (for a 3-mile leg) we realized that we had skipped a stop and Tucker must've been waiting for us at another finish line… whoops.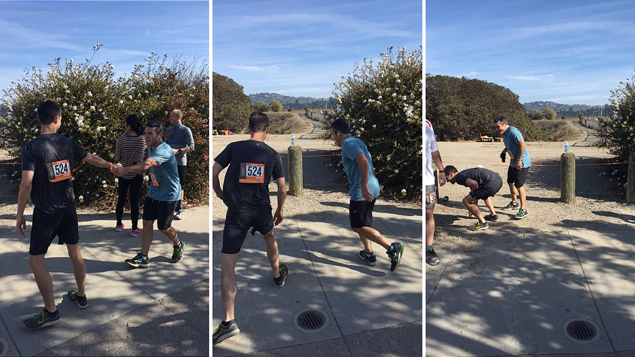 Communication is key in passing the baton, both literally and metaphorically. When one person (or a whole van of people) get turned around, it's important to be able to determine where things went awry and get back on track. It's also great to have a team who's ready to welcome you with open arms even after you screw up.
3. We work really, really hard... and really, really enjoy it.
I'm going to indulge in a cliché here and say that it is about the journey, not the destination. I didn't enjoy running 20+ miles in 24 hours, but you know what I did enjoy? Cheering on my team, sprinting the last 50 yards to the finish line where I knew they were waiting for me, getting 7am pep talks before my last leg... and the list goes on.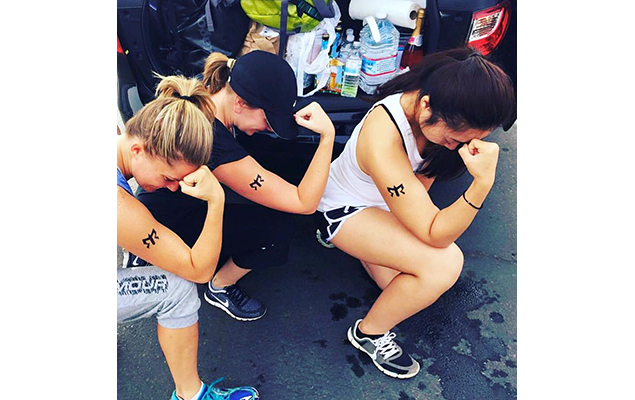 At the end of the day what made the Ragnar Relay so relevant for the team was how we couldn't have done it without each other -- and we wouldn't have wanted to. But I'll let my co-workers speak for themselves:
"Pushing yourself physically could easily make a person ornery, but it had the opposite effect on our team. The encouragement and support we received as each of us crossed our respective legs was worth the sweat. This translates into the office as I consider myself incredibly fortunate to work on a team of highly personable, positive, respectful and hilarious colleagues (even when we disagree). We're constantly pushing each other to be our best selves" -- Anna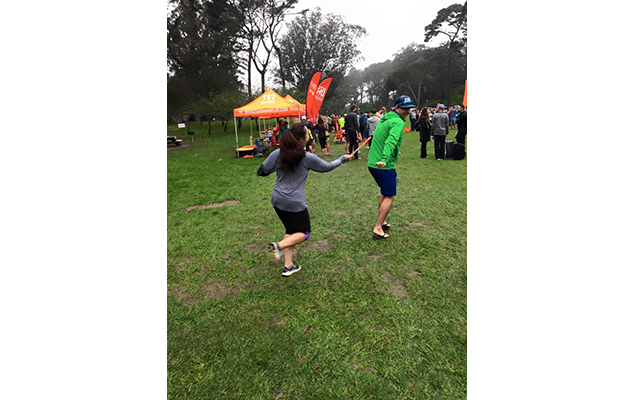 "When I told people I was crammed into a small van with all my coworkers, most were shocked that we willingly did this. Maybe it's normal for coworkers to get along, but I don't think it's normal to enjoy each other's company as much as we do. We all love to contribute, we're all respectful, and we all appreciate each other's efforts. I knew all this before, but after spending so much time together and watching everyone make the best out of a slightly haphazard plan to run 200 miles, it became even more evident." -- Mandi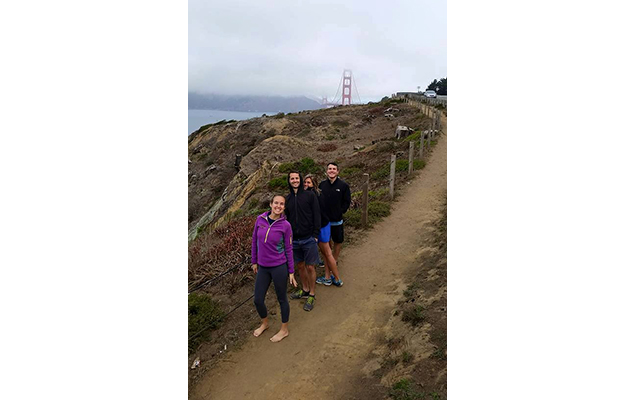 "When you start a company, you also want to create a culture that makes your team happy and look forward to coming to work. If you can spend two days in a van with your team, running all day, with little sleep, it's rewarding to know you've created an environment where people work hard, play hard and enjoy each other's company. Also, we discovered that BBQ ribs go great with a 30-hour, 200-mile van race!" -- Mitch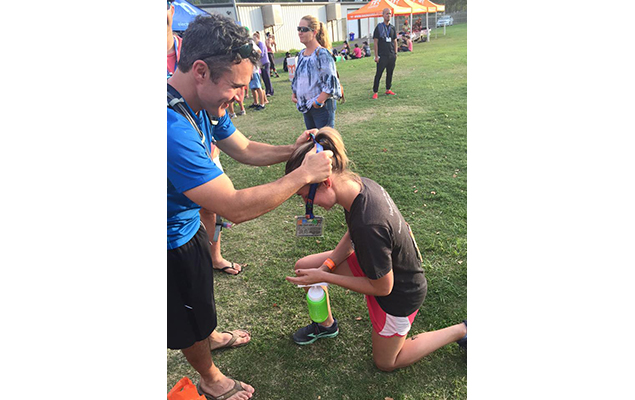 "For me, it drove home how huge a difference having a talented, friendly, and communicative team makes and how hard it is to get the ingredients right. We're tackling huge challenges and trying to change an industry which is only possible if the team is all pushing in the same direction." -- Tucker
We push each other, we are there for each other, we are excited for each other. What else could you ask for in a (Ragnar) team?
Are you in the Bay area and interested in running the Ragnar Relay with us next year? Let me know! #XtremeTeamBonding