Company News
Engaging Alumni: Tips for International Educators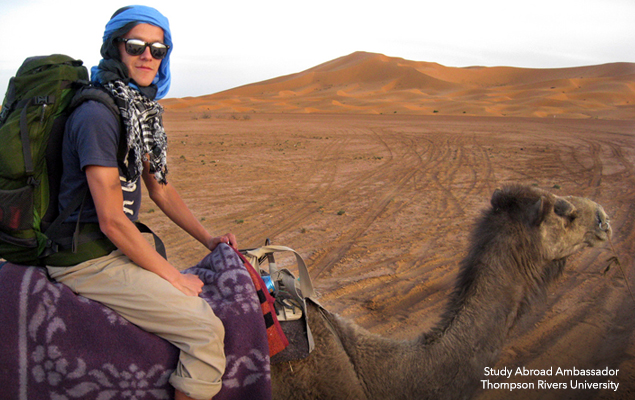 Written by Anna Morris and Chrissie Faupel
"How do I retain my alumni post-program and keep them engaged long-term?!" This is definitely something us international educators scratch our heads at often -- knowing the importance of tapping into this pool of eager returnees. Bottom line, alumni are our best advocates!
There's no doubt that building a friendly army of ambassadors which fits your institutional needs is tough. It takes time, energy, and strategy.
To combat this often times overwhelming question, Chrissie Faupel -- Study Abroad Advisor at the University of South Carolina -- and I put our heads together and curated some tangible takeaways to help study abroad advisors and departments in universities nationwide.
Although we presented it officially at NAFSA's 2015 national conference, we didn't want to keep this information to ourselves, and want to share with you some quick highlights from our NAFSA presentation in Boston.
In terms of organizing our suggestions, we decided to bucket out the takeaways into three key areas that are relevant for both small and large organizations alike:
Easy Wins - Easier, simple, ways to engage your alumni.
Middle Ground - Ways to engage your alumni that need more effort to implement.
Things to Build Up To - Bigger reaches that you should attempt to do if you've already nailed the other two sections.
Still with us? Awesome.
Next, we used three organizations that we respectively had experience with as examples: the Peace Corps, the Experiment Leadership and Go Overseas. Between these three institutions, there are copious amounts of robust and thriving alumni engagement strategies -- not to mention, combined decades of experience in the field of international education (which means the respective alumni lists are miles long!).
Highlighted below are some of the top practices that we came up with, peppered in with feedback provided from colleagues at NAFSA.
Keep in mind the suggestions below are just snapshots -- we'd be happy to send you the full list, though! Read on fellow educator!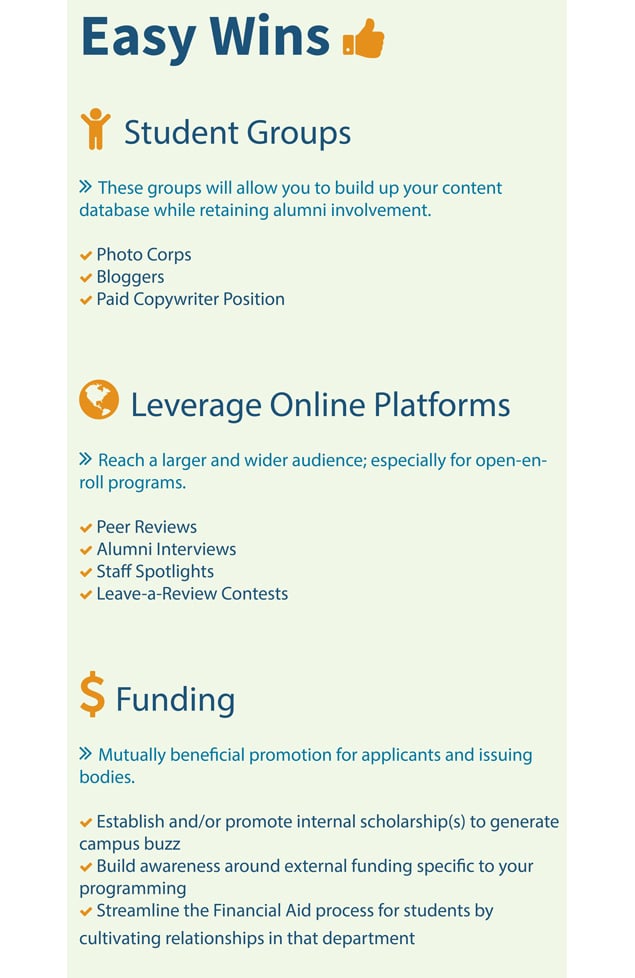 For organizations that would like to enhance their alumni engagement, yet have limited amounts of time and funding, this bucket it a great starting point. This category is especially pertinent to one or two person study abroad offices. Leveraging online platforms (such as Go Overseas) provides several solid, yet simple, strategies in this category.
By encouraging providers and universities all over the world to create free profiles and engage their alumni via leaving a review, potential participants receive authentic and un-biased feedback on the programs that they are considering. We're striving to bring transparency to the field so students know what their options are. Our team of dedicated Go Overseas staff is always willing to assist with on-boarding and supporting these profiles so leveraging online platforms to help get the word out about your programs is definitely an easy win.
Not to mention, having your institution's programs listed on widely recognized website casts a wide participant net as most search platforms for study abroad, volunteer abroad, intern abroad, and other international education programs rank in the top 10 - 15 results on Google when browsing relevant keywords (ie: Study Abroad in England). It's worth the time investing in your online profile(s) -- especially when they're a free resource.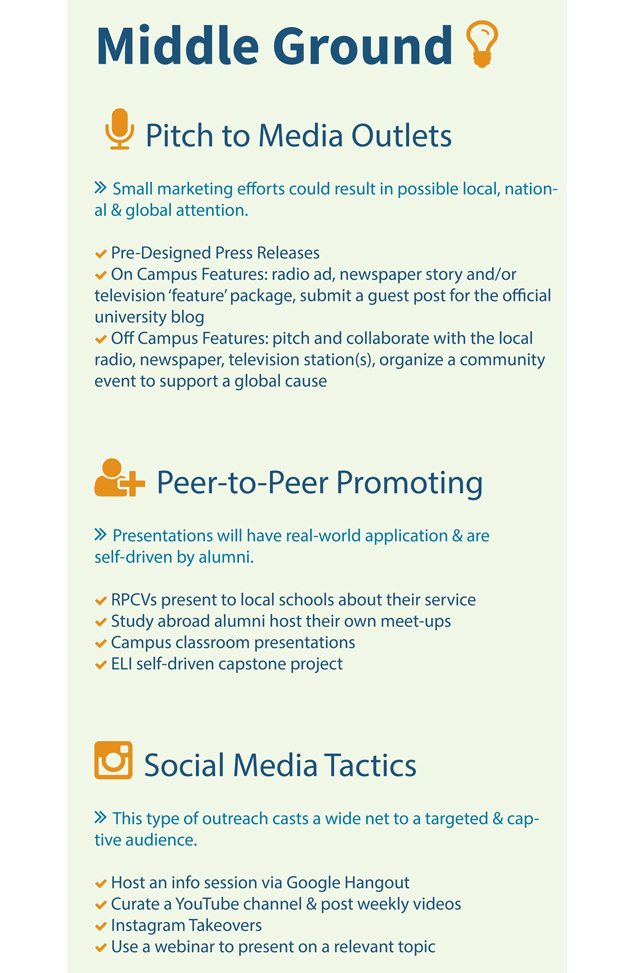 The Peace Corps utilizes a number of strategies that we consider "middle ground" tactics. This is definitely Chrissie's area of expertise as a Senegal Returned Peace Corps Volunteer (RPCV). These ideas take more planning and resources, but largely are driven by the dedication of alumni to their organization and the reputation the Peace Corps has built over time.
One such tactic is a pre-designed press release, given to most RPCVs once they complete their service. It takes less than ten minutes for the RPCV to fill out the press release, which contains information such as their main projects while overseas and their local media contacts. The Peace Corps then shares these press releases with local media, who are often thrilled to advertise the good work of local citizens. It's a win/win situation for all involved -- the media have a feel-good story to share, the RPCV gets recognition, and the organization gets free advertisement.
Another forward-thinking tactic that is used by the Peace Corps recognizes the value of peer-to-peer promoting. RPCVs are often asked to go to local schools or universities and give presentations about their experience abroad with the Peace Corps. Local alumni chapters of the Peace Corps will also host events that help connect RPCVs with Peace Corps volunteers about to leave, and those still considering joining.
These personal connections from actual alumni help encourage future volunteers to apply to the Peace Corps, while at the same time act as an attractive element to joining the Peace Corps. To-be volunteers see from the get go that a strong support system will be waiting for them back home, and the zealousness of its members acts as a perk of choosing Peace Corps over other organizations.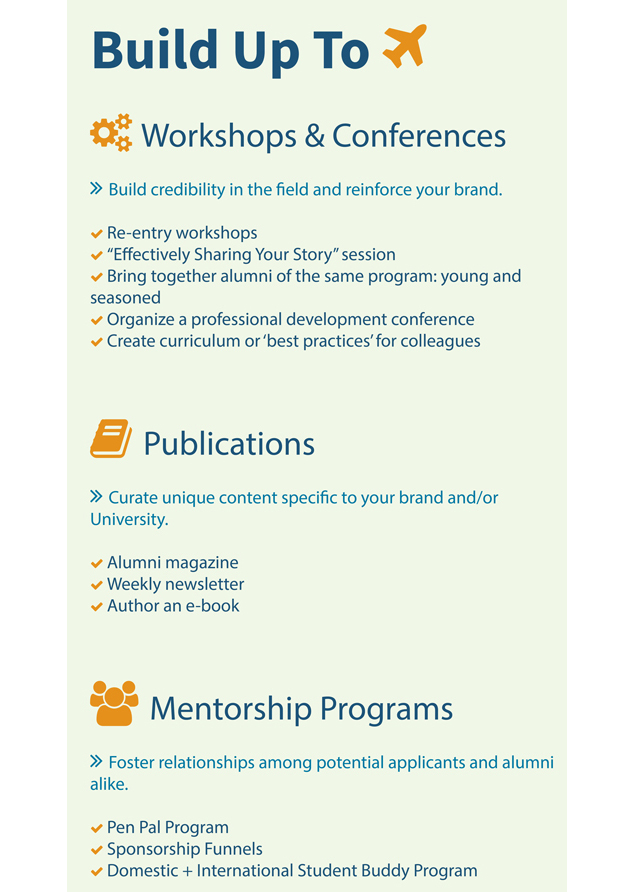 There are a number of options for organizations that have a larger bandwidth and more resources to devote to alumni engagement -- what we categorized as our "build up to" strategies. These are ideal for offices with 10+ staff (but not limited to, of course!).
The Experiment Leadership Institute has some good examples of smart practices in this category. The Leadership Institute is a new program that is joining the long-existing Experiment in International Living, which leads international programs for high school students.
In this new model, the Leadership Institute focuses on leadership and, upon returning to the U.S., requires their students to spearhead a project in their local communities. During the portion of the program abroad, in addition to group leaders, a journalist also accompanies the group and leads sessions on how to capture their experience using various media.
Upon return to the U.S., the journalist leads a workshop on how to effectively share their story. Not only do the students have an opportunity for professional development, but the Experiment Leadership Institute also ensures that peer-to-peer promotions are polished and professional.
Additional Ideas for Encouraging Alumni Engagement
In Boston, our colleagues overwhelmed us with their feedback (in a good way!) -- offering creative practices they're currently using to keep their alumni engaged. While feedback was diverse, we were able to categorize the tactics under the umbrella terms of: technology, peer-to-peer activities, and follow-up activities.
1. Create a Virtual Alumni Network
One university representative suggested using a CRM system to track alumni. Another representative agreed, saying that while they currently use a "Virtual Advising Network" to keep track of study abroad alumni, this network is currently in PDF form. By going truly virtual, in the form of a CRM system, they would be able to track and network easier with alumni in the field. It was also suggested that Instagram takeovers, or other uses of technology, could be better facilitated and managed by using a password sharing app, such as Dashlane.
2. Peer-to-Peer Advisors and Alumni Driven Outreach
Most of our colleagues were in agreement about the importance of engaging students to be the driving force in the study abroad office. Several universities offered up their peer-to-peer practices, including using study abroad alumni as peer advisors, creating a study abroad association mentorship program to bring together alumni and potential participants, and having publications or events be alumni (as opposed to organization) driven.
One office we spoke to also has peer advisors who represent specific third party providers. These peer advisors, who must be alumni of the provider they represent, are often times paid by the provider and are considered an expert on their programming on their respective campus.
3. Follow-Up Events
One colleague suggested holding an open-mic night for alumni to tell their stories. Another gave an example of a group of students that did a service learning project in Central America. It so moved the students, that when they returned to the U.S., they initiated a Kickstarter campaign and were able to donate over $1,000 to the community to continue the project.
Overall, this presentation was a fantastic way for Chrissie and I to collaborate and hopefully provide some useful information to our fellow International Educators -- regardless of institutional backgrounds.
Share Your Thoughts
This is just the tip of the iceberg in terms of the information we presented, so please don't hesitate to reach out if you'd like us to elaborate on any of the points and/or provide additional strategies within the respective categories. You can contact me at Anna@GoOverseas.com or comment below.
Photo Credit: Thompson Rivers University.