Company News
Expert Advice on How to Create Travel Content that Converts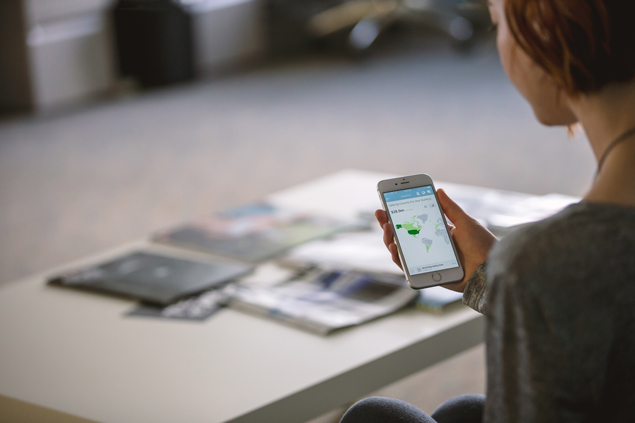 Every once in awhile, I'll get an email from someone in our industry -- the "meaningful travel" industry, as we like to call it -- asking for tips on starting or improving their blog and content marketing efforts. Even though it's not technically part of my job description, I get really excited about hopping on the phone or meeting up for coffee with someone and just "chatting blog". I guess you could say I like to nerd out on content.
Of course, our goal with creating quality content isn't just to publish a well-written piece, if we're a travel company / brand, what we really want is for our readers to convert (eventually...). At least, that's what the team here at Go Overseas wants!
So, in the spirit of transparency and sharing, I thought I'd write up a few of my best tips and lessons learned from my two years as Go Overseas' content marketing director on how to create travel-industry content that converts (I know, I know, blogging about blogging? Meta.)
Whether you're totally new to the idea of blogging and content marketing, or an individual who has an established content system and just wants to improve the system, below are my best tips for executing a stellar content marketing strategy for travel and international education companies.
Getting the Flow Down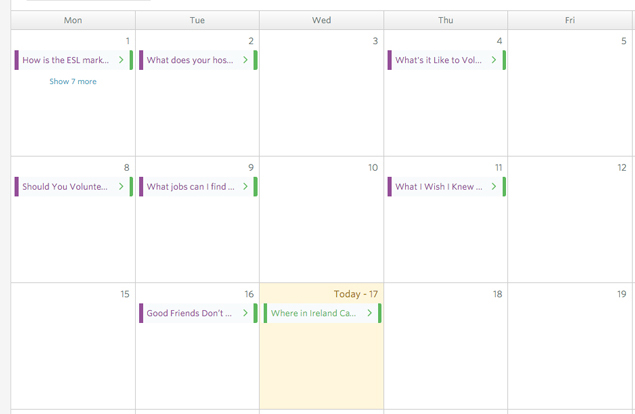 I'll start with the basics: structuring how you get work done. This isn't very travel specific, but essential nonetheless.
When I first started at Go Overseas, our system was a mess of Google Docs and spreadsheets. I'm sure it had worked fine at first, but with roughly 12 freelancers, an editor, and multiple people involved in the publishing process, we'd definitely outgrown our original system. At that point, it was far too easy to lose track of assignments and deadlines. We needed something more powerful. We needed a content management system.
After a lot of hunting around, I ended up moving our editorial submission process and calendar to a powerful content management system that gives me:
The ability to communicate with multiple remote (and in-house) writers
A system that can HTML code the articles / integrate with Drupal
A calendar feature that lets me easily visualize when things are being published
Multiple status updates on a single assignment
There are a bunch of content management systems (CMS) out there, so hunt around and figure out which one's right for you. If you're using Wordpress, CoSchedule is another great tool to look into since you can integrate your CoSchedule editorial calendar with Wordpress.
The point is, blogging and publishing -- especially when you have multiple authors involved -- has a lot of moving parts to keep track of. To master it, you need a robust and powerful content management system to help you out. I'd even go a step further and recommend that whenever possible, move everything to a single platform and out of those pesky spreadsheets. CMS for the win!
Be Web Friendly
This is another basic point I want to get out of the way: create web-friendly content.
Creating web content is, in my opinion at least, far easier than most other writing we're required to do in our lives. It's not a 10-page academic essay, and it's not a grant request (ugh). You get to write how you'd speak, and you don't necessarily have to be a phenomenal story-teller, just a clear communicator. That's how web-friendly content tends to look. Still, being web-friendly is really important. Some basic tips to keep you on track:
Write how you'd speak
Create a structure before you start writing (personally, I like to get the main headers down first and rearrange as needed before I start writing).
Use headers to summarize sections and make your article scannable
If you're ever listing anything, break it up into a list like this (just, don't turn your entire article into some weird long list -- I've seen that happen too).
Short paragraphs, guys.
Short intros too -- people don't really read them anyway.
Use anchor text for links appropriately, and definitely make sure you're linking between articles and other parts of your website!
Who's Going to Write the Content?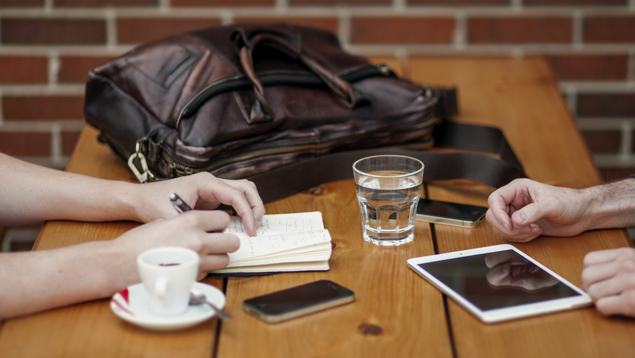 Program providers that I've talked to always bring up sourcing content and finding writers as one of their biggest pain points -- and understandably so. Asking someone to "write something" is a huge time and thought consuming ask, especially if you want it done well.
Some program providers look to their alumni, program participants, and staff to write the articles. However, quality control can be difficult with this method, particularly if those people are students / inexperienced writers / etc.
A second issue is reliability and motivation: what's in it for them? Why should they write for you? I've been copywriting for about 5 years now and I'm much less reliable when I'm writing something as a favor versus as part of a job -- I have less motivation.
Some ways to get around these issues:
Pay your writers
Whether you're using current staff members or outsourcing it to alumni / professional freelancers, a little compensation (money, gift cards, discounts, or swag) can go a long way. Just keep in mind that you'll get what you pay for. The Freelancer by Contently has a database of how much various publications are paying if you want to get an idea of how much you'll need to budget.
Make submitting painless
Don't just have a great content management system, have a great submission process and style guidelines too. Make it clear whether you want your writers to submit a pitch for approval or just go ahead and submit in full.
Have reoccurring columns
Ideation is sometimes the hardest part of the writing process. If you have 3 - 4 regular columns you post content on, that helps streamline the sourcing and ideation part of the process since you're providing writers with the structure of their piece upfront. Some examples I've seen include a "How I Travel" column that interviews travelers on their personal style, a "Food history" column that looks at the history of different dishes from around the world, or a set of guides to doing X in X (i.e. study abroad in France).
Give your writers an outline
Another solution to the idea and brainstorming process is to give your writers an outline or set of interview questions. Whenever I do this for our writers, they tell me that it makes actually sitting down to write the piece much quicker, and both of us are confident that we're on the same page. Depending on the assignment, this could be helpful.
Repurpose other existing content
Sometimes, getting great content doesn't require starting from scratch. Chances are, you already have some things on hand that you could transform into an engaging blog article. For example, we recently published a photo essay from Instagram shots: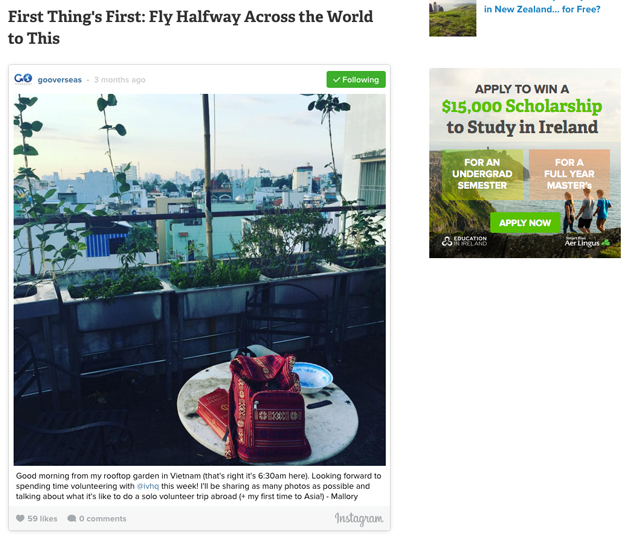 The total prep time for creating this article? 20 minutes.
So if you're strapped for time, look for opportunities to publish stuff you're already putting time and effort into. Turn an e-mail response to a common user query into a blog post. Publish some of that data you've been analyzing in Google Analytics (like we did in What Are Travelers Looking for in an Australian Working Holiday Visa?) There's potential for content everywhere if you look!
We all wish we had more time and resources, but seriously, you can make content marketing work for any budget and team size if you get creative and put in a few hours upfront getting a great system and strategy in place.
Don't Forget Design and Editing
Content also requires that you're thinking about the structure, design, and overall presentation of the content. Are your pages cluttered? Are you listing information that might be easier consumed in a table? The effort that it takes to transform a paragraph into a better format is almost always worth it.
For this, you'll likely have to have an in-house editor / content manager. Getting a designer, whether full- or part- time, on board will only take your content further. However, if you're a program provider, you'll likely have staff and alumni in the destinations you're talking about. Make sure you're getting some high quality photos and video from them as much as possible!
Where Do The Ideas Come From?
Listen to you users, and listen to them at every stage of the funnel. If they're coming to you with a question, there's a good chance the answer isn't easily discoverable on your site (and that 10 other people had the same question but never bothered to ask). That's potential for content!
Plus, if you create content to answer these queries, that could even save you some time answering them later on. What's not to love?
I'll also get ideas by looking at Google searches (though, use your judgement), conversations with my co-workers / providers, or by tracking trending topics in the travel industry. It's often a stretch for us, but if you're able to link up your content with an event, activity, or conversation that's on everyone's mind, that gives it a lot of potential for social virality.
With international education, and study abroad in particular, make sure your publication dates line up with what students would be looking for at that time of the year. For example, are students looking at summer programs in November? Publish content that helps them choose and compare in the fall. Are they packing up and heading out in June? Give them a packing list.
What Topics Work?
By no means a comprehensive list, below are a few topics that we've noticed our user-base (which, I'd assume, is very similar to your user-base) take an interest in:
Hard data
Some of our most popular articles revolve around money: spending it, saving it, and making it. For us, we usually speak more generally about this topic, but if you're a program provider, make sure you have financial concerns transparently addressed in an easy to find location on your site. And I don't just mean program fees, I mean cost of living, examples of student budgets, and resources for finding work or scholarships while your program participants are abroad
Want to take it a step further? Compare your programs. If you're trying to get users to sign up for a full academic year, rather than a semester, break down the numbers and show participants how much more cost effective it is.
On a broader level, when it comes to travel, people want hard data. They want exact dates, prices, and locations. Help them find it with calendars, expense sheets, and maps.
For this particular topic, you might actually be looking to put this content outside of the blog and on other parts of your website. That's OK. Content doesn't just refer to your blog, it's all the words and images on your site.
Ideas -- especially personalized ones
Some users just want ideas. Where should they go? Which study abroad city is better? What's the best country for an anthropology major to explore? What are their options anyway? Help them find answers.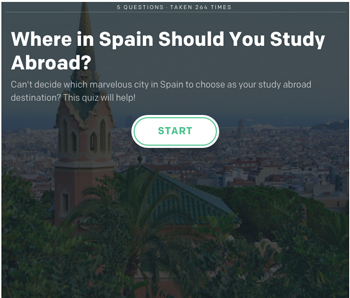 Even better, personalize it. If you can, try to match these ideas up with a goal your users have. Do they want to learn French? Give them a list of places they can do that. Are they interested in beautiful places? Teaching in countries with easy visa laws? Do the research and put it one place for them.
One last tip on ideas: rather than attempting to market the programs themselves, market the result or the experience it will help your user achieve. We've found that this is often a creative approach at reaching a new audience -- an audience who doesn't yet know they want to travel.
Stories
Travel is such a subjective topic, and often users want a narrative to help them understand the more emotional and personal side of the experience they're signing up for. Even if they don't admit it, they kind of want to know what the bathroom situation will be like, if their host family will be nice, or some of the strange experiences they're likely to encounter. Program alumni and ambassadors currently abroad are an excellent source for these.
Just make sure you have a clear theme to these stories, since the "dear diary" approach without any larger point to support, isn't always the most engaging (or easiest to title).
For a more structured approach, we've done a series of "insider tips" and "what I wish I knew before..." that do pretty well -- it's like a narrative that also gets Google search queries.
Think Outside the Blog
Content marketing isn't just blogging, it's really about all the words and visuals on your website. That means having helpful and descriptive product descriptions (and by product, I mean the trip / program / course we're offering), creating tools or landing pages that help with different parts of the sales funnel, and making the "checkout" (re: application) process simple and straightforward.
Some basic things to consider:
Do you have high-quality and relevant photos and videos on your product pages? Those absolutely can influence bounce rates and conversions.
Is your application process intimidating, confusing, or hard to find? Or is it simple and easy to get through?
Is essential meta-data, like program dates, costs, descriptions, requirements, etc., easy to find? It drives me absolutely nuts when I have to click on 5 pages before figuring out how much a program costs or where exactly in Spain (Spain's a large geographic area!) the course is offered. I'm sure your users feel the same.
Beyond your existing pages, what are some gaps content could help fill? Could you build a tool that helps users easily compare all of your programs side by side? That's content. Could you create a space where you can easily aggregate reviews, testimonials, or blog articles your alumni have left elsewhere on the web? That's content. Are you utilizing video -- one of the most influential forms of media in the travel industry? That's content too.
Especially with high investment purchases, which absolutely describes a study abroad program or a volunteer trip, your potential customers might need a few more touch points before converting. You may need to give them a reason to keep coming back to your site, create content that helps build awareness and trust in your brand over your competitors, or educate them on some of the confusing or complex aspects of choosing a program (I especially see this issue with TEFL courses -- which are probably the confusingest of the confusing).
Don't Forget Your Goals
Above all, don't just create content for the sake of creating content. Make sure it aligns with your larger company and marketing goals and track whether or not it's helping and how it's helping.
It's pretty basic stuff, but so easy to forget when you're getting caught up in questions like "where do I find writers?" or "how do I work Wordpress?" or simply banging your head on the wall because this writers block / editors block (yes, it's a thing) is keeping you from getting any work done
For every piece of content I create, I match it to a point in the customer funnel that it'll help better.
At Go Overseas, we're very data driven in this regard. A good article is nice, but if I'm getting lots of traffic but the readers aren't coming back or clicking around our site and looking at programs, then it's not doing what I wanted it to. It's not helping me market all the wonderful programs listed on our site (I'm looking at you, 10 Foods To Eat While Studying in Spain...).
For every piece of content I create, I match it to a point in the customer funnel that it'll help better. After it's published, I'll track whether it's getting read, linked to from other sites, has a high bounce rate, and where people are going afterward (if anywhere).
Ultimately, we want these pieces of content to drive awareness of Go Overseas and / or get our readers to find the perfect program and sign up! By tracking all of this, I'm able to see where our successes are, which in turn helps me better identify future potential, and helps drive the overall growth of our business.
Anywho, I hope that was helpful in at least some regard, and if you have any questions / comments about what you read today, drop me a line in the comments below or @beatnomad on Twitter, and be sure to follow my personal travel adventures on Instagram. Thanks!