Company News
How Our Values Shape Company Culture at Go Overseas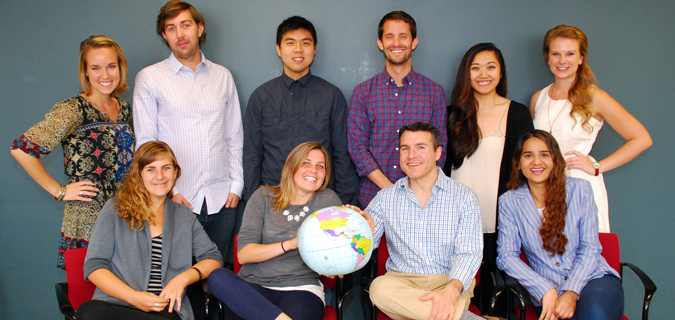 In case you missed it, Go Overseas has recently added a 'values' tab to our about us page, along with a few new faces. Maintaining our passionate, fun, down-to-earth culture as we grow is a challenge, but one we are excited to take on. Working with colleagues who have all lived abroad has given us a foundation of experiences and principles that translate seamlessly into company culture. To help guide us in our growth, we've outlined a few values which resonate with our company of travelers. Let's break it down value by value:
1. Learn Constantly
We are inquisitive and curious about everything. Learning is the most important part of our process.
We prioritize long term expertise over short term gains.
"Take an hour out each week to develop a skill," our COO Tucker told me my first day at Go Overseas. Soon after, I was introduced to our monthly book club where we read and discuss books our CEO Mitch was assigned in his MBA program at Berkeley. Every day our team is increasing our knowledge of SEO, becoming Google Analytic gurus, and developing niche skills like Photoshop.
No one comes to a job being perfectly able to do it, and we recognize that professional development and learning on an individual level is a key trait for growing a business as a whole -- hence why we value it! Even unprompted, it seemed we were a group of learners, all eager to develop a new skill or learn a new expertise. "Learn constantly" was an easy fit for us.
2. Give Warm Fuzzies
We support the team. We give both positive and constructive feedback regularly.
We share information proactively. We are collaborative and ego-less when searching for the best ideas.
Warm fuzzies are how we start our weeks. A Monday morning check in is not complete without a shout out to a teammate who has gone above and beyond. The hard part? Giving just one warm fuzzy. And thus one of our most feel-good values was founded.
3. Innovate Fearlessly
We are not afraid of failure. We embrace challenge.
We support and empower each other to go against the status quo.
Innovate Fearlessly is a value very much championed by the startup community at large here in Berkeley and especially CEO Mitch. I mean, who else would approach the government of New Zealand and propose the study abroad opportunity of a lifetime to one of our community members?
I can honestly say I have never pitched an idea which resulted in a flat out no. Not once have I ever been scolded for failing either. Innovation, whether it results in a new product or increase in revenue or flops entirely, is still important. The questions are always, what did we learn and what can we do better next time?
4. Default to Transparency
We value honest and open communication. We communicate relationships, processes and what is going on "behind the scenes."
We believe sharing information is the best way to foster transparency in our field.
Another given was defaulting to transparency, because being sneaky never felt right to us. More than that, it's something we encourage in the providers we work with, and the users who come to our site every day. We want to enlighten more people about what it is really like to go overseas, give them a tool to distinguish between the legit providers and the scams, and to create honesty within the meaningful travel sphere.
Without clarity and transparency we would never aspire to our mission to encourage meaningful, impactful travel. In order to be meaningful you need to know what you are in for, and have complete awareness of the situation -- the significance of transparency is self evident.
5. Take Action
We focus on what we can accomplish today. Small wins lead to big success.
We take ownership. We see projects through and communicate results.
Working at a startup is hard. There are always a million projects going on and a billion different ways you can spend your day. It's easy to put tasks off until tomorrow, or wait for perfection before pushing something live. If we worked like that nothing would ever get done. Conversations around Go Overseas tend to go like this:
Mallory: "Hey Mitch why don't we fly out and present our Study Abroad in New Zealand Scholarship winner with a giant check?"
Mitch: "That's a great idea -- Mallory can you order a giant check and book two plane tickets?"
We take action as soon as we can, and work out the rest later. It's keeps us ahead of the game and gives us little wins to get us through the day.
6. Be Data Driven
When it can be measured -- we measure it. KPIs > vanity metrics.
We are always thinking about what data we have and how to use it.
Data is a powerful tool, and one we rely on to test our hunches, experiment, or find new opportunities. It's also just an intelligent way to end a disagreement between two team members. If one of us thinks "hey, that link would get more clicks if it was blue," and someone else says "nuh-uh, grey is totally the way," we'll want to test this question with real, live data, rather than working off who-can-argue-the-best.
It's easy to go on gut instincts and default to woulda, coulda, shouldas, but data helps us make the best decisions. A/B testing, KPI, and optimize are just a few of the data driven buzzwords around the office. We make decision based on data, not instinct whenever possible. Also, less arguments. Win-win!
7. Put Community First
We put our community's goals first. We talk in terms of their priorities, helping them to discover what they want and how to achieve it.
We seek feedback from our community constantly. We engage in conversations, not monologues.
At the end of the day, we're doing this all for you guys: our community. Even if our data is telling us something different, we never want to create something that puts our community in the backseat. If we build something, we're thinking about the user experience.
If we're promoting a program, we're thinking about if it's responsible and something our community would be interested in. If we get a negative review -- we're not going to delete it just because a provider asks us to. It's our job to our community to present honest information (and be transparent), and give you want you want.
8. Care Intensely
We work passionately (but not obsessively... usually).
We constantly pursue projects that excite us and align with the Go Overseas mission.
Care intensely and put community first really go hand in hand. Our community is what inspires what we do. Go Overseas was created to help more people engage in meaningful travel abroad. Every day, that mission is what motivates and inspires us. We love what we do, and we care about our work. We're not just typing away to make a paycheck -- cheesy as it sounds, we want to make a difference and we're going to work hard to do so!