Company News
Meet Our Team: Anna & Mandi Share their Stories and Travel Tips
Today, we're excited to announce our first post in a series of team introductions so you, our readers, can get to know our team a bit better. For this post, we'll be introducing Anna and Mandi, two of our "silo directors". They're each in charge of managing the providers and content for several of Go Overseas' sections (aka silos) -- but heck, I'll let them explain that bit with their interviews below: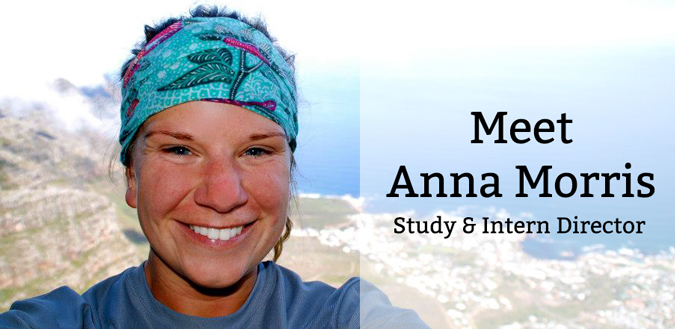 What do you do here at Go Overseas?
I make sure that all of the office treats get eaten at the end of every day. Just kidding, I'm the Study and Intern Abroad Director and I love every minute of it! (Except when we run out of treats!)
Ok real talk -- day to day, I manage all of our awesome providers and universities within my respective sections. I help them to optimize their content and get everything looking top-notch. I also read all of the reviews that come in every day (seriously!) and interact with our awesome Go Overseas Community.
Like many of you, I caught the travel bug as an undergrad during my first study abroad experience in England.
We always have tons of different projects going on so I'm usually involved in these endeavors, too. For example, our $15,000 New Zealand scholarship promotion, attending conferences, serving on panels, study abroad fairs, organizing industry events, etc. There's never a boring day around here!
Tell us briefly about your experiences studying/volunteering/teaching/interning abroad.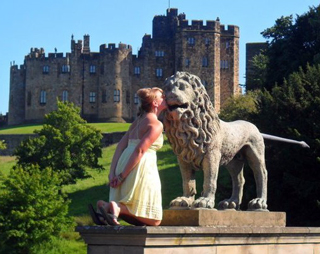 Like many of you, I caught the travel bug as an undergrad during my first study abroad experience in England. I lived and studied in the Alnwick Castle in Northumberland (affectionately known as the "Harry Potter Castle" -- you may or may not have heard of Hogwarts before;)
After a semester in England and traveling around Europe, I decided I wanted to squeeze in one more short-term program before graduating and "entering the real world".
So, I registered for an Ethnic Studies course with a travel component and headed to South Africa for a few weeks. We spent the majority of our time in Port Elizabeth, but explored Johannesburg and Cape Town as well. My only regret is not spending more time in that gorgeous country!
I have a strong desire to volunteer and teach abroad in the future and earn a CELTA certification. Another long-term goal is to participate on a Fulbright program conducting research or spearheading a sustainable project abroad.
What are your three best travel tips you'd give someone about to take a "meaningful trip" abroad?
It's not about the stuff. Don't concern yourself with which North Face backpack will look the trendiest or purchasing an expensive DSLR Nikon before leaving. Instead, focus on setting your intentions and reflecting on some goals that you want to accomplish before you depart. The pride you'll feel accomplishing your goals will outweigh any unnecessary pre-departure stress about what you're packing (or bringing home as souvenirs).

On the note of packing, keep it light! You're inevitably going to accumulate stuff, especially if you're headed away for a semester or longer. Be strategic about what you bring, pack as a little as possible, and know that solid basics will go a looong way.

Observe, Listen, Reflect. When you arrive, do your best to adapt to the local country's customs. This will help with your assimilation process. Sit in a pub or coffee shop and just soak in conversations around you. This is an easy way to get a sense of the local flavor. Take the time to journal, start a blog, paint, write music -- however you express yourself! Many travelers return regretting not taking the time to record their daily observations.
What countries are on your bucket list?
Can I say all of them?! Buuut if I have to pick, here's my next three adventures:
Visit my kiwi friends in New Zealand (and run barefoot through the Shire, of course!)
Hike the Inca Trail in Peru
Snowboard in Patagonia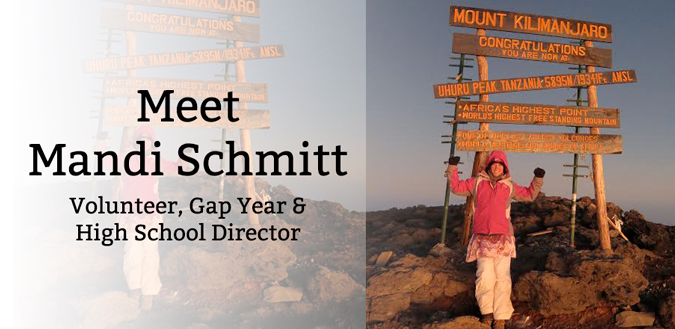 What do you do here at Go Overseas?
I am the Volunteer Abroad, Gap Year and High School Abroad Director. My job is to manage all the providers that fall within those categories, and help make their profiles and listings the best they can be. This involves content creation, online marketing, making use of SEO, and using Google Analytics to improve their performances. My goal is to help present great opportunities for responsible travel to anyone who is interested.
[Editor's note: Mandi got her start as a Go Overseas columnist.]
What are your best meaningful travel tips?
My best meaningful travel tips are:
Find out as much about the country as you can beforehand. Reading up on the culture, history, and government will help you understand more about how the country works and will help you adapt to your surroundings more easily.
Do your best to put yourself in the shoes of your host community. Don't arrive thinking you're going to save or teach them. Just because their knowledge and skill set is different from yours doesn't make it any better or worse.
Let yourself become the person that you can only be in that time, in that place, with those people. Try out new clothes, new foods, new ideas and new lifestyles. Travel allows you to become many different people, which is what makes travel so beautiful.
What is the craziest thing you've done while abroad?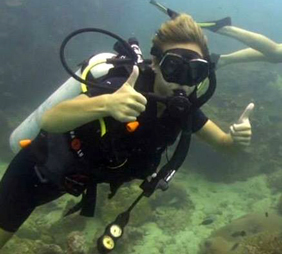 While volunteering in Tanzania, I was parked on a beach with friend as the sun went down over the Indian Ocean. The beach was known to be a little dangerous, some petty theft and such, but it was incredibly beautiful and peaceful so we were just enjoying the moment as it got dark.
Then, someone pounded on my window and tried to look in. I freaked out, and my friend threw the car in reverse to get out of there as quickly as possible. Two men waved their arms at us and tried to stop us, but we were terrified of getting robbed or worse, so we kept driving.
We sped down the street, but they chased us on their motorbikes. We pulled up to an intersection, where the motorbikes finally caught up with us, and then I saw a helmet -- it said "police." At this point, we probably should have stopped and talked to them, but police in Tanzania tend to be corrupt and ask for money. So, we impulsively decided to run. We took off down the street, and almost got away, but when we pulled over to catch our breath and process what had just happened, they caught up with us.
They approached the car, yelled at us, and made us explain what why we had run. I thought they were going to make as pay a fee, or take us to the police station where we'd have to pay even more, but luckily they were satisfied with telling us not to do it again. I'll never forget the time I ran from the cops in Tanzania.