Company News
Meet Our Team: Mitch & Tucker Share Their Stories and Travel Tips
Although we've already introduced you to more than half of our team and one of the founders and CTO, Andrew, we have yet to introduce you to two of the most important members of the Go Overseas team; CEO Mitch Gordon and COO Tucker Hutchinson. Without them and Andrew, we wouldn't be where we are today -- or at all.
But, you're here to meet the people behind the titles, not to listen to me yabber on about how much they've helped Go Overseas grow into the company it is today. Lets get to it: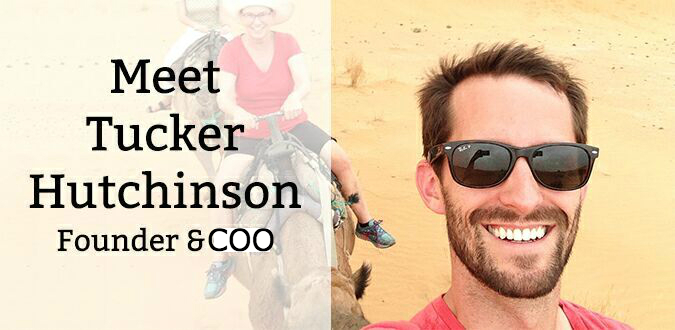 What do you do here at Go Overseas?
I spend a lot of my day doing two things: building relationships and being efficient. The former might sound a little more exciting (and non-robotic) but I love both.
I often interact with a few dozen of our partners during an average week. A lot are quick emails, but plenty are phone calls or video calls. Rarer, but best, are in-person meetings. I'm energized by meeting new people, and love getting to know them, so it's a treat for me to connect and learn about the partners we have in dozens of countries all over the world.
I work with those partners on their digital marketing: what their recruitment needs are, how they want to be perceived by prospective participants, how we can help, how they're measuring the impact of their referral traffic, and more.
The operational piece of my job is all about doing what we do better and faster. We're growing the number of visitors who use Go Overseas everyday, and the number of providers who depend on us to help tell their story, a lot faster than we're growing our team (though luckily it's growing too). Keeping up with those hundreds of thousands of stakeholders every month requires us to improve the way we do things constantly.
I'm tasked with devising some of those systems myself, but more importantly, fostering an environment where all of us here are focused on tweaking and improving our products every week.
Tell us briefly about your experiences abroad.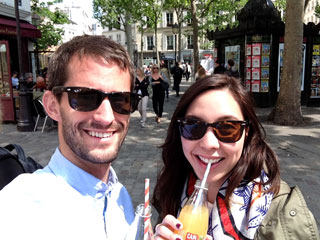 The foundational overseas experience for me was 15 months spent teaching English in South Korea. I taught at a private school just south of Seoul, mostly to 4th, 5th, and 6th graders.
It was a lot of things, chief among them a year plus away from the habits and friends I was used to. It opened my eyes to the myriad things I could do with my life (vs the financier I'd graduated college assuming I'd be).
That widening of perspective is largely to thank for my willingness to join Mitch and Andrew on the adventure that Go Overseas has been the last five years. South Korea was also new friends, a lot of Korean BBQ, learning to become a teacher, and plenty of terrible karaoke singing (on my part).
What are your three best travel tips you'd give someone about to take a "meaningful trip" abroad?
1. Do it alone
Whatever program you're doing, hopefully you've chosen one that will challenge you in a few different ways. I've found it easier to go through an experience like that when I don't have to be "Tucker" for anybody else. A time when you're being challenged is an awesome time to check in on the version of yourself you present to the world. That's a little simpler when everyone else is just getting to know you too.
2. Balance the urge to "record it all" with a keen focus on the present
The ability to look back at (or share) pictures or videos from an experience abroad is degrees less important than living those moments spent outside your comfort zone. In the age of Instagram, it's harder than ever to ignore how your trip will appear to someone else and just experience it for yourself.
3. Most trips aren't meaningful, but that doesn't mean that you can't find meaning in all of them.
At Go Overseas we often cite cruises as the type of travel to avoid. I've never taken one, but I can imagine that a ship, full of thousands of passengers and hundreds of crew, would present lots of opportunities to connect with people different from yourself.
The challenge is looking beyond the chaise lounge and seeking out those people that can challenge or expand your worldview. In some ways that growth is easiest to attain on one of the programs listed on our site. I'd challenge a meaningful traveller to find meaning in any trip, cruise ships included.
When and how did you first start traveling overseas?
My parents took me to Greece for a month when I was six weeks old. They'd spent a year living on a small island there a few years before I was born (with my sister, who was two at the time).
They'd quit their jobs in San Francisco and struck out to Greece before life and kids rooted them too deeply to home. That willingness to plot one's own course, in the face of "normal" life paths, is a frequent touch point for me.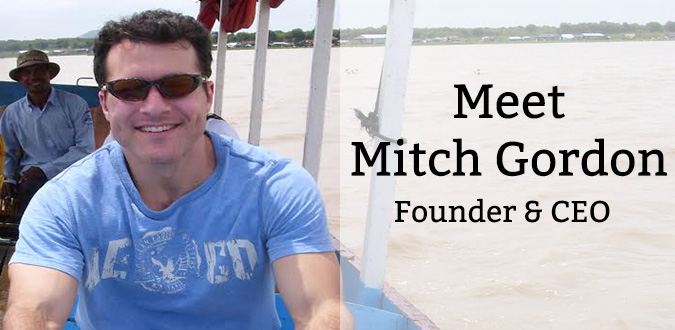 What do you do here at Go Overseas?
A little bit of everything? I've been here since we founded Go Overseas, so I wear a lot of hats. I often joke that, depending on the day, I can be the CEO, Accountant, Lawyer, HR Manager, Cook, or Janitor. It's my job to support our great team and help give them the tools they need to do a great job, as well as help develop their own professional skills and career.
Ultimately, I view my main job as helping create an environment where Go Overseas is true to both our values and mission. I care a lot about us continuing to build a company that contributes something meaningful to the world and that creates great jobs and a good lifestyle for our team.
At my core, I'm really an idea guy. I love brainstorming about new ways to improve the site and help our users. Travel changed my life and I want it to positively impact as many people as possible. I really do fall asleep at night thinking, "How can we help more students study abroad? How can we encourage more people to take a Gap Year?"
The world is becoming a smaller place, but people who travel in a way that is impactful and involves real cultural exchange are still the exception to the rule. We want Go Overseas to change the way people think about travel.
I really believe that all inclusive resorts and cruises should be a lot less popular. Fortunately, I think the Millennial generation agrees with this. We want to make volunteering abroad, gap years and adventure travel mainstream.
I understand you've both studied and taught English abroad. Tell us about those experiences:
My time abroad really did change my life. My first experience abroad was studying Chinese in Taiwan. I had a life changing experience. It's such a cliche to say, but it feels 100% real for every person who goes through that change!
I loved Taiwan, the food, the people, and the culture. I still love everything about Taiwan, it's like a second home to me. I can't recommend a trip there highly enough.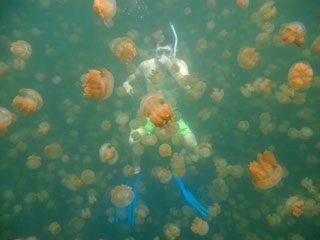 While I was in Taiwan, I also taught full time at a local school. I taught students from age 3-15 years old. I've always loved being around kids -- I'm the oldest of 5 and was a camp counselor for years.
But nothing can prepare you for teaching a group of 20 six year olds who don't really speak English. I'll be honest, after the first week, I didn't think I would make it through the year. I tried to focus on doing a great job for the kids... and I think after a month or so I actually started becoming a good teacher.
I really cared about the kids and I think that helped outweigh my being an awful teacher to begin with. I spent a ton of time on my lesson plans and a lot of time one-on-one with my students after class. It was absolutely exhausting; and confidence destroying at times.
The only way to build confidence is to overcome challenges and as time went on my classes started going more smoothly. I started noticing my students English languages skills improving. There are few feelings in the world that give you a great sense of accomplishment than knowing that you've taught someone something -- especially when you're teaching ESL to kids.
The other thing I gained from studying and teaching in Taiwan is perspective. I learned to question my way of looking at the world. I learned that culture and upbringing leaves an indelible and permanent mark on how we view the world. The reflections that originate from that type of thinking can result in a lot of meaningful introspective and, if you're lucky, a bit of wisdom.
The experience left me with the deep conviction that the world really would be a better place if we all spent some time learning from another culture and viewing the world from their perspective. That experience was really the initial seed that inspired me to start Go Overseas.
What are your three best travel tips you'd give someone about to take a meaningful trip abroad?
I'm only allowed to give three!?! Ok, I'll find a way to limit myself :)
1. Go on a trip that will force you to truly interact with locals
Don't just hang out on the beach or go on a cruise. Choose a program that consists of real interaction with every day, normal, local people.
2. Try and choose a country that doesn't speak English as it's primary language
There's an obvious increased challenge that comes from trying to learn a bit of a local language. The more important reason is that language and culture and tied very close together. Your world view and thought process will be challenged (in a very good way) by exposing yourself to another culture.
No question, our British and Australian friends have a different culture than the States in some important ways. Spending time in a non-English speaking country will challenge you in more substantive, life changing ways.
3. Be curious and ask questions
Everything good in life stems from being curious. It's really the base of all learning and knowledge. You can't grow without a little sense of wonder. Wherever you go be curious about the local history, language and culture. Ask as many questions as you can. Don't be shy. Some of the most interesting conversations I've had in my life have come from talking with taxi drivers!
What countries are on your bucket list?
I've been lucky and have traveled quite a bit in Asia and Europe. South America is really high on my list. I'd love to spend some time in Argentina. I'm a big BBQ fan and can't wait to try some asado! We have a lot of partners that run great programs in South America and love to join one of their programs soon.
I'd also love to go to South Africa- --we have a lot of partners there as well with really great, impactful volunteer programs. I'd really like to join one of those programs soon.
I'm also a huge rugby fan and South Africa is one of the great rugby nations in the world. Really, I'm happy to go anywhere new! I'm a big fan of history and I really enjoy reading as much as I can about the history of any country I'm in while I'm there.