Academics
Tim Resnik of Moz Shares Inbound Marketing Tips at IPMC 2014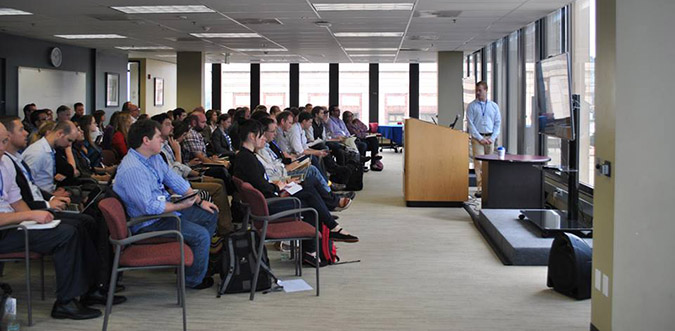 At Go Overseas, we're huge fans of Moz. We read their articles religiously. We watch their Whiteboard Friday videos every week during our company meeting, eagerly soaking up the knowledge imparted by Rand Fishkin, the Wizard of Moz (his actual title). And if Rand walked into our office tomorrow, I could easily picture our three male co-founders dropping their typical manly demeanors and temporarily resembling giddy school girls at the sight of a favorite celebrity.
As SEO nerds in general and Moz fans in particular, we were therefore thrilled when Tim Resnik of Moz signed on to present at our first annual International Programs Marketing Conference in Berkeley. Not only did he share our passion for SEO, but he also believed in the importance of meaningful travel abroad, having had a great internship experience in India. Basically he was the perfect Moz speaker for our conference, and we had high expectations.
And Tim did not disappoint. His presentation was one of the most popular of the conference and set the bar high for the presenters to follow. Given his deep expertise in the realm of SEO and inbound marketing, I suspected he would have a lot to share and prepared for some furious type-like-the-wind note taking. One of his opening remarks confirmed my suspicions, as he said, "I'm going to give you a ton of information in a short amount of time. And my goal is that everyone walks away with at least a few things." In total, Tim shared 20 inbound marketing tips. Here's what stuck most with me from Tim's presentation, "Thinking Outside the Black Box: It's not magic, it's inbound marketing."
The Search Demand Curve
I love a good graph (who doesn't, am I right?)! So I naturally leaned in and paid attention extra closely when I saw Tim's "Search Demand Curve." It mapped the monthly number of searches against the number of keywords. And what you can see from the graph is at least 70% of keywords get less than "tens" of searches per month.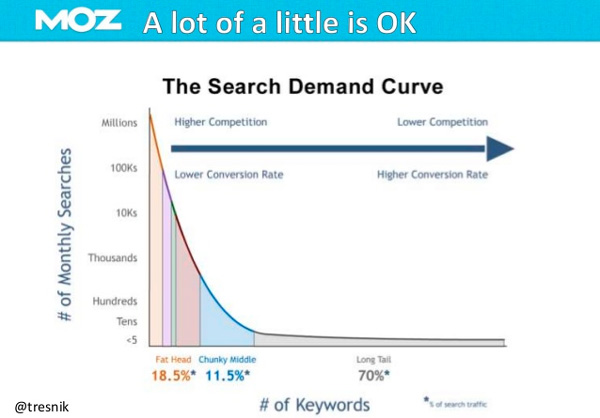 It also shows that Higher Competition keywords have a Lower Conversion rate and Lower Competition keywords have a Higher Conversion rate. What this means for those of us marketing programs abroad is that our focus should not be just on driving traffic for the search terms that have thousands, hundreds of thousands or even millions of searches. It's about the seventy percent, about the long tail keywords. They can be very, very powerful if you understand where you fit in. Don't spin your wheels trying to rank for all of the high traffic keywords that relate to your programs. Going after those lower traffic, lower competition keywords is a strategy that can really pay off.
A little of a lot of keywords adds up to a lot of traffic. So don't sweat the big stuff.
For example, searches like "wildlife volunteer work south africa" or "volunteer work in south africa with children" might have a fraction of the traffic more concise searches like "volunteer south africa" receive. But start ranking well for lower volume searches relevant to your programs, and visits to your site from Google from those searches will start to add up. Moreover, long tail keywords driving traffic to your site can lead to higher conversion rates. Someone visiting your site after having typed in "volunteer South Africa" may or may not have an interest in your programs focused on volunteering with children. They may be much more interested in wildlife volunteering. But someone who visits your site after searching for "volunteer work in South Africa with children" is far more likely to have an interest in, and ultimately book, your South Africa program for volunteering with school children.
3 Components of an SEO plan
Next, Tim hit upon the 3 components of an SEO plan: audience, content and technology. The most important thing is audience, understanding who they are, where they are and how to reach them. As Tim himself mentioned, it's pretty basic stuff, but it's important to keep in mind.
That leaves content and technology to worry about. But how should you split your time there? As if he heard me asking myself the question, Tim responded, "90% of your effort should go into audience development and content generation, and 10% of it should go into the actual technology and backend of SEO."
This is great news for smaller program providers who have more limited resources and might not have a full-time tech person on their team, right? Furthermore, Tim points out that Tim Cutts, Head of Search Spam, came out and said WordPress "solves some 80-90% of mechanics of SEO." So if you're at a point in your business where you're deciding on a platform for your content management, and you don't have full-time tech staff, WordPress would be a great option (particularly if you use plugins such as Yoast). Other content management options include Squarespace, Joomla!, Squarespace, TypePad, Blogger, Tumblr and Livejournal.
The Don't Hit Enter Rule
Keyword research is the most important thing when it comes to creating content. It helps ensure that your content is being found by the right audience. Fortunately, there are a number of tools you can use to help find those keywords. One great trick is the "Don't Hit Enter" rule, coined by Wil Reynolds of SEER Interactive.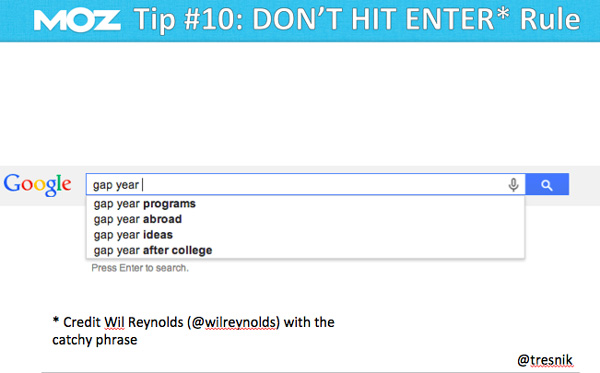 Basically this just involves taking advantage of Google's autocomplete feature, where you type in a keyword phrase and Google displays, by rank, which phrases are the most popular. For example, typing in "gap year" results in Google displaying the following: gap year programs (the most popular), gap year abroad (the next most popular), gap year ideas and gap year after college.
Then you can take it a step further. Enter "programs" so that your Google search box reads "gap year programs," and you'll see additional keyword ideas including: gap year programs in the u.s., gap year programs abroad, gap year programs after college, gap year programs after high school. You can then keep going and enter "gap year programs abroad" and refrain from hitting "enter" to see more keyword suggestions. And so it can go, on and on, just hours of keyword fun.
Another neat trick for keyword research using Google's autocomplete feature is to put a space in front of the search phrase you enter into Google. This will give you all the modifiers to that phrase. For example, if you enter, " gap year programs," you'll see that people are searching for the following phrases: best gap year programs, christian gap year programs, paid gap year programs, free gap year programs.
Keep in mind that often people type out questions when they conduct a Google search. Find out what they're asking in relation to your keyword phrase by inserting words like the following in front of your keyword phrases: who, where, what, how, why and when. For example, "how gap year programs" will yield these results in Google autocomplete: "how much do gap year programs cost" and "how much are gap year programs." Creating quality content that answers your target audience's burning questions is obviously one of the best ways to ensure you get relevant, quality traffic.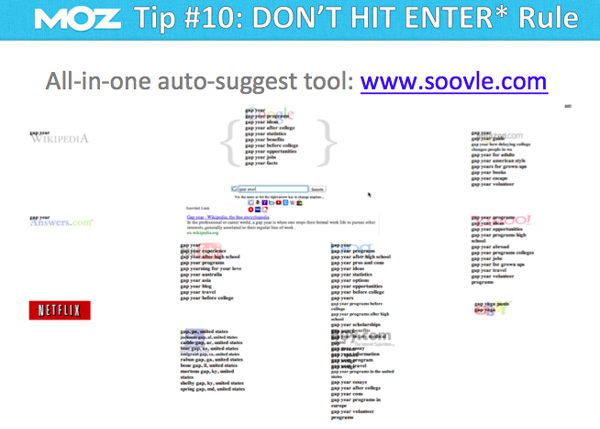 If you're looking for keyword phrase ideas beyond Google, you can use a tool called Soovle. It's really simple to use. Just type in a keyword phrase, and you'll see the autosuggest results for that phrase across a number of sites including Google, Amazon, Yahoo, Bing, YouTube, Answers.com and Wikipedia. For example, I did a quick search for "gap year" and noticed that there were no results for Answers.com or Wikipedia for some reason. But a search for "Steve Jobs," a man most of us find interesting and I assumed would be widely written about, gave results for all 7 sites. So the site, as hoped, works well.
I will warn you, however, that (particularly if you're an SEO nerd), it's kind of addictive. Personally, I found myself succumbing to the strange temptation to keep searching and typed in a combination of my searches, "Steve Jobs gap year." Interestingly, both Google and Yahoo had results. According to a couple of articles I found, he took a gap year in India. Hum. Did I stumble upon an idea for a future gap year article?
Ranking Isn't Everything
Of course ranking for the right key words is critical -- there's no doubt about it! And while it's true that just like "back in the day" when Google search results consisted of just blue links, the top few listings on a search results page still get most of the clicks, things have changed a bit. These days, there are a few actions you can take, beyond focusing on just ranking, that can amplify your click through rate from search results:
1. Add Rich Snippets
First of all, you can add rich snippets (extra data that Google displays in search results). The advantage in implementing rich snippets is that you then have more real estate on a given search results page, with more links for users to click and get to your site. The data you can mark up on your site includes the following: events, articles, products, software applications, local businesses, restaurants, movies and TV episodes. If you're a programs abroad provider, really only the first two on the list would be what you'd be using, but still, this point is worth noting.
2. Host Videos On Youtube
A second tip for claiming more real estate on Google search results, and thus garnering more clicks, is to host videos on YouTube. As the world's second-largest search engine, with 60 billion searches performed a month, popular YouTube videos are also a great way to generate more traffic to your site.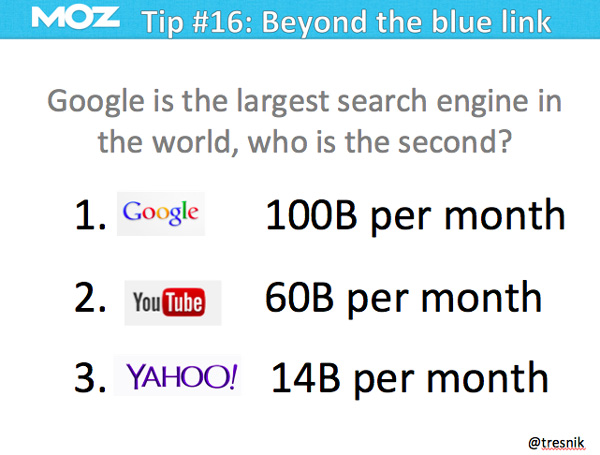 One particularly mind-blowing stat Tim shared about YouTube is that the 6 billion hours of video are consumed on the platform a month. 6 billion hours is the equivalent of 600,000 years, which is the time it took humans to evolve from being Neanderthals to modern-day humans, toting around our smartphones. Yipe!
3. Use Google Authorship
Thirdly, you can increase your click through rate from Google search results by using Google Authorship. What this does is display the author's Google+ profile photo next to the search results, which gives your search page real estate significant curb appeal, builds trust and increases the CTR by up to 30%.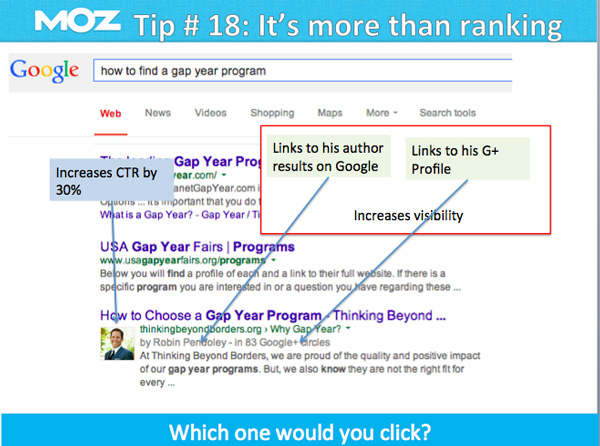 Savvy program providers with blogs, such as Thinking Beyond Borders, which Tim highlighted in his slide, are already doing this. But even for those already implementing Google Authorship, the 30% stat is a great reminder of why it's so important to use it. If, however, you're a provider that is not already using Authorship, it's a snap. You just need a Google+ account and to keep in mind the following tips: 1) make sure your profile photo is a recognizable head shot; 2) make sure you include a byline with your name on each page of your content; 3) double-check your byline name matches your Google+ account; 4) verify your email address matches the domain of your content.
Rounding Up...
Lastly, Tim left us with some inspiring words: when it comes to inbound marketing, especially when you're just getting started and maybe launching a blog, you're not going to have spectacular amounts of traffic at the start. Your mom and maybe your closest friends will help boost your visits into the teens. But you probably won't have floods of visitors right away (unless of course you manage to get a wildly famous person to, for example, participate in your volunteer program in South America and then guest blog about it).
Stick with it, keep producing quality content, and eventually you'll see your traffic start to steadily increase.
But don't be deterred. Stay with it, keep producing quality content, and eventually you'll see your traffic start to steadily increase. It was the case for Rand Fishkin's travel blogging spouse (The Everywhereist) and also for us here at Go Overseas. So jump in, keep creating top quality content that's super relevant for your target audience, and you'll see your inbound marketing efforts steadily lead to more signups for your programs abroad!
For more tips from Tim via his presentation at our IPMC 2014 conference, check out Tim's video on inbound marketing on the Go Overseas YouTube channel.