Company News
What's it Like Interning With a Small Travel Startup?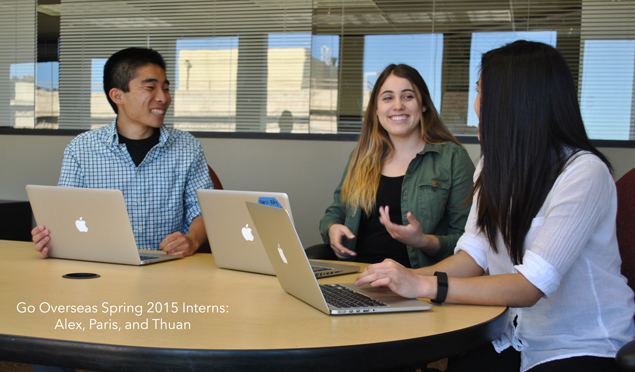 Every semester, Go Overseas works closely with a team of wonderfully talented interns from nearby UC Berkeley -- just one of the many great opportunities that come with being located in the Bay Area.
One of the greatest things about working at a startup was the flexibility and freedom to create my own projects based on what I was interested in.
You may have seen them pop up on our site from time to time -- our editorial interns have written blog posts, and we always try to introduce our intern team on our about us page.
As we transition from our spring to summer intern team, Alex, our Market Research Intern from last spring reflects on what it was like working at Go Overseas, as well as the unique experience of being a part of SkyDeck, a UC Berkeley accelerator for a whole community of local startups.
Okay, Alex, lets start by introducing you to our readers!
My name is Alex, and I am an upcoming junior at the University of California, Berkeley pursuing a simultaneous degree in Environmental Economics & Policy and Interdisciplinary Studies, with a concentration in Entrepreneurship and Technology from the College of Engineering.
Outside of school I am involved in the University Wind Ensemble and the intramural soccer program, and in the future I hope to pursue a career in either consulting or corporate finance in the technology space.
I was the Market Research intern during the spring 2015 semester at Go Overseas and really loved it!
What did you do at Go Overseas? What was your favorite project?
At Go Overseas, I was a Market Research Intern, where I worked closely with Mallory, Go Overseas' Community and Brand Manager.
My responsibilities primarily included conducting research to improve Go Overseas' search-engine optimization (SEO), and leveraging the company's social media platforms and ambassador group to exercise user retention for alumni of the various programs listed on our site.
However, I would say that one of the greatest things about working at a startup was the flexibility and freedom to create my own projects based on what I was interested in, which included integrating data analytics into market research.
The entire Go Overseas team was very receptive and open to allowing me creative freedom with projects. I also had the opportunity to work with other team members of the company, as well as the other interns who were with me for the spring semester.
My favorite project was probably working on our educational outreach assignment. In short, with Mallory and other members of the Go Overseas team, we streamlined our partnership outreach efforts with university study abroad programs to create an affiliation with colleges around the country.
Together, we worked on modifying our outreach technique, and over a couple weeks we saw a dramatic increase in our ability to acquire new university affiliations. When I was applying to summer internships over the past couple months, almost all of the people who interviewed me asked about this project and seemed impressed with the result.
What's SkyDeck? What was special about working there?
Go Overseas is located in SkyDeck, UC Berkeley's startup accelerator. The office is shared with a handful of other small companies, and offers an amazing panoramic view of the Berkeley campus and the San Francisco Bay. (The office was also conveniently located only 15 minutes away from my dorm!)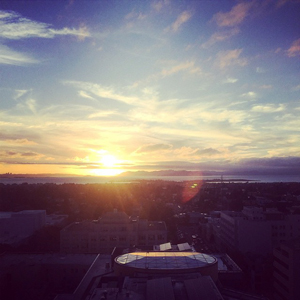 Probably the coolest thing about working at SkyDeck was the Friday afternoons at the office. Every week, the administrators of the space would host "The Shredder," which would allow two of the groups at SkyDeck to pitch their company in front of the other startups.
Though I, obviously, never pitched myself, being a member of the audience and listening to some of the fellow companies pitch their ideas was one of the most enlightening and educational aspects of the internship.
The aspirations of the numerous companies varied from everything from improving cancer cell identification techniques, to analytical methods, to preventing bus bunching (yeah, I didn't know that was a thing either).
Many of these companies were rehearsing their pitch for various stages of funding from venture capitalists. Following the presentations were Friday happy hours, where a catering company would bring appetizers and beverages to the office. If anyone is considering an in-semester internship at SkyDeck, I definitely recommend scheduling part of your internship on Friday afternoons to take advantage of meeting companies outside of your internship as well!
What was it like working as a part-time intern, balancing work with school?
Working as a part-time intern during the semester was busy but manageable. If anything, having less time to myself between school and work was a great way to improve my time management skills.
The team was also open to any adjustments that I needed to make to my work schedule in order to attend to my academics, especially during midterms and finals.
For college students thinking about an in-semester internship, my biggest tip to you would be to plan ahead of time, both in regards to your academic schedule and applying. I didn't necessarily have a lighter academic semester than usual, but it was important that I stacked my classes back-to-back on certain days to allow myself to stay at the office for longer periods of time -- during office hours.
In the end, it was manageable, and led to one of the best experiences I have had at Berkeley so far!
Has working at Go Overseas inspired you to study abroad? Where would you go?
Definitely! One of my introductory tasks at Go Overseas was to edit and publish interviews from individuals' past abroad experiences. Reading their stories and editing their travel photos made me especially envious of the adventures that they had.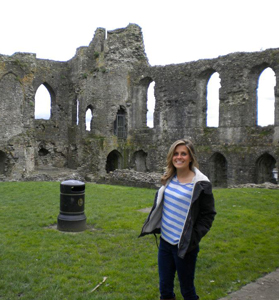 However, through this exposure, I certainly have developed a better idea of where I'd want to go overseas and when. I would highly recommend taking the time to look through the resources that Go Overseas offers if you plan to study abroad sometime in the future, as they certainly helped me understand my own international aspirations.
As for the second half of that question, it's so hard to pick one place to study abroad. After giving it a lot of thought though, I think that I would really enjoy going to Western Europe for an internship abroad during a summer.
One of the biggest attractions about Europe for me is that the countries are in such close proximity to one another, but each nation offers a completely different and unique cultural experience.
There are a lot of opportunities in finance in the United Kingdom and Switzerland in particular, and I think that working in one of those countries for a summer would be amazing. I would definitely want to set aside some time away from work to travel while I am over there as well.
Would you recommend this internship to another student?
Of course! This was my first real internship, and it was both an incredibly educational experience and a great introduction to the entrepreneurial scene. Throughout my time in college I've been a part of numerous groups, and I can confidently say that the Go Overseas team is one of the most open and receptive groups of people that I've met.
I'll also end on saying that one of the biggest advantages of working for a small company is the opportunity to meet the entire team, who all come from different backgrounds and have different skills.
Different as they are, they all share a passion for travel and truly believe in the work that they are doing. Again, thank you to the entire Go Overseas team for your accommodation and support this semester, it has really been an incredible experience!
Interested in interning at Go Overseas? Check our job openings regularly for opportunities.