Company News
Why We Love The Go Overseas Community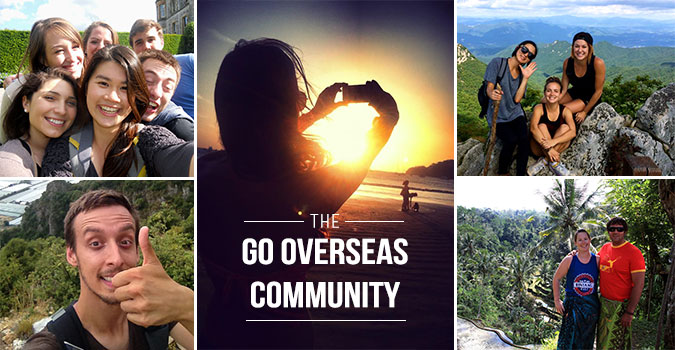 Since Go Overseas first launched five years ago, we've seen our community grow from a modest few to millions of dedicated Go Overseas enthusiasts. From newbie travelers planning their first study abroad trip, to veteran globe-trotters looking to teach or volunteer abroad, the Go Overseas community is a diverse, intrepid, and -- above all -- inspiring group of people.
I want to give a warm-fuzzy back to our amazing Go Overseas community.
We've gotten tons of "warm-fuzzies" from the Go Overseas community over the years through fanmail, Facebook comments, and in person, but I want to take a moment to return the favor today. I want to give a warm-fuzzy back to our amazing Go Overseas community. Think of it as a virtual valentine, a platonic love letter, or a long and gushy compliment. In the spirit of our self-declared month of "Community Comes First", here's why we at Go Overseas love our community.
1. You're Changing the Way People Travel
Lately, millennials have had a noticeable and important impact on the travel industry. We (and I say we, because your author here is an ancient 26 years old) are traveling for longer. We're demanding more experiential travel experiences, and we're looking overseas for professional development. Millennial or not, this also describes the entire Go Overseas community.
It sounds counterintuitive, but simply traveling to another country doesn't make a person adventurous.
Your increased interest in studying, teaching, volunteering, interning, and taking gap years abroad has shifted the tourism industry as a whole. Your request to interact with people in the country you're visiting has opened the doors for a tourism industry that encourages travelers to connect with locals, work with locals, and stay with locals through AirBnb, Couchsurfing, or homestays. More opportunities to study languages or volunteer abroad have popped up.
In short, international tourism has noticed your choices and preferences -- and they're responding by creating travel services that are less catered to vacations and escapism and more towards long journeys and exploration.
2. You're Ambassadors for a More Understanding Global Community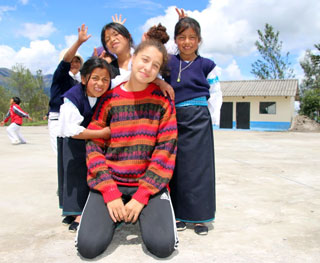 When you come home from studying, teaching, volunteering -- whatever -- abroad, you're not just gushing about how nice the beach was (also, "nice" is the lamest adjective in the English dictionary) or complaining about how much it rained for the week you were there.
No. You're the ones who come home to your friends and gush about the culture, the language, your new friends and host family. Heck, you might even whip up a recipe you learned abroad for your friends to try and share a piece of another culture in ways beyond stories.
By spending an extended amount of time in one place, you later become an ambassador for it in your own country -- much in the way you were an ambassador for your home country overseas. All of this is a part in creating a more understanding and connected global community.
3. You're Intrepid and Adventurous
It sounds counterintuitive, but simply traveling to another country doesn't make a person adventurous. Anyone can go to Paris with their three best friends, stay in a hotel, walk around the Louvre, and anger Parisians with their shameful monolingualism for a week.
The Go Overseas community has seen the world and are paying it forward by sharing your stories and experiences.
However, those who choose to fly off to Paris (or wherever!) on their own, navigate finding a house in a foreign country, make local friends, and humbly nod their head when a shopkeeper tells them it's une baguette, not un baguette, those are the truly adventurous and intrepid souls. And heureusement, that's exactly you!
4. You're Talented Storytellers, Photographers, and Videographers
As the Content Editor / Queen of Content / Editor-in-Chief at Go Overseas, I spend much of my day reading stories from our community members.
Whether it's a blog article, a guide, an interview, or one of the thousands of reviews left on our site, we're constantly reading about and seeing in photos your experiences -- and I love it!
Although not everyone's cut out to be a National Geographic writer, photographer, or videographer, I constantly come across talented and inspiring storytellers within our community. Keep it up, and don't be shy to share your favorite work with us on social media or e-mail.
5. You're Role Models for Others Looking to Go Overseas
Perhaps most importantly, the Go Overseas community has "seen the world and you are paying it forward through sharing your stories and experiences. It's a powerful position to be in, to be a role model for others looking to go overseas as well. Nothing is more influential than hearing from someone who has actually made the trip and can speak to how life-altering the experience can be," says Mallory Meiser.
You're the ones who come home to your friends and gush about the culture, the language, your local friends and host family.
She should know, considering she's our Community Manager / Ambassador Wrangler / Valentine-making-party Organizer! (We <3 her too...)
Not Active in the Go Overseas Community? Want to Get Involved?
If you're a fan of Go Overseas and all things study, volunteer, teach, intern, or gap year abroad, we'd love to have you be an active community member! Here are a few ways to get involved:
Become an Ambassador for Go Overseas and write, take photos, or help with social media.
Leave a review and interview about your experience with your program abroad!
Anywho, we just wanted to say a huge thank you to all of our community members. You all are an inspiration to all of us here at the Go Overseas office in Berkeley!
Oh, and shoutout to Photo Corps members, Madeline Hill, Fredella Surjono, Anna Langer, Paula Hu Yong, Ellie Taylor, Gabi Schiller, and Stephanie Heinrich for letting us use their photos in today's article!