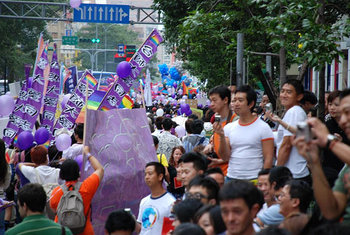 When it comes to living abroad, there are a number of topics that prospective travelers take special interest in. If you are a single traveler, inevitably, the opinions and advice of those who have traveled before you on the subjects of relationships and dating can be extremely important.
While many of the articles I have read on this subject are true (or at least have some value) few are written by gay ex-patriots/travelers.
This is not to say that such articles are of no value to gay travelers, but there are differences, and I hope that this article can shed some light and relieve doubts among the LGBT community about dating abroad. Most of my experience comes from when I was teaching English in Taiwan, therefore, for the purposes of this article, I will focus on dating and relationships in that country.
I think the first question (and one unique to the LGBT community) that comes to many gay travelers minds is whether or not they will feel compelled to be in the closet while living and working abroad. With regard to Taiwan, I am incredibly proud to state that homophobia towards foreigners is extremely low and in any event will unlikely be a problem for you. This concern can be broken down further into two subgroups: homophobia from the local population and/or prejudice from other ex-patriots.
The Local Population
With regard to the local population, I firmly believe that Taiwan is one of the most gay friendly destinations in Asia. The Taiwan population is so warm and accepting of foreigners that being gay is rarely an issue. Taipei has a yearly pride parade and there are many gay and gay friendly bars (especially when compared to much larger Asian cities). There is a caveat, however, in that while this may be true for ex-patriots and travelers, locals often have a difficult time coming out of the closet.
Chinese/Taiwanese culture is very family oriented and parents expect grandchildren. Many Taiwanese hide the fact that they are gay because explaining their sexuality and the possibility that there may not be grandchildren is an extremely difficult thing to do. This may ultimately complicate a relationship with a local, but will unlikely be your first worry.
Not attractive? Can't speak the language? Ostracized by society? No problem, you can still likely find someone who is interested in you.
The Expat Population
Second, I think that many in the gay community worry about being out to fellow foreign colleagues or those in the ex-patriot community. Again, with regard to Taiwan, fear not. I have found that English teachers and foreign travelers in general are young, educated, and tolerant.
They are the next generation and are often far more accepting than many of the people in places you may be currently living. Will this be true of everyone you meet? Certainly not, but I would wager that for many reading this article the foreign community in Taiwan is far more accepting than your own local one.
Dating Overseas
Many articles, some written about life in Taiwan, have commented that foreign men typically have an easy time attracting locals for a relationship. Foreign women, conversely, often have difficulty dating local men. By and large I would agree with this generalization. In the gay world, the difficulty does not seem to exist. If you are looking to date a local, many local gay men favor dating foreign men.
Sometimes this can be of such value that not much else is considered. Not attractive? Can't speak the language? Ostracized by society? No problem, you can still likely find someone who is interested in you. It can be a bizarre experience and should be waded into carefully if you are looking for a genuine relationship. I would also note, however, that plenty of locals are simply not into dating foreigners at all.
Inevitably, however, if you are concerned that dating is not an option, you need not worry. I would also add that if dating and relationships are important to you, you need to live in a major city such as Taipei. This concept isn't different from any other part of the world. If you live in a small town and there simply is no dating pool the chance of becoming lonely is extremely high.
With regard to unique disadvantages, as previously mentioned, your partner may have unique reasons for not being out and this may eventually pose a challenge to the relationship. Furthermore, while many foreigners must ultimately choose if they will continue to live in their host country or return home, gay couples have the added disadvantage of dealing with immigration issues if you choose to return to your home country. If your country (or state) does not recognize gay marriage or civil unions, returning with your partner may not be an option.
The LGBT community certainly has a lot on its plate. However, if you are considering moving to Taiwan, and Taipei in particular, while you will have many challenges and hurdles to deal with, for a change, being gay is unlikely to be one of them.
Browse study, gap year, or teaching programs in Taiwan.