Etiquette Tips from the Pros About Living with a Host Family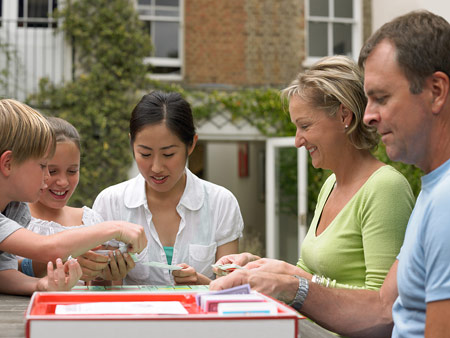 Living with a host family while studying abroad contributes untold value and learning to your immersion experience. You can learn about everything like local customs, popular food, cultural differences, and so much more from them. But a host family is not just a person or group of people who have an extra room available; they are willing to open their lives to you for the duration of your stay.
Here are some etiquette tips for showing them gratitude and respect as well as learning about their culture.
Greeting & Parting Gifts
You want to begin and end your living situation on a good note; to that end, giving gifts are the traditional way to start off on the right foot and close out the relationship nicely.
Greeting Gift: Upon arrival at your host family's home, you should present them with a gift to show your gratitude. Don't stress about trying to find the perfect gift. If you're struggling for ideas, give a gift that is traditional or commemorative of something in your home city or state. For example, I gave a Christmas ornament of a San Francisco cable car to my host family. Tip for those flying internationally: try to avoid perishables or anything else that will get flagged at customs.
Parting Gift: As the end of your time abroad draws to a close, start looking around for a good parting gift. This is a way to say thank you to your host family for their hospitality during the last four to eight months. You should have a better idea of your host family's tastes or needs, so think of getting something you know they'll like or use.
Communication
I'm not talking about learning the language of your host country; that's a no-brainer. When I say communication, I'm referring to the communication skills you need to develop to avoid misunderstandings with your host family.
Communication is courtesy. You should let your host family know where you plan to be, if you're going to miss a meal, what things you've been learning or enjoying while abroad. While you will have a lot of freedom as a student abroad, you will still want to show respect to your host family by letting them know what you're up to. They are responsible for you (like your actual parents), so don't disrespect them with being a stranger all the time.
Communication is comfort. Your host family isn't psychic; you have to tell them if there is something that you need or a change that needs to be made. If you are vegetarian and don't tell anyone, don't expect your host family to make salads every night for dinner. If you want to stay out late but aren't comfortable telling that to your host family, don't get upset when they bug you about being home at a certain hour. Keep your relationship with your host family healthy by being open and honest with them.
Local Food
You can be ready to adjust your language, your habits, and even your dress for your time abroad, but one of the hardest things to adjust in advance is your diet. Food in different countries is just that: different. Different flavors, textures, ingredients, and preparation styles can really throw off your taste buds and dining comfort zones.
Your host family will likely be responsible for at least one of your meals. Treat this as an opportunity to sample the local cuisine. What is served to you by your host family may not seem familiar (or even appetizing), but they have taken the time to prepare it for you. Be brave and try something new; that's what studying abroad is all about!
My mom always asked me to do the three taste test: If I didn't like something after three big spoonfuls, I could stop eating it. But more often than not, I found I learned to like the new food. I'm guessing the same thing will happen to you.
Reciprocal Hospitality
Regardless of your lifestyle, you must remember that you are a guest in your host family's home. Treat their home with the respect that you would give to your favorite aunt or grandparent. (I assume that you, like me, are less than immaculate at home and in the dorms.) Keep your room clean and clutter-free. Offer to vacuum or wash dishes, even if your host family declines the extra help. All this will go toward maintaining a fun, positive relationship with your host family both while you live there and even after you've moved home.
Find a homestay family or search for study abroad programs.
Photo Credit:
IS2 / BigStockPhoto.com