Jobs Abroad
What Are Travelers Looking for in an Australian Working Holiday Visa?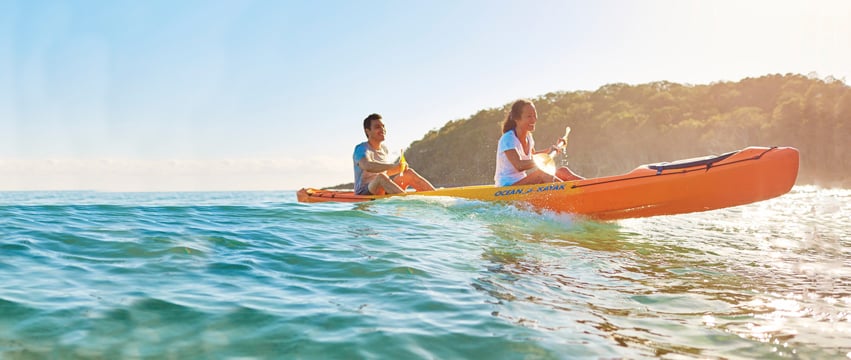 Earlier this year, we partnered up with Tourism Australia to send a few lucky individuals to the country on a working holiday visa through our work and play Australia contest. In the process, we used this opportunity to ask some questions about the applicants' reasons for wanting to do a working holiday visa in Australia, their plans once they got there, and basic information on where they are from and who they are.
In the end, we collected data from roughly 2,000 people and saw some interesting results. Although by no means fully reflective of all travelers who have and will take a working holiday in Australia, the answers our contest participants gave us still provide valuable insight into who's choosing to go overseas on a working holiday visa and what they intend to do.
Demographics of a Working Holiday Participant in Australia
One of the first things we wanted to know was, who's interested in taking a working holiday visa anyway? Specifically, we wanted to ask:
How old are working holiday participants?
Are they mostly male or female?
Where are they from?
Our findings are in the chart below:

As you can see from the graphs, the majority of our participants were female and 21 year olds were the most common age group to apply. As for geography, travelers from California and New York were the most common in the U.S., and Ontario from Canada. It's worth noting, however, that the competition mainly marketed to American and Canadian citizens.
The working holiday visa is an option for travelers up to 30 years of age, but interestingly enough, it seems that travelers are most interested in the visa right around the time of college graduation. Perhaps this is when we most badly need a break, but don't necessarily have the means to do so. Hence, a working holiday!
How do Travelers Want to Spend Their Time in Australia?
The second section of information we wanted to know was focused on how travelers would spend their time in Australia while there on a working holiday visa. Specifically:
Where do you want to go the most?
What job do you want while on a working holiday?

As you can see, most travelers were interested in working in an adventure related job. Runner ups were getting a professional internship or working a hospitality job. In their free time, aspiring Australia travelers were interested in visiting the beach and the Great Barrier Reef.
Heartwarmingly, the one thing that more travelers were interested in doing than anything else was making friends. So, if you're thinking of a working holiday visa and want to make friends: good news, most everyone else on the visa wants to make friends with you too!
When do They Want to Go? For How Long?
Finally, we were curious to know how long these travelers wanted to spend on a working holiday visa in Australia, and when were they planning on leaving? Again, a note on the data: since the working holiday visa is only valid for up to one year, we capped the options at 12 months. Who knows? I'm sure there are plenty of travelers who would opt to stay longer if they could!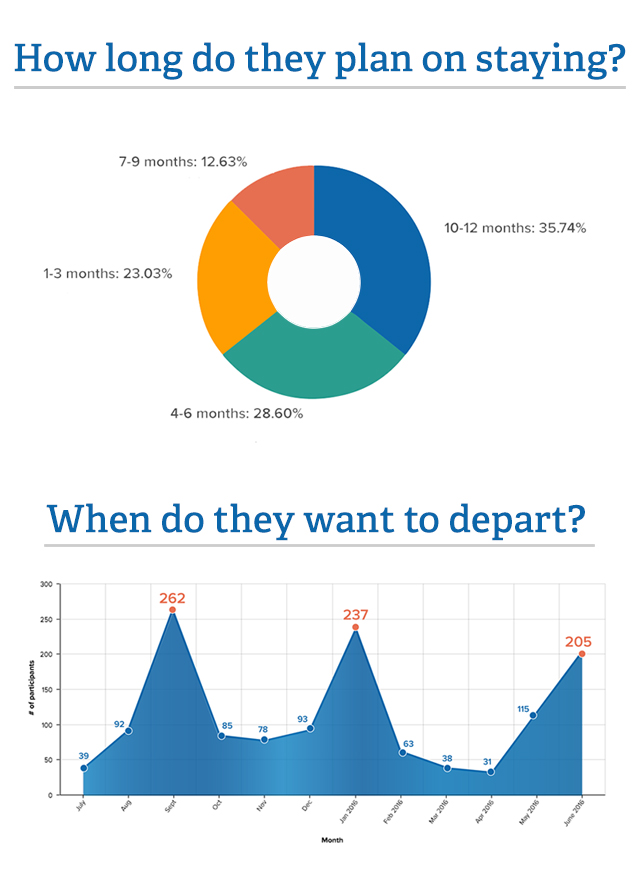 These results are super interesting, and could be skewed by the fact that we ran the competition over the summer. As such, it seems that the majority of people applying were either in a "get me over there right now!" mentality, or were holding out for the end of a semester (January 2015) or graduation (June 2016).
It was also interesting to see that most participants wanted to spend as much time in Australia as possible, opting for 7-10 months, but the second biggest group were those who were just interested in going for 4-6 months. Again, who knows? Maybe those 4-6 month-ers will end up loving it so much, they extend their stay a few extra...
Graphics by Lauren Tang. Data by Mandi Schmitt.