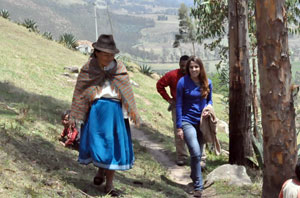 Why did you decide to volunteer abroad with Self Reliant Agriculture in Ecuador?
Joanna: I decided to volunteer abroad for the Institute of Self-Reliant Agriculture because I wanted the opportunity to directly apply the marketing skills that I was learning in business school to help improve an international non-profit program. In addition to learning about non-profit marketing, I learned a lot about agriculture, international development, and rural indigenous communities in Ecuador. The experience allowed me to become a more global-thinker, better understanding cultural differences and how people live in another part of the world.
Describe your day to day activities as an intern.
Joanna: Every day we met with the program staff and travelled to rural Ecuador to learn about their activities on the ground. We met with the families who were benefiting from the program and we learned a lot about rural life in Ecuador. The experience was truly enriching as we saw how the Institute of Self-Reliant Agriculture program was positively affecting the lives of the rural poor. Their dedicated staff was not only enthusiastic about helping the families that they served but they were very receptive to our ideas on how to make the program better. It was amazing to brainstorm together in order to help the program staff succeed in what they do best: helping people become self-sufficient.
What made this volunteer abroad experience unique and special?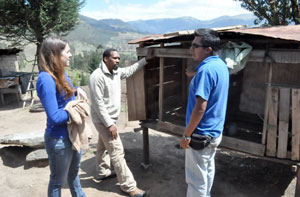 Joanna: The volunteer experience was wonderful because both the staff and the families in the program were amazingly gracious and kind. We were met with open arms and our thoughts and ideas on how to improve the program were taken positively and openly.
How has this experience impacted your future?
Joanna: In the future I plan to continue volunteering for non-profits. I believe helping people in the field around the world and sharing international ideas, beliefs, and rituals has become my new passion and the experience in Ecuador allowed that passion to grow.