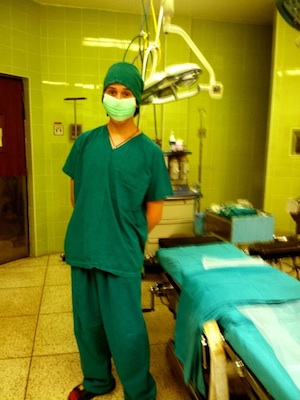 Why did you decide to volunteer with Friends for Asia in Thailand?
Ryder: I had been traveling the south of Thailand with a group of friends initially; as great as it was, I wanted to see more of the real Thailand, and real Thai culture. I broke off from the group and headed up North to participate in a couple volunteer projects - one of them being the Friends For Asia Surgical Internship program. In retrospect it feels a lot more rewarding to have spent my time helping others, and learning about real Thai culture, than spending a month on beaches and in touristy areas.
Describe your day to day activities as a volunteer.
Ryder: As a surgical intern, my day to day activities varied greatly. One day I would be sitting in on a clinical trail discussion, then traveling to a patient's home; while another I would be observing a cesarean section, then watching emergency brain surgery. As great as it was - it made the time fly by, which was the only unfortunate part about it.
What made this experience unique and special?
Ryder: This volunteer experience was made unique to me by the personal contact I was given by the doctors, other volunteers, and patients at the hospital. They took the time to teach me things that I wanted to learn, rather than something just from a textbook. Spending christmas day riding elephants also helped too.
How has this experience impacted your future?
Ryder: Personally, this experience has given me a new appreciation for not only medicine, but for other cultures and languages. I originally had plans to work at home in Canada this summer, but will instead be taking the long way home from my current exchange university - volunteering and backpacking along the way. In terms of how this has impacted me professionally - it provided me insight into the kind of research I'd like to do in the future; studying diseases that are often neglected in Canadian research, but affect millions in other parts of the world.