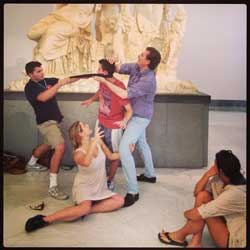 Why did you decide to study abroad with ​​Art History Abroad?
Alex: It was mostly my mom's idea, really. I was planning my gap year and was still trying to figure out what I would do in the spring. We did some internet searches and found AHA, and although I had taken very few art classes and even fewer art history classes, we decided that it would be good for me to go abroad and get some "culture".
I agreed that history is really a fundamental part of a liberal arts education and if I had the chance to get that while spending six weeks travelling around one of the most beautiful and historically rich places in the world, then I would be remiss to pass that opportunity up--especially with AHA, who we had heard excellent things about from former students and counselors who had sent students with them. Who wouldn't want that experience?
How has this experience impacted your future?
Alex: I don't know anyone that would argue that art history isn't an essential part of the liberal arts-it's really just history, but more focused. In Italy I learned about art and artists, sure, but I also learned about politics, about wars, business, culture, and so much more.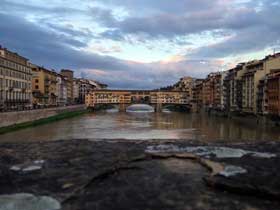 You walk down a street in Venice or Florence and you're within meters, literally, of thousands of years of history. And I carry what I learned with me now every day. Not only am I a much more confident traveler, but I think in many cases I have the ability to view the world through a different lens. That idea may seem abstract--it's really just about having more knowledge at your disposal to apply to different situations.
Tell us about an experience you had that you could not have had at home:
Alex: One of my fellow students and I were walking through the streets of Sienna one beautiful afternoon and we saw this vintage Italian hair salon. We didn't really need haircuts but we went in just to see what it was like. In the back were a row of men getting shaved with straight-edged razors. Our eyes lit up. The gentleman at the counter didn't speak great English, but after some emphatic pointing we handed him a few bucks and sat down for the best shaves of our lives. It was really cool and felt amazing.
That night, freshly shaven, we joined our group for some drinks at a bar and then we all walked to this huge stadium buried in the hills outside the city for an A.C. Siena football game at sunset. I won't soon forget that day.
What is one piece of advice you'd give future Art History Abroad students?
Alex: Go into the trip with no expectations. Even if you've traveled extensively before, this is totally different. You have to be prepared to kind of give up any preconceptions that you may have going in and trust your tutors completely. They really are the best at what they do and they know exactly how to make the most of your experience. This may be even more important if you don't have a lot of experience abroad.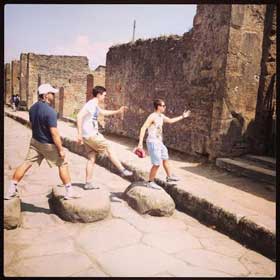 Don't think of yourself as an American or a Brit or as a foreigner, even. Think of yourself as a blank slate and try to absorb everything around you. You'll return home with "perspective". You're there to learn about art and history, yeah, but also to become more worldly. And you will.
Describe your favorite must-have food that you tried abroad.
Alex: It's Italy! Need I say more? I probably gained 10 pounds from every meal and then walked it off in between. The best thing about the food was that it was slightly different in every city.
The pizza in Naples was way different than in Rome, for example. Both were incredible. In Sienna you get a lot of pastas and different meats (try the wild boar, just do it). And, of course, gelato on every corner of every city. I just had lunch and I'm getting hungry just thinking about it.
Do you think your program changed you as a person?
Alex: In those six weeks I probably learned (through experiencing) a year of art history and an immeasurable amount of life lessons. You learn about group dynamics--you're living and traveling with these people for a month and a half, culture, and so much more. It's really about how you think.
I consider myself less of an American now and more of a world citizen, which I think is pretty cool. I also experienced how different the rest of the world is--it's so important to just keep your eyes open and continue learning and growing from you surroundings, wherever you may be.