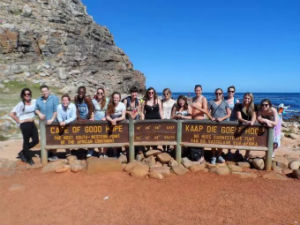 How has this experience impacted your future?
Jude: First, I got the chance to develop professionally through my internship. I wasn't sure if clinical psychology was something I wanted to pursue, but after this experience, I am confident that it is. I also got a lot of support from the staff at work, and they constantly encouraged me and reassured me that I was good at what I was doing.
Personally, I got the chance to grow so much, as I was living in one of the most beautiful places in the world. I got the chance to meet so many new and interesting people who have changed my perspective on so many things. If I had the chance, I would go back in a heartbeat.
What was the best place you visited outside of your intern abroad city?
Jude: My friends and I went camping during one of the long weekends that we had. We chose a nice beachy area, that was about 2 hours outside the city. It was honestly one of the best weekends of my life; we had the opportunity to spend an entire weekend in one of the most beautiful places I've ever been to, surrounded by mountains, trees, sand and the ocean, and it was nice to spend time to get to know people from all around the world. I would highly recommend a camping trip or an opportunity to explore nature - even if you're not an outdoors person (which I am definitely not!).
Describe your program socially and academically.
Jude: The internship that Connect 123 set me up with was amazing. I had the opportunity to work at an addictions rehab center for 4 months. I had never had clinical experience before, and it was my first time dealing with 'patients'.
Although I was initially intimidated and overwhelmed, it quickly turned into one of the most useful experiences. I was constantly thrown in situations where I had to think on my feet and act quickly, which is unusual for an undergraduate student. Nonetheless, I learned so much from it, and I wish I had chosen to stay longer, as I feel like I could have learned new things every day.
Tell us about any interesting cultural tidbits you noticed about your country.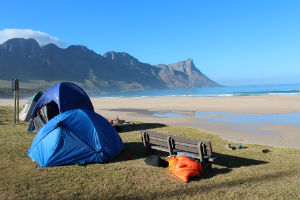 Jude: Capetonians are the friendliest people in the world! Walking to and from the bus station everyday was proof; people would stop me on the street to greet me with their customary 'Morning morning', and would ask how I was doing, and actually expected an answer.
Having lived in Boston and Amman, I was definitely not used to people taking time from their day to chitchat with people on the streets. Needless to say, it made my mornings, and put me in such a good mood for the rest of the day.
If you could do-over one thing, what would it be?
Jude: If I If had a do-over, I would definitely make sure I took advantage of all the time I had there. There were many times where my friends and I decided to stay back and hang out in our apartment, while we could have been exploring the city. Although I am generally happy with how I spent most of my time there, I think I would have liked to walk around the city more to explore some neighborhoods, or maybe leave the city to discover the suburbs and their surrounding areas.