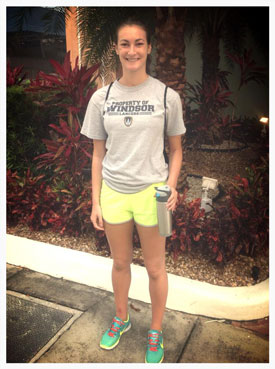 Describe a goal you set and how you went about accomplishing it.
Nathalie: I set the goal of getting certified to be a Level 1 CrossFit Trainer, which I was able to achieve midway through my internship. The trainers at RCFMB really helped me prepare for the weekend's practical and written challenges by working with me every day, always answering my questions, and going out of their way to demonstrate, supervise, or correct my training to properly tailor my skills for my certification.
They would even stay longer than their shift required or spend a part of their break time in the gym with me to teach me something new. After I had completed my certification, they taught me about the teaching aspect of being a coach. They even let me coach one of the daily afternoon classes, right from warm-up to cool down. I'm now certified and experienced enough to be a CrossFit coach anywhere in the world!
Do you feel you got a chance to see the city from a local's perspective?
Nathalie: I absolutely got the chance to go outside of the "Must See" lists and tourist attractions because of our program advisors. Their names were Ameen and Shaylee, and they had already been living in Miami for a year by the time we got there. They are very active and adventurous people that planned a variety of activities for us almost daily.
We went on awesome weekend trips, like two days in living the island life and snorkelling in Key West, a shark fishing day trip, and a boat cruise around Miami. During the week, they showed us the different things going on around the city, like art shows, trendy dinner spots, and the nicest parks to go for a game of pick-up football. I wouldn't have gotten the same experience without the guidance of our program advisors.
How has this experience impacted your future?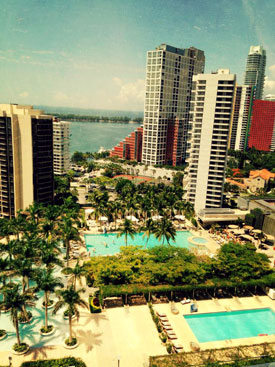 Nathalie: I think that the seminars I attended, the connections I made, and the experience I gained will be beneficial for my career. I think that this internship is a very impressive asset on my resume, and the big, well-known name that Reebok offers will set my application apart from others, giving me a huge advantage over other people who only have their degree. We were able to attend a seminar by Marc Megna, an ex NFL athlete, performance coach, and motivational speaker on fitness. His moving story inspired us to fight through whatever hurdles we have in our own lives.
The most valuable lesson that I learned professionally was to network. We also attended a networking seminar, and I was able to implement the lessons I learned while completing my internship. People were always coming into RCFMB looking to kickstart their fitness product. The trainers also had a lot of connections with people and companies already established in the fitness industries. I learned how to talk professionally and market myself, giving out my contact information and making connections.
What made this experience unique and special?
Nathalie: My favourite, and the most special part of my experience was the people that I met, between my program advisors, Ameen and Shaylee, my summer roommates, and the trainers and clients at Reebok CrossFit Miami Beach. They all supported and pushed me to succeed and follow my dreams. I made lasting friends with the people that I lived with and we still talk almost every day.
Last month I met up with one of my roommates and we went to a football game at her home university. I can't wait to plan a reunion with everyone. The coaches at RCFMB are some of the smartest, most caring, supportive, and motivational people that I've ever met. I shadowed them for two months and I'm glad we still keep in touch now.
Did you run into a language barrier? Did you ever think you knew more/less of the language?
Nathalie: With Miami being in the United States, the language barrier that I experienced was totally unexpected! With about 70% of the population being Latino, for many people, their first language was not English or they didn't speak English at all. It was so cool to have a little piece of the South American culture right in the United States.
The cuban food was amazing and the latino festivals were extravagant, but the culture really showed while the World Cup was going on and people from Brazil, Argentina, and Columbia took to the streets to celebrate a win. As for the residents that did speak English, it was usually with an accent and they often deviated into what they called "Spanglish", their own Latino-American slang. I even, somehow, managed to pick up a couple of phrases!