Highlights: On the last day of volunteer service, we had finished our portion of the greenhouse. All the trees were planted. Everything we set out to accomplish was complete. That day, the kids at the school sang to us. They sang many elementary melodies-songs I sang during my childhood. They gave us pictures they had drawn for us to remember them by. And with tears in our eyes, we said goodbye. That day, I hiked to the top of a nearby mountain one last time. A couple other volunteers and kids accompanied me. When we reached the top, I remember looking out at the city. We could barely see the school below.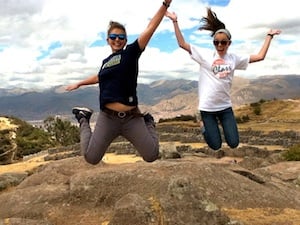 Suddenly, I felt as if I had accomplished very little during my time in Peru. I felt like I hadn't made a very big difference that I had expected to make. Yet, when I looked next to me at the kids and fellow volunteers, I saw the smiling faces, the memories, and the new friendships I had made. That's when I realized that I had made a difference. Maybe I didn't help every person in Peru but those I did help would be eternally grateful. I would be eternally grateful in return for the memories and the opportunity. That moment of realization was definitely a highlight of my trip.
Additionally, on one random night, the mentors decided to blindfold us all for a teambuilding game. We were given a number, 1-6. When our number was called, we were to remove our blindfold. The mentors would say a phrase like "somebody who made you smile today". Those without a blindfold would go around, tapping the blindfolded people who had made them smile that day. Then, they would put their blindfolds back on and sit down.
So during this game, I wasn't expecting to get tapped-maybe once or twice by friends but no more than that. Unexpectedly, every time I was tapped multiple times. "Somebody who you admire", "somebody who has awesome style", "somebody unique", "somebody you're happy to have met on this trip". The list went on. Then, the mentors called an unexpected phrase, "somebody who you think will change the world". Now, I didn't expect to get tapped for that one. Yet, I felt poke after poke on top of my head. One, two, three, four, five, I couldn't keep track. Surrounded by people I had barely known for two weeks, I was absolutely stunned. They expected me to change the world? And I wasn't the only one. Others opened their eyes afterward, shocked that they had also been "chosen" to change the world.
Yet looking back on the experience, it's one of the highlights of my trip. To see that utter confidence that others have in me really drives me to succeed. Visiting Peru, absorbing the culture, watching the poverty every day, I saw the need of the world. And I will rise to the challenge of doing my part to change the world.
Morning: On a typical morning during our Peru trip, our group woke up to catch the end of the sunrise. We ate breakfast- fruit, bread, hardboiled eggs, meats- fresh food bought in the morning market. Then, we piled on two buses to head to Sunco, a small village on the outskirts of Cusco, to do volunteer work.
As soon as we arrived in Sunco, we were assigned a job for the morning. Whether it was sifting dirt, making "mud-cement", planting trees, or laying the adobe bricks, our group worked toward completing a greenhouse. This greenhouse was constructed to grow food to combat malnutrition-especially for the kids at the nearby school. While we worked, many Peruvian children would follow us around, watching us and chattering away in Spanish. Sometimes, they'd even help us out.
Around 11am, we had "snack time" aka an hour to play with the school kids at a nearby playground or against them in soccer. Once or twice, a couple of us hiked to the top of a nearby mountain to look out at the entire valley of Cusco.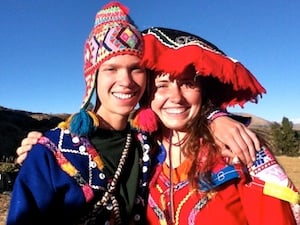 Afternoon: With our volunteer work completed, we spent our afternoons doing all the cool things in Peru. We had lessons to improve our Spanish, lessons to learn the native language of Quechua (it's not as easy as it seems), and even lessons to improve our bartering. We got to try out Peruvian instruments like the quenillo and learned a traditional Peruvian dance. We visited ruins and had a pottery class. One day, we even watched a professional soccer game!
On the weekends away from Cusco, we hiked the Incan trail, went white water rafting, biked down the side of a mountain, visited an alpaca "farm", bartered in a village away from Cusco, had our fortunes read by a shaman, toured the Incan ruins, bathed in hot springs, and of course saw Machu Picchu and the Sun Gate. Basically, our afternoons were as stock-full of activities as our mornings were!
Evening: To end the day, the group came together for leadership activities. Some days, we played games to improve teamwork or test the limits of our comfort with the group. Other days, we talked about leadership and what qualities make a good leader. Still other days, we broke up into smaller groups of mentors and about 10 kids. Those days, the mentors taught lessons pertaining to world culture, unity, etc. I remember one lesson distinctly on linguistics where we learned about the thousands of languages spoken and how those languages are dying. The nights were definitely an impactful time to consider the larger impact of the trip and what to take away from it.
However, the nighttime wasn't only meant for leadership. We also had birthday celebrations and marveled at the night sky of Cusco. Once or twice, we went out to dinner to try local Peruvian faire. It was delicious.