Highlights: One Saturday, Innocent took me to Jambo beach, about an hour away and we sat by the water and enjoyed beers and lunch next to a beautiful lake.
I was in Rwanda for the International Woman's Day and Innocent brought me to a small community in the east where the women had gotten together and built a home for an older woman in the community and we were there for the celebration, which was pretty fantastic.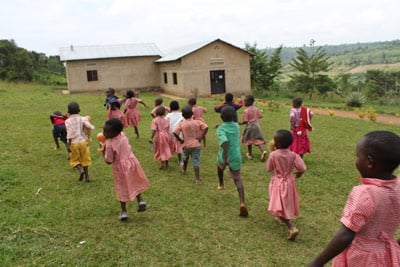 Morning: I lived with a family in a small farm compound, within an umudugdu just outside of town. There was no electricity or running water. I woke every morning around 5 and washed in a small room, using a bucket and a jerry can. Afterwards, I would join David, my host, for some African tea and bread for breakfast and the we would set out to the school where he was head master and I was volunteering. We walked through the fields to the main road and hopped on a "taxi" which was actually a crowded dalla dalla, then walked a kilometer through the fields to the school.
Afternoon: I mostly played with the 3, 4 and 5 year olds - I taught them follow the leader and duck duck goose and we spent some time inside, practicing writing numbers and letters. The kids were young and most of them were poor and I just really enjoyed giving them lots of attention. There was also a trade school for teens on the premises, and I talked with them a bit - they were very curious about me and the United States and my hair!
Everywhere I went, people wanted to touch my hair and would stare and point and say mzungu (which is a Swahili word for white person) and the giggle when I would wave or come over and say hi.
After school, we walked back to the road to catch a taxi and often, I stopped at the Dereva hotel, which was the only hotel in town that had cold drinks and wifi, so I cold relax and catch up with friends. Sometimes, I would go with the project director, Innocent, to the headquarters or drive around the eastern province.
Evening: Dinner with David and his family, usually cabbage, beans and ugali by lamplight. Then I would play with some of the kids who lived on the farm - taking photos, playing videos and amazing them with my iPhone! David and I played checkers by torchlight some nights and we would listen to the radio and talk.
I made friends with a volunteer from Germany who was in Rwamagana for a couple of years, so he and I went out for dinner once or twice and that was fun, too.