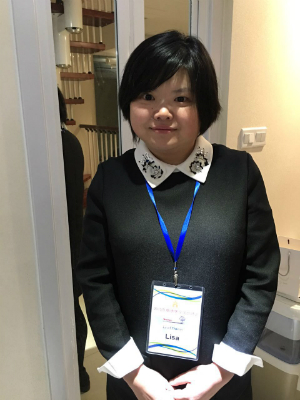 What is your favorite travel memory?
Three years ago, I went to Xiamen with my best friends. The three of us spent four days together. During that time, we shared many happy moments, but we also felt a pang of melancholy. We all realized that we weren't cherishing our friendship enough and felt unhappy that we hadn't seen each other in such a long time. During that trip we decided to travel together at least once a year. Even though all of us have careers, families and busy lives in general it's important to make time for your friends. Friendships are like plants, if you don't water them they die.doing this every year. Though we have our own families, works are also very busy, but friendship is so precious, get together with you best friends, don't wait for too long!
What do you believe to be the biggest factor in being a successful company?
I think being a successful company requires many factors, but the biggest factor is probably a supportive team, or Ren He in Chinese. As a Chinese old saying goes: if people in a family love and help one another, the family will get better and better. A company is just like a family, all the people in the family should get along well with one another and should always be ready to help their colleagues, the company can become a very strong team and do everything well. Another Chinese saying that captures this is gu zhang nan ming, which translates to "it's impossible to clap with one hand" : it's hard to succeed without support.
How have you changed/grown since working for your current company?
Before working as a TEFL trainer, I was just a teacher, I did the same thing every week, met the same students, used the same books and taught pretty much the same content for ten years. But since I've become a TEFL trainer, I've worked on many different courses, developed a range of materials and am able to meet different trainees and students from all over the world. In addition, it's allowed me to explore different aspects of education like marketing, sales and management. means a lot for me.
What unique qualities does your company possess?
Many companies provide TEFL courses, but all the people in our company are more willing to help trainees, not only during the class time, but also after school is over. We stay in touch with all our graduates, help them find teaching positions, prepare for demos and interviews and even throw parties twice a year so they can meet other graduates and experienced teachers. Our students don't just take our course, they become a part of a community. We also take the feedback from our trainees very seriously, and we have a debriefing sessions with every trainee once they're finished so we can find new ways to improve our program.
Describe a time when you felt especially proud to be part of your current team.
This past November, I taught an important national training course for a famous training school in Shanghai. It was a big success and teachers, administrators and even principals came from all over China to attend our course. I'm very grateful for the opportunity to teach that course and am confident there will be many more like it in the future. My team helped me a lot during the event and all the teachers who attended the course were extremely jealous of the support offered by my colleagues.