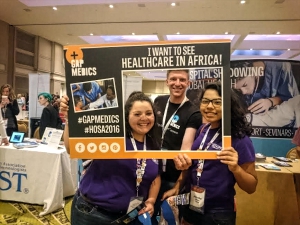 What position do you hold at Gap Medics, and what made you want to work there?
I am the Student Travel Presenter. Gap Medics provides something truly unique and my role allows me to meet some amazing people, see some beautiful places and get away from the computer! Imagine if your day had you driving through the Cotswolds on a sunny day or flying to Australia for couple of weeks. This role lets me meet new people who are excited about our placements and see the world at the same time. Perfect.
Describe the main responsibilities you have.
I'm here to spread the word about Gap Medics. I'm on the road most days meeting all kinds of people. From Heads of Department, Senior Lecturers and teachers to the most important people, the students themselves. I can be at 7 or 8 universities or colleges every week getting students excited about what they can do with us and where in the world they can experience it. Many of our students join us from outside of the UK though, so I've been sent to the USA and Australia too, spreading the excitement about Gap Medics.
What do you enjoy most about your job?
Hearing peoples stories, the reason why they want to become a midwife, pediatric nurse, paramedic or whatever, can be the most heartwarming thing you'll ever hear. I love visiting new places and new people because of their stories. Every student is ultimately striving to be some form of medical professional down the line but the reason why they want to get into it all can be a breathtaking story. Giving depth to a profession makes mine so much more personable. I can help lead these students into something that can help them achieve this goal. An adventure of its own.
Any amazing moments?
The HOSA Leadership Conference in Nashville, Tennessee, was unbelievable. The biggest conference I've ever been to. Over 9000 young, excitable, future medical students. They had so much energy, so much drive. It was infectious! The city, the venue, the students, the staff too, everyone and everything was above and beyond anything I've ever been part of. I've also never heard so many variations of the American accent in one room!
What do you think makes Gap Medics unique?
Firstly it's where we can get students into. Some students have witnessed cardiac surgery from inside the theatre, not the other side of a window. Imagine being able to witness first hand a serious life changing event like that. Much better than on a screen or through a text back. Secondly, the way students are looked after. Each student has a Student Experience Manager and this person knows EVERYTHING about their destination. This team help you get every tiny detail in place before your travel. From your travel insurance and equipment, to your selected professional mentor and security passes. Oh, and of course they'll send you our famous Gap Medics t-shirt in the post too. They treat each person like a friend.
Why do you think students choose us?
The depth of what you can see, how close you can witness it and where in the world this can all take place. That is why students choose Gap Medics. We are friendly and reliable. We provide placements that offer more depth in its detail, more access in its locations and create some amazing adventures around it.
What advice would you give to anyone considering a placement with Gap Medics?
Book early! You would be surprised how quickly some placements fill up. If you have any questions at all, anything, talk to our team online with live chat or email. We're very open and honest about every step of your placement. The only thing you'll regret is not joining us.