What is your favorite travel memory?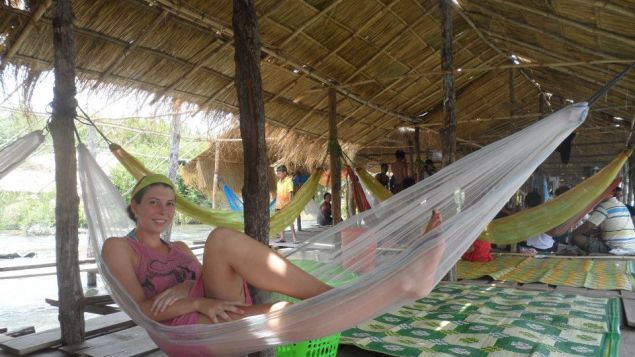 It's so hard to choose just one memory but one moment that really stands out is when I travelled to Kratié, Cambodia. I had been traveling with friends through Seim Reap and Phnom Penh, both of which were amazing, but in Kratié we got to experience a more authentic side of Cambodia.
This smaller town is a great place to see the Irrawaddi river dolphins and enjoy the sandy islands that dot the river. While in Kratié we visited a local holiday spot where families picnic on bamboo docks over river rapids and you can enjoy the "massage" of the rushing water.
A friendly family invited us to share food and drinks with them and we had a fantastic time!
How have you changed/grown since working for your current company?
Teaching Nomad has given me a lot of opportunities to use the skills I learned in my graduate business diploma course as well as the experience I have gained from living and working in the international teaching industry for the last four years.
It's been an amazing journey to develop my passion for education and travel into the skills needed to get information out there to prospective teachers and learn more about the processes and market landscape that make up the TEFL industry.
I've found a great place where I can remain in the international teaching scene, which I love, while branching out and learning more about the industry globally.
What is the best story you've heard from a return student?
I love hearing stories from teachers who were able to find the right school and get to experience coming abroad, but probably my favorite stories are from those teachers who have told me they've been working with other recruitment companies in the past who didn't really give them a chance.
I take a lot of pride in the fact that I've helped teachers get to have this amazing experience when they felt ready to give up on the process, and getting to hear about them enjoying their time abroad is one of my favorite parts of the job!
I think because we use a more personal approach we're better able to find the position that will be right for just about anyone, and we've got the tools and understanding to help even the most inexperienced teachers come abroad and teach.
If you could go on any program that your company offers, which one would you choose and why?
I would love to take the in-class TEFL program in Shanghai through Teaching Nomad. I know some of the teachers who work in the program and they are fantastic: providing new teachers with lots of insight about what it will be like in the classroom and preparing them with great info and lectures.
One of my favorite parts of the program is that we have partnered with a local charity so teachers in our TEFL class get a chance to work with kids in Shanghai through the Stepping Stones organization. These kids are excited about the opportunity to get to practice English, and I think getting to give back while studying for a TEFL certificate is a great way to gain some hands-on experience before jumping into the world of TEFL teaching.
What makes your company unique? When were you especially proud of your team?
Our company is unique because we want to take a more personal approach to international teacher recruitment. The teachers who are looking for opportunities through Teaching Nomad are making a big leap, sometimes traveling across the globe to come teach English abroad. That move can be a little intimidating, and often teachers have a lot of questions.
Our placement consultants have first-hand experience living abroad and teaching internationally so we're able to help answer these questions and provide information about our own experiences. We want to get to know the teachers and what they're looking for in a new position so that we can make sure to find them a school with the right fit. This helps our teachers to enjoy their time abroad and have an amazing experience.
What do you believe to be the biggest factor in being a successful company?
I think a successful company needs to have the needs of the clients at the forefront of their vision. Teaching Nomad's founder saw that there was a gap between the schools abroad and teachers looking to come overseas to teach, and many people on both sides were not having their needs met.
By facilitating the conversation between what the schools are looking for and what the teachers are looking for, we have better been able to match schools with teachers whose goals, personalities, and expectations are aligned. This ends up being a winning combination for the schools, the teachers, and most importantly the students!