What is your favorite travel memory?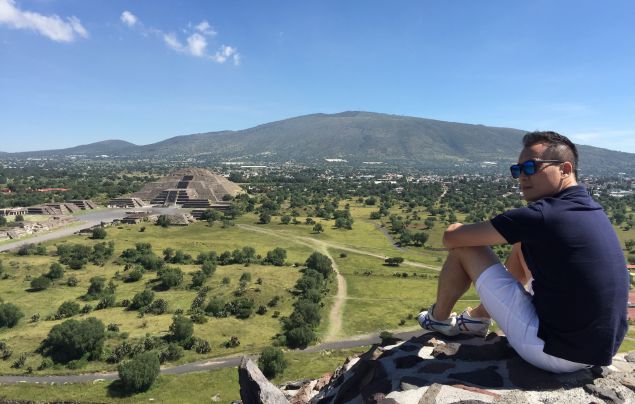 I've traveled to many places and have had some unforgettable moments in my life. But I have to say the best memory would be traveling to the Rockies in Canada in October, 2014. I saw a lot of beautiful pictures of it when I was in university and Lake Louise has been my dream place.
After staying a week in the U.S., I decided to fly to Vancouver and start my trip there. I made it to the Lake Louise and spent 2 hours boating and enjoying the amazing serenity. It was really a dream came true and I'll always remember the joy and the fulfillment it brought to me.
How have you changed/grown since working for your current company?
I wouldn't say that working for EF has changed or transformed me. But it does make me feel that I'm doing an important and great job for the world, by helping more and more people step out of their comfort zones and to see the world.
It's part of our company's mission that to break down the barriers of language, culture and geography, and we do live up to it and we are proud that we have witnessed a lot of great changes from our students and also the achievements they've made.
What is the best story you've heard from a return student?
We had Larissa from the Netherlands who finished her academic year in EF Beijing in June. Larissa was very much interested in China and its culture, and also likes the school a lot, so she decided to come back in September as an intern to help welcome another group of academic year students.
She's shouted out to the world how much she loves EF Beijing by uploading pictures and videos and updating her personal blog. Now she's back in the Netherlands but still remains very active in promoting Beijing by attending some seminars about studying abroad to share her amazing experience.
If you could go on any program that your company offers, which one would you choose and why?
Taking a gap year has always been on my bucket list since I started with EF in 2010. I started as the study abroad consultant, helping hundreds of students travel abroad and open the world through education, and now I've become a director of our Mandarin school in Beijing, welcoming those who also make the decision to come all the way to learn Mandarin and experience the fascinating culture.
A gap year to me means an invaluable experience and an opportunity to do something new and get a new perspective towards everything, and you could become more confident and independent by meeting interesting people from different parts of the world.