What position do you hold at Volunteers at Work? Can you tell us a bit about what you do?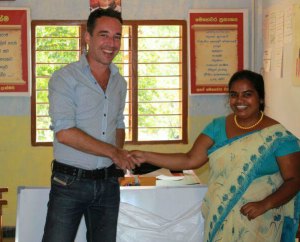 Tim: I am the organizer of the projects. I am responsible of everything happening regarding the project in Sri Lanka. My job involves many, many things. We started with nothing. I was friends with the Sri Lankan owner of our project, Mr. Ananda, and we were talking how great it would be to have "free" elephants in his big garden. That's how we started.
We had to find the elephants. I had to make plans for the area, design the place where the elephants would be staying for the night (we will never chain them) and where the volunteers were going to stay. I had to figure out: what do we need for them? I had to find the perfect coordinator (which luckily I did!), think about the activities the volunteers would be doing, find a good tour guide (we got a Buddhist monk, and I am very happy with that), take a lot of pictures of Sri Lanka for our marketing, go to shops to find out about prices, go to other projects to learn from them, go weekly to the disabled home (a place I really like), deal with the cultural difficulties.. etc. It is a very interesting job!
What led you to join Volunteers at Work as a member of their staff?
Tim:I came to Sri Lanka to organize a project and be one of the 2 coordinators at an elephant riding place. Sri Lanka is a very special and beautiful country and I love to be here. The people working at the riding place were amazing, so friendly. However, I was faced with many problems. Two of the three directors of the foreign company organizing the volunteers' stays were (in my view) incompetent, and it was very difficult working for them. More importantly, I started to learn about elephants and what I did see was not to my liking. I was faced with elephants who have to work 7 days a week and when they are not busy carrying tourists on their back are chained and kept apart from each other. Elephants are highly social animals, they should be allowed to touch each other, but that only happened rarely during the days. My fellow coordinator and I tried to change their life for the better but it was impossible.
An example: we love enrichment for the elephants but the owner didn't like it because "the elephants will not listen to their keepers anymore when they are allowed to play," he said. I started talking to some people and we decided that we were going to help the domestic elephants as much as we can. That's why we started the Elephant Freedom project. We are the opposite of all the domestic elephant places in this country. No riding allowed here, no chains, playing is a must. I like to think of it as a little heaven for domestic elephants :)
What aspects of the work your organization is doing motivate you most on a daily basis?
Tim: The prospect of free and happy elephants is very, very important to me. I wish we could have more than the two elephants we have now, but we've got to start somewhere. Hopefully our project will be very popular so we can get more elephants. Elephants here in Sri Lanka cost an enormous amount of money, much more than in Thailand for example. Another huge motivator is the opportunity to "do good" for the local people. I like to go to the disabled home. We had some volunteers at the riding place who were kind enough to trust me with donations. From that money I was able to buy wheelchairs, showers, a water pump, special shoes - you know, doing good. And being able to do this special job is a huge motivation on its own. How many people can say they are organizing an elephant project?
Do you think volunteers and the work they do makes a lasting impact on the community and the well-being of the elephants?
Tim:Yes, I certainly think the volunteers will make a lasting impact. Volunteers at our place are really needed, without them we barely have enough people to do the work here. And we need the money they bring in, of course..let's be honest, without money we can't continue the project. Our project is ideal for volunteers, they are not an extra. For example, this week the riding place I have been working at was packed with tourists. Their volunteers haven't been able to work with elephants for the whole week! When I was a coordinator there, we had great trouble finding something useful to do for them. That will be very different at our project. There will be so many useful activities here.
Besides working at the project, our volunteers will weekly visit the temple school and a local village to teach English to children and teenagers. And they will go to the disabled home to participate in activities with the people living there. I know many other volunteer projects do something similar and with good reason. It is an excellent way of contributing to the local community!